Emeritus Impact Survey Shows 5 Reasons to Take Up Online Learning in 2022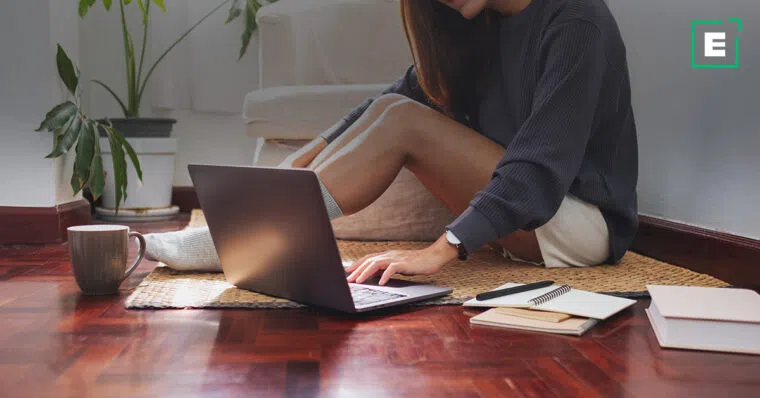 The advantages of elearning are undeniable. You can study from anywhere, you don't have to spend time traveling or moving cities and it helps you save on miscellaneous costs. But how does it really impact you as a professional? Does it have tangible results? Do you get to really use what you learn on an online platform in your job? Is it worth the investment? The Emeritus Impact Survey conducted in 2022 answers all these questions and more.
Here are the 5 key insights from the survey that reiterate the real-life benefits of elearning from Emeritus. And they are:
#1: Learners received an average of three job offers within 12 months of doing the program
Whether we are actively looking for a job change or not, receiving relevant job offers is considered a good indicator of your career health. It allows you to weigh your worth in the job market, against the competition and the relevant skills. It is fair to assume that receiving job offers is one of the advantages of elearning for most professionals. Learners who responded to the Emeritus Impact Survey received an average of three job offers within 12 months of completing their respective programs.
"I got a call from every company I applied to through Emeritus Career Coaching. This course also helped me identify skill sets that could be used in my current role as product manager."
  – Deepthi Prabhakar pursued the Professional Certification in Product Management by Northwestern Kellogg University
#2: The average salary increment after completing an Emeritus course is 17%
For some learners, learning might be a goal in itself. But for most, education is a means to an end. And one of the preferable outcomes of learning online is an increment in your pay package. As per the Emeritus Impact Survey of 2021-22, learners received a 17% increment in their salaries post completion of their courses. This hike could have come in the form of promotions or a job switch. But in this job market, this is an optimistic statistic and one of the many advantages associated with learning online.
#3:  About 94% learners see a positive impact on their career and professional development
"It's easy to get into a rut and find that one is not thinking creatively or strategically. This programme energized me and enabled me to gain new insights and reconnect with knowledge I already had in a very powerful way. I felt more confident, had renewed energy, and started to think and act more creatively and engage in more impactful discussions and strategic thinking sessions with colleagues and clients alike."
  – Richard Andrews pursued Digital Disruption: Digital Transformation Strategies by Cambridge Judge Business School
The motivation to learn is different for everyone. Often, learners are also at different stages of their career trajectory when they choose to learn. For mid-career professionals like Andrews, formal learning can be a great way to shift gears and climb the ladder of success faster. According to the survey, respondents believed that having studied with Emeritus gave them the confidence that they were still relevant and helped them build on existing skills.
Career Transition
For some fresh college pass-outs who did not find employment immediately due to the pandemic, the additional certifications came as the platform for a career launch. In addition, for others like Ashley Goldstein, an art teacher venturing into the world of extended reality, it became a juncture at which they changed paths in their career using the advantages of elearning.
"I had no background in coding. I knew some HTML but had never tried C# which is mainly used for extended reality games. But, in spite of these challenges, I could actually follow the course work because the professors focussed on concepts, not just code. I could build my portfolio during the tenure of this course and have now got a job in Nvidia!"
   – Ashley Goldstein pursued the Professional Certificate in Extended Reality Development by New York University
The thread of commonality here is the fact that online learning had a tangible effect on the careers of more than 90% of the learners as per the survey.
#4: Approximately 47% learners said that the knowledge and skills they acquired in the program were essential to advance their career despite the COVID-19 pandemic
It is no secret that the COVID-19 pandemic affected the lives and livelihoods of millions of people across the globe. With any global disruption such as this, we see layoffs, pay cuts, and a general anxiety around future prospects. In trying times like these, many professionals choose to go back to school and improve their knowledge.
"This pandemic has limited all of us in motion, but the existence of online programs allows us to gain useful knowledge and experience. Many of the strategies taught in this program are relevant to current conditions. So I can stay in my current job and perform well."
  – Widya pursued the Product Strategy: Discovering, Developing, Managing, and Marketing Products as a Business by Kellogg Executive Education
Thanks to edtech, adult education has gained respect, and upskilling as professionals will persist as a trend. Additionally, this statistic shows that Emeritus courses helped professionals to navigate the professional challenges triggered by the pandemic and stay relevant in their jobs.
#5: About 81% learners believe that the program format allows easy balance across work, personal life, and studies
One of the biggest deterrents for people to opt for any kind of learning while balancing work is the fear of not having enough time. Moreover, managing busy schedules at work, housework and children can often leave professionals scrunched for time. Fitting studies into this tight schedule can seem challenging. But, it's not impossible and definitely worth it should you stay committed to your goal!
Eighty one percent of the learners who were part of the Impact Survey said that the program format allows easy balance across work, personal life, and studies. And all this boils down to the age old principle of letting form follow function. Online education is only as effective as its format. Emeritus uses the backward design methodology to design courses as per pre-determined learning outcomes for effectiveness.
"The interactive assignments where I had to repeat the instructions by acting and speaking while recording myself were great. It gave me self experience and helped to build my self confidence."
  – Ernest Keleco Boakai pursued the Mastering Sales: A Toolkit for Success by Kellogg Executive Education
The key takeaway for prospective learners here is the fact that online courses at Emeritus are designed to seamlessly integrate with the demanding nature of your lifestyle. While it will challenge you to push yourself, it intends to help you learn by delivering knowledge in an easy-to-consume format.
If these statistics extolling the advantages of elearning have inspired you to take that plunge to upskill, check out the range of Emeritus courses here.
By Anwesha Barari
Write to content@emeritus.org for content collaborations.