6 Insights from Kraft Heinz CLO Pamay Bassey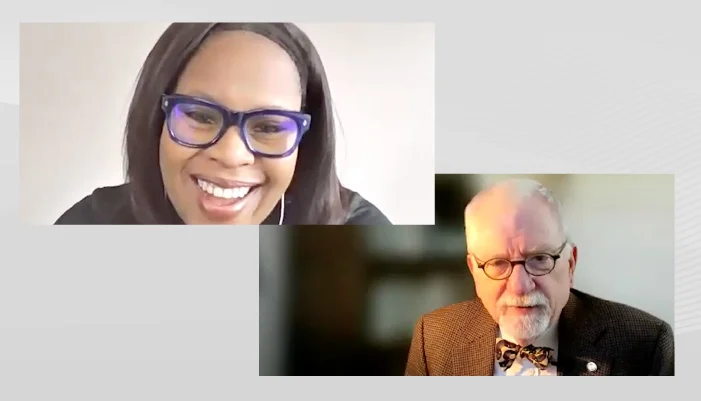 How do you create an employee learning experience as "delicious" as it is effective?
Pamay Bassey, Chief Learning and Diversity Officer for The Kraft Heinz Company, recently shared her insights with Emeritus in a fascinating conversation with Dr. William Baker of the Bernard L. Schwartz Center for Media, Public Policy, and Education at Fordham University. 
Key Takeaways from Pamay Bassey of The Kraft Heinz Company
During the discussion, Bassey and Baker explored tips on building a culture of learning in the workplace, leading with empathy, keeping employees engaged during the Great Resignation, and more. 

1. Build a Learning Culture
To effectively upskill, reskill, and advance employees, developing an organizational culture that celebrates learning is essential. At Kraft Heinz, that culture is reinforced by an annual "Learn Like an Owner" challenge. Employees are encouraged to make specific commitments to gaining new knowledge and skills that will help them advance and "own" their careers. 
"More people than you would think would understand the power of learning as a transformative tool and make commitments to learn over and above what's required of them," Bassey said during the event.
2. Enlist Support from Managers
To partake in initiatives like "Learn Like an Owner," employees need supportive and encouraging leadership. That's why Kraft Heinz tracks employee engagement in learning opportunities as well as managers' efforts to build participation within their teams. 
"We believe that, given the right support and scaffolding, people can learn their way to the next role, be better, or make a change," Bassey said. In line with that ethos, managers are encouraged to help their employees find the time and bandwidth to focus on learning while keeping the company's broader goals and deliverables front of mind. 
3. Embrace the Power of Digital Learning
In an increasingly remote-first work culture, digital learning allows employees to develop new skills where and when is best for them. Kraft Heinz has leaned in fully to the power of digital learning, creating its own platform called "Ownerversity" to deliver targeted courses to employees. 
Within Ownerversity, courses are broken into nine functional academies focused on finance, IT, legal, marketing, operations, people, procurement, R&D, and sales. Additionally, all employees have access to the Leadership and Culture Academy, which focuses on the company's values as well as leadership and management. 
While not all organizations have the resources to build out their own digital academies, digital learning is accessible to companies of any size through resources like Emeritus. 
"Given the right support and scaffolding, people can learn their way to the next role, be better, or make a change."
—Pamay Bassey
4. Make the Path Forward Clear
Amid the employee retention pressures of the Great Resignation, it's more important than ever that companies show employees they have a path forward within their organization. 
While the specifics will vary with each individual—some, for example, may be interested in moving upward, while others may prefer to explore new functions or make a lateral move—all employees should feel confident in their next steps. That means managers should have regular career pathing conversations with their employees and clearly lay out the skills, knowledge, and experience those employees will need to meet their goals. 
Ideally, managers will also help their employees identify the courses, lateral moves, or stretch assignments that will help them gain those skills. 
5. Lead with Empathy and Care
While Bassey said employee education is essential for business growth, she also pointed to its role in developing managers' people skills. In particular, courses on organizational values, leadership skills, and topics like mental health and work-life balance can increase team cohesion and engagement. 
Through targeted education programs, managers can learn to balance the individual needs of their team members with the organization's longer-term goals. They can also build resilience and problem-solving skills among their employees. As Bassey noted, simple steps like working with employees to identify stress-busting tactics (like a midday run or an adjusted schedule to accommodate childcare) can go a long way to increase employee satisfaction, at little cost to the organization. 
6. Examine Your Values and Practice Reflection
Bassey said during the event that it's essential for leaders to understand and commit to their own values. They should be able to return to them as a cornerstone while also remaining open to the experiences and perspectives of others. This a practice she calls "learning from all directions."
Bassey recommended her personal practice of dedicating 15 minutes a day to learning through articles, podcasts, and videos, and then sharing her takeaways with her team. Exploring online courses and learning resources can also fit in well with this approach.
Ultimately, according to Bassey, organizational and learning leaders must clarify the value of learning. In today's constantly shifting environment, employees may feel overwhelmed—so empathetic, clear guidance on how to focus their efforts can make all the difference.
---
Are you working to develop a culture of learning at your company? Schedule a meeting with Emeritus Enterprise to learn how we can help you identify needs and develop a plan to educate your employees.