State of Executive Education 2020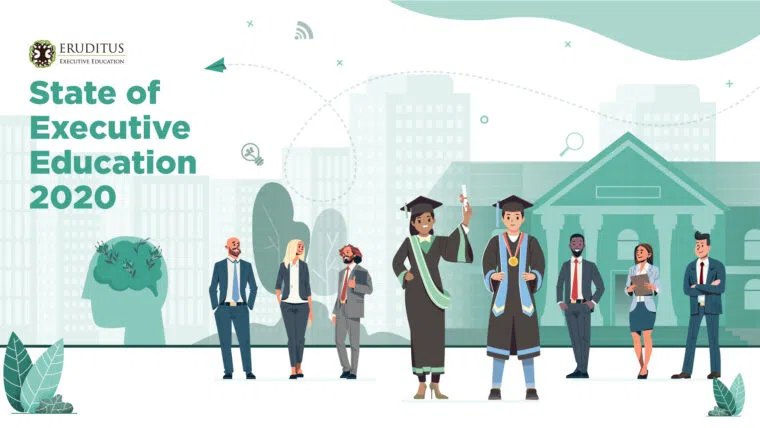 By Rakhee Ghelani
As 2020 has proven, in uncertain times, the importance of leadership comes to the fore—good business leaders exceed their potential and new ones stand up to be counted. With a decade in the industry, at Eruditus, we understand how critical executive education is in helping businesses navigate unprecedented challenges and forging new paths. 
Over the past ten years, we have collaborated with some of the most prestigious universities in the world, making their expertise accessible to executives across the globe. One of our flagship programs, the INSEAD Leadership Program for Senior Executives—India (ILPSE) will welcome its tenth cohort this year, and we are proud that 1,300+ senior leaders from 60+ countries have completed both general management and specialist courses from our partners such as Cambridge Judge Business School,  Columbia Business School, Harvard Business School and Kellogg School of Management to name a few.
To understand the transformation that world-class leadership programs have had on graduates, we reached out to alumni to hear first-hand about the impact that their chosen executive programs have had on their professional development.
In our inaugural edition of the State of Executive Education report, 129 senior executives from 20 countries—with an average work experience of 18 years—shared their learning experience and ideas with us. We're delighted to share the findings with you as we continue to build the future of executive education:
1. Executive education can transform businesses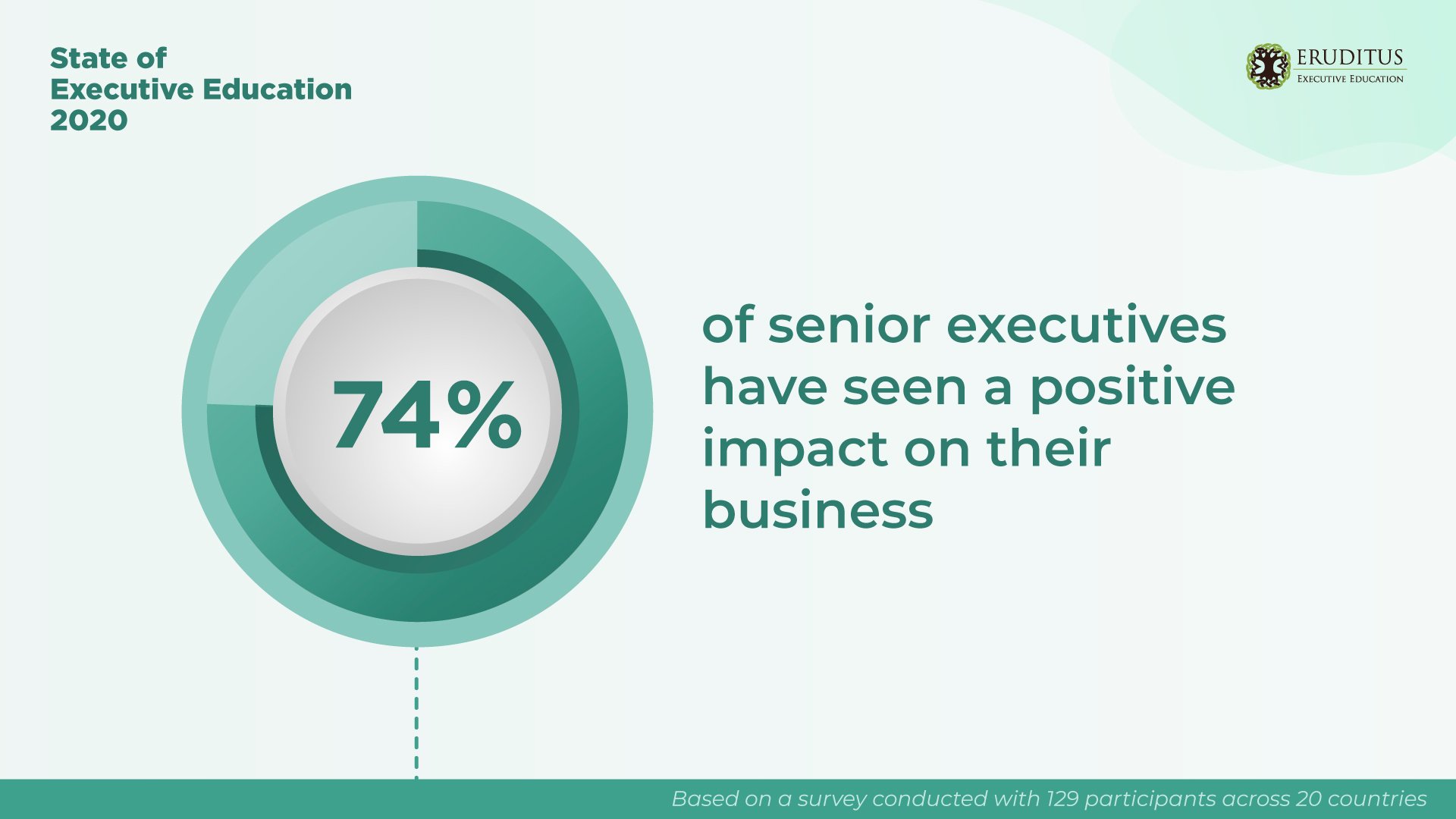 Three in four participants who completed a leadership program could see the positive impact it had on their business or organisation. The depth and breadth of knowledge gained by executives gives them the ability to view their business from a better perspective, helps to shape their thinking and gives them tools that they can take back into the workplace. As the programs bring together a broad range of disciplines, they show participants a variety of cutting-edge leadership techniques that they can use to scale-up any business. Combined, this has the potential to translate into tangible outcomes including revenue growth, increased employee and customer satisfaction, market share, and customer retention.
"I believe I can make a difference to my organisation and society as a whole. This is very important. Life as we know it has changed with the advent of the coronavirus pandemic. We must reskill ourselves, improve our peer networks, help each other and make this world a better place to live, work and thrive in" – MIT Executive Program in General Management, Dec 2014 Cohort
2. Investing in lifelong learning is impactful  
It isn't just businesses that receive a return on the investment in executive programs. More than seven out of ten participants agreed that the program they pursued was worth the investment and were satisfied with the impact the program had on both their career and professional development. Eight in ten saw a positive impact on themselves personally that ranged from a boost in confidence to an increased passion for their work and greater career opportunities. For many, this passion has extended beyond work, with participants saying the transformational value of the course content has inspired them to do more with their life.
With lifelong learning, new habits are also instilled. For some this means thinking more broadly, improving listening skills and increasing time spent on introspection. While for others, it has opened them up to different perspectives when analysing problems and dealing with individuals and has enabled them to become better decision-makers.
"The association with Brand Columbia Business itself was the biggest change in my life. I felt elevated the day I set my foot in CBS and my self gratification was enhanced to the highest level. My self-esteem and self-confidence were boosted to a level that it helped me win the top job as Chairman, leading the entire Power Industry in my country." – Columbia Executive Program in Management, Oct 2017 Cohort
3. In-class learning is valued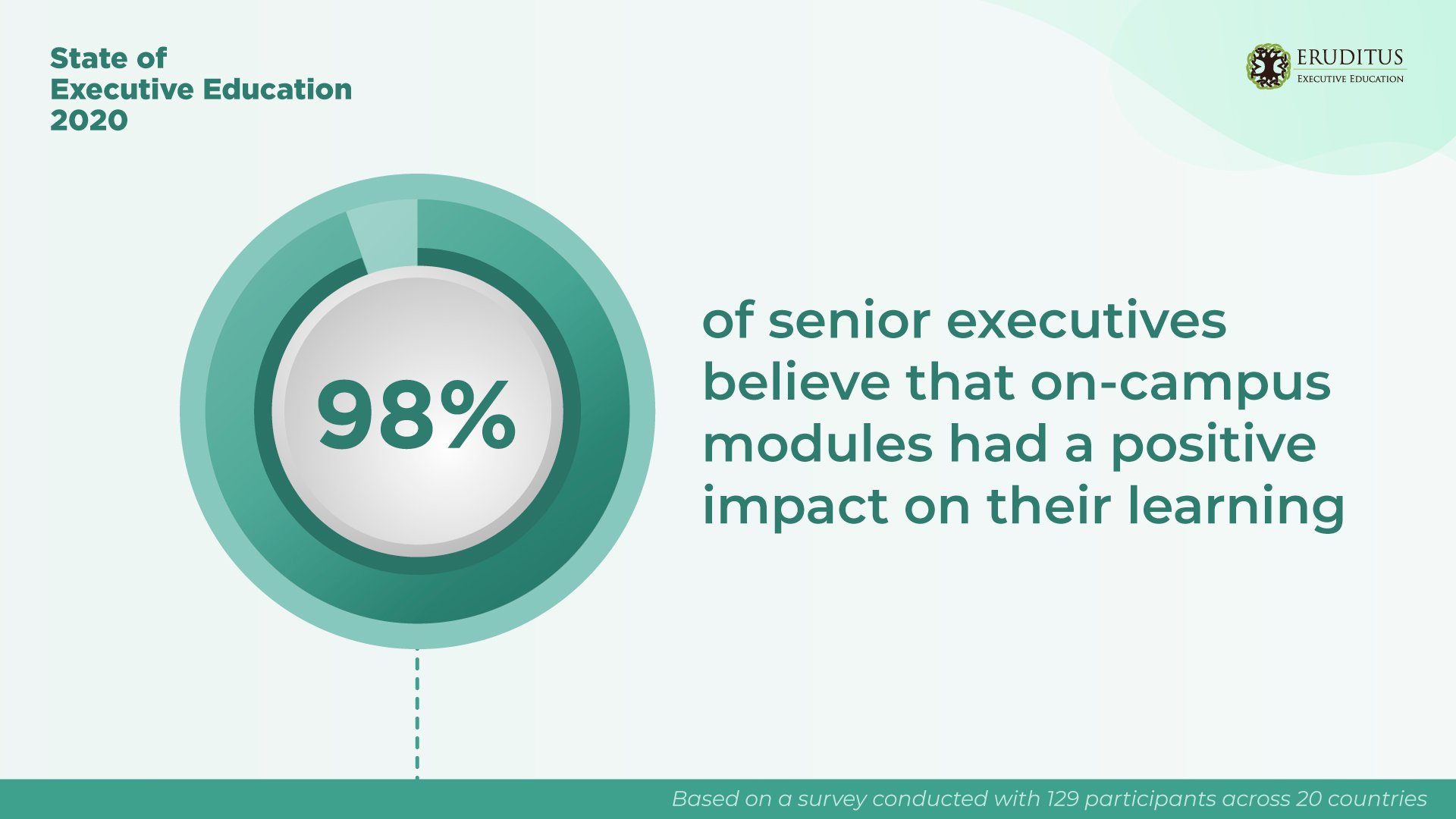 While online learning is gaining momentum and 95% of survey respondents expect online learning adoption to increase in the near future, 98% of those surveyed believe that on-campus modules had a positive impact on their learning. Smart course design gave them the ability to network with their peers and collaborate together, with the majority agreeing that this positively impacted their learning. 
The intensity of in-class learning helped some overcome psychological barriers and has given them the confidence to face new challenges in their daily work. While others have been inspired by the fresh knowledge and real time exposure to new people and global campuses. These in-class learning experiences complement online coursework, live webinars, and are here to stay. 
"The Berkeley campus was a great learning experience—including insightful interactions with great teachers, interesting peers and outstanding visits to some 'hot' companies (Facebook, Netflix, AirBnB, etc.)." – Berkeley Program on Data Science & Analytics, Nov 2018 Cohort
4. Online learning is gaining momentum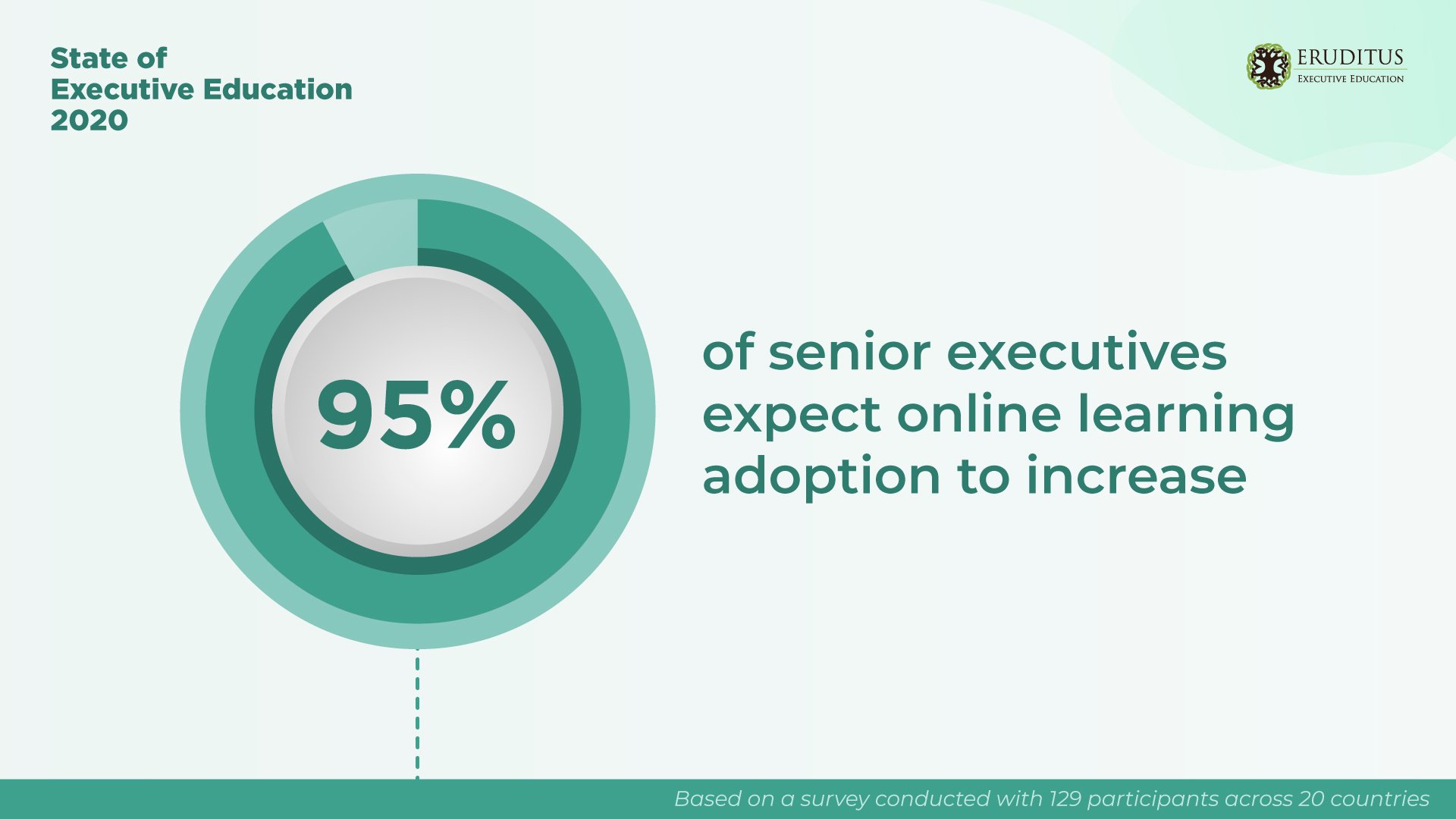 Given recent developments, 95% of survey respondents expect online learning adoption to increase in the near future. With areas such as Artificial Intelligence, Machine Learning and Blockchain growing in prominence across industries, senior executives who participated in the survey expressed a keen interest in understanding how these technologies could impact their businesses. 
Other topics of interest that executives are keen to learn about right now are how to lead through uncertainty and motivate remote teams.
"The quality of the faculty, the Columbia University content and campus, and the approach of online + offline were absolutely fantastic." – Columbia Digital Business Leadership Program, Apr 2019 Cohort
5. Interaction with faculty and industry members enhances learning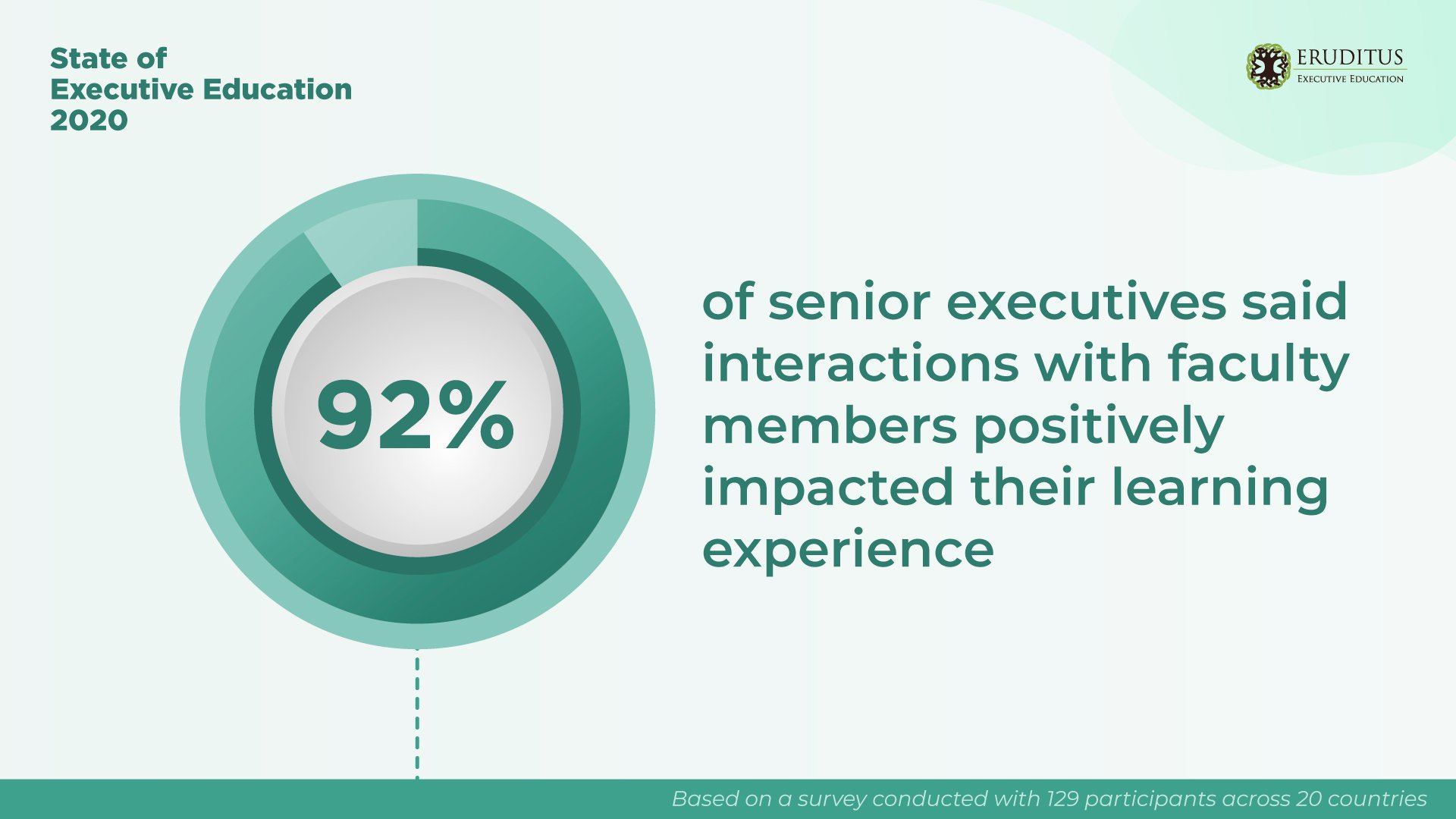 On-campus learning gives participants access to faculty members who are well-renowned experts and thought leaders in their respective fields. For 92% of those surveyed, these interactions positively impacted their learning experience by sparking new ideas and encouraging different streams of thought that were both personally and professionally rewarding. Some participants have maintained these connections and have been able to call on the assistance of lecturers and other faculty members when dealing with challenging times in their business. 
In many programs, these interactions are further enhanced through immersive industry visits that span continents and industries. In addition, insights and best practices from global companies are shared giving participants the ability to learn directly from leading organisations. 
"The most valuable aspect was the assistance rendered by lecturers beyond the classroom on changing the business models of my industry — I am glad I had Dr. Kishore Sengupta to assist me as the actions taken then became very relevant during COVID-19. This programme is never to be underestimated as it will power your career and bring you to greater heights in your personal and work life. Of course, you need to put in your fair share of effort as well." – Cambridge Senior Management Programme, Dec 2018 Cohort
6. The knowledge acquired is relevant long after graduation
Good leadership programs are designed to add value beyond program completion. Our research shows that our university partners' programs succeeded in achieving this with nine out of ten respondents saying they are applying the content often since graduation. Many refer back to the content and access webinars to refresh their knowledge while others also share it with their work colleagues or use it when working through their business challenges. 
"The focus on digital transformation in legacy companies was quite a unique angle and gave me confidence that legacy companies (which are the majority of corporations today) can make this happen." – Columbia Digital Business Leadership Program, Apr 2019 Cohort
7. The connections made through executive programs are priceless
Networking is a critical element to success in business. By bringing together global business leaders from diverse backgrounds, executive education programs open up participants to new perspectives and opportunities. This was valued by nine in ten respondents who felt that interacting with their peers was an important element of the learning experience. The diversity of alumni—both in industries and geographies—exposed participants to multiple dimensions when looking at business challenges and potential solutions. As many alumni are experts in their own field, they are also able to offer their peers a depth of understanding across various fields. 
These interactions not only enable people to exchange knowledge but can also lead to life-long friendships, richer networks and increased opportunity for career advancement, with 94% still in contact with their peers after graduating. Some participants have taken their networking to the next level by creating their own collaborative ecosystem leveraging things like Whatsapp groups and regular catch-ups to stay connected; while others remain connected to their peers through the university's own alumni network.
"Meeting other cohorts, understanding my peers, networking and building friendly relationships. All these gave me perspective and an understanding of professional careers of my peers that helped me assess my own situation better." – INSEAD Leadership Programme for Senior Executives—India, Aug 2013 Cohort
8. Executive Education has strong network effects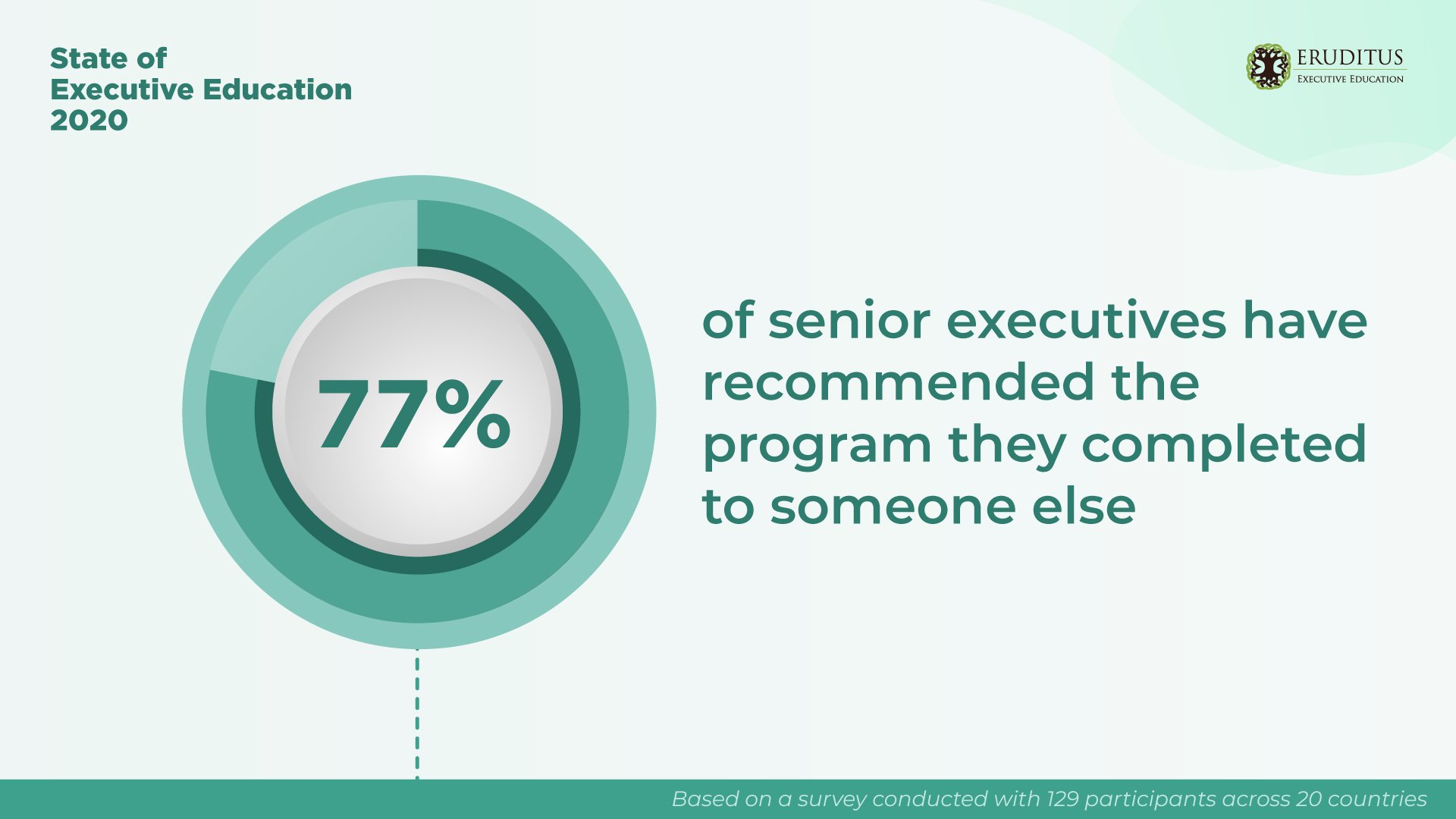 Executive programs aren't just about a certificate; their benefits lie in how it can change your perspective and open up peer networks. The learning and transformational value is tangible, which is why more than three-quarters of alumni recommend such programs to four people on average for their own professional development. 
"The program has changed my perspective to entrepreneurship and storytelling. I learned how people have successfully built ideas into commercial successes, and about failures and human behaviour. These are new for me and it has given me confidence which is why I recommend this program. It's about investing in yourself to be equipped for any situation." – MIT Executive Program in General Management, Dec 2015 Cohort
Beyond the statistics
We live in unprecedented times but one thing is certain – executive learning programs are more relevant now than they have ever been. The ability to think differently and navigate unknown territory is critical to success for all businesses and leaders now.  
Echoing this sentiment, Mike Rielly, CEO, Berkeley Executive Education said: "2020 has highlighted that strong leadership helps businesses overcome unprecedented challenges. For senior executives who invest in continued learning, the opportunity to learn from leading faculty, industry experts and a diverse cohort, equips them with the confidence needed in driving change in their organisations and communities. While travel may be restricted now, learning shouldn't be – that's why we have advanced online modules to ensure the academic integrity of our programs. We will continue to develop new programs and look forward to welcoming new cohorts".
We asked survey respondents about the key upskilling needs for their organisations and they said digital transformation and innovation, leadership and management, data science and artificial intelligence, fintech and analytics were key priorities. 
Commenting on the future of executive learning, Rafat Malik, Senior Advisor to Group CEO, Founder and Former Dean, Saudi Telecom Company (STC) Academy opined: "COVID-19 has accelerated the need to break old ideas around learning and embrace new possibilities. Essentially learning is going to be a mix of virtual and face-to-face learning, as the latter is hugely important to develop trust. We will use virtual technologies to access insights from outside the region, which we can't get locally. I think this is going to be part of a new learning mix that will evolve over time. A move away from 'token learning' to tangible, practical learning will ensure that learning is recognised as an important part of everyone's role, be it upper echelons of the company or specialist learning that could be extended to all employees."
Conclusion 
This research highlights that executive education has strong individual and organisational benefits that outlast the duration of the programs. The only constant now is change, and with that comes the need for leaders to find new ways to future-proof themselves and identify opportunities for personal and business growth. This sentiment is echoed in a separate global learning survey our team conducted recently—with 1,560 respondents across 13 countries—where 77% of those surveyed claimed they are interested in pursuing further education in the next 6 months.
Responding to the Executive Education survey's insights, Lisa Rohrer, Directory of University Partnerships at Eruditus, said "Despite the damper Covid has put on classroom programs recently, this research demonstrates that participants greatly value the experience and networking that comes from an immersive executive program. These programs have the potential to transform the lives of senior professionals around the world, opening up new insights, connections and opportunities. We are proud to partner with leading universities around the world and will continue to deliver on our mission of making high quality education accessible and affordable."
---
Survey data for this report was collected by our Market Research & Consumer Insights team from April 15 to May 11, 2020. To download a copy of the report, please click here