6 Big Takeaways From the McKinsey Technology Trends 2023 Report
In 2021, Bezos and Branson breached the stratosphere, dipping their spaceships' edge into space. Then in 2022, ChatGPT was launched, and AI entered the mainstream colloquialism. In 2024, if all goes to plan, France will begin an air taxi service to ply people around the place during the Paris Olympics. You would be wrong if you're wondering whether you've strolled into an Isaac Asimov novel. Technological innovations are going on at warp speed. As the year hits the last quarter, the McKinsey Technology Trends 2023 Report has collated and consolidated vast reams of data to put all that into perspective. Let's therefore parse through some significant markers mapped out by the report—and do some tech trends 2024 predicting too. 

The Big Takeaways From the McKinsey Technology Trends 2023 Report
Outer space, immersive tech, cloud computing, clean technology—they all find a place in the McKinsey trend report. While the tech world is vast and varied, we look at the stuff that will leave a major footprint in the coming months and years. Here are the ones that are shaking things up—more than they already have been.
1. Generative AI Generates Deep and Abiding Interest 
To put it mildly, ChatGPT, Bard, and DALL E 2 are taking the world by storm. They're changing the way people work. (On a not-so-happy note, they've also prompted technocrats to caution people on its downside.) Simply put, generative AI is an artificial intelligence that can create text, images, videos, audio, and what have you. It essentially builds on applied AI and machine learning technologies and learnings to go many steps further in its application potential. This year, generative AI is showing signs of only scaling up. According to the McKinsey report, it's set to add $4.4 trillion in economic value. That interest in generative AI as a career is seriously high is evident in the fact that job postings in this space grew the fastest in 2021–2022.
Applied AI itself—AI models to automate certain activities—also continues to experience a surge, with 50% of businesses adopting AI in some form or the other in 2022. 
2. Trust Architectures to Shape the Future
All great innovations come with a warning sign, don't they? So, with the immense strides made in tech, digitalization, and data generation has come the very real threat of invasion of privacy, lack of transparency, and data security. This, therefore, has seen a commensurate increase in creating and designing "digital trust technologies" and architectures. According to McKinsey, investment in trust architecture was at $47 billion in 2022. They help businesses and individuals manage risks to data and protect digital assets and infrastructure. That such a technology trend is all for the better is undeniable because it works to build better customer relationships. It also increases productivity. Some examples of this tech include digital identity systems, Zero-Trust Architectures (ZTA), privacy engineering, etc. 
3. Advances in Advanced Connectivity
5G/6G, WiFi 6 and 7, low-Earth orbit satellites—technology is exploring faster, more advanced connectivity such as 6G, WiFi, among others. Organizations, too, have quickly gotten hip to the higher productivity and efficiency offered due to these technologies. In fact, now Apple is exploring ways to integrate satellite connectivity into existing products. It has invested over $450 million in satellite providers for emergency SOS coverage in remote areas to iPhone 14 users. Given this, speedy connectivity had to make it to the big technology trends 2023 hotlist. 
4. Cloud and Edge Computing Marches Forward
Simply put, edge computing refers to multiple locations across which workloads are distributed close to users. This allows businesses to process data faster, thus improving productivity. Furthermore, edge computing particularly also offers better data privacy and security. However, public clouds continue to be used by businesses, especially for activities or data that is not time-sensitive. Businesses this year have opted for a multi-cloud approach, which offers flexibility, improved security, and cost-effective solutions. Further, integration edge and cloud resources are also on the cards, leading to greater innovation. Additionally, edge computing, McKinsey predicts, will see double-digit growth over the next five years.
5. Cleantech to Drive the Future
Wildfires in Canada, melting ice caps, irrepressible flooding, cities and towns under water—climate-related catastrophes have become alarmingly frequent. So a technology report, simply by necessity, must have an eye on clean technology. This report, too, looks at the required scaling up of climate technologies, such as carbon capture, utilization and storage, water and biodiversity solutions, and natural climate solutions, among other urgent factors. Focus on renewables, including those powered by solar, wind, and water, also continues.
6. The Metaverse is Dead; Long Live the Metaverse
Early this year, it seemed the metaverse had hit a roadblock of sorts. Microsoft and Disney moved away from their respective Virtual Reality (VR) endeavors. Mainstream interest seemed to wane—but investors have retained a steady optimism about immersive technology. This explains almost seven investment rounds of over $100 million last year. T'ere's no looking back or scaling down in the coming years too. So far, VR headset sales are rising after a dip in 2022. Additionally, McKinsey research estimates immersive technologies might generate $4 to $5 trillion in value by 2030. Things, it seems, are looking up once again.
Tech Trends 2024: What the World of Tech Looks Like in 2024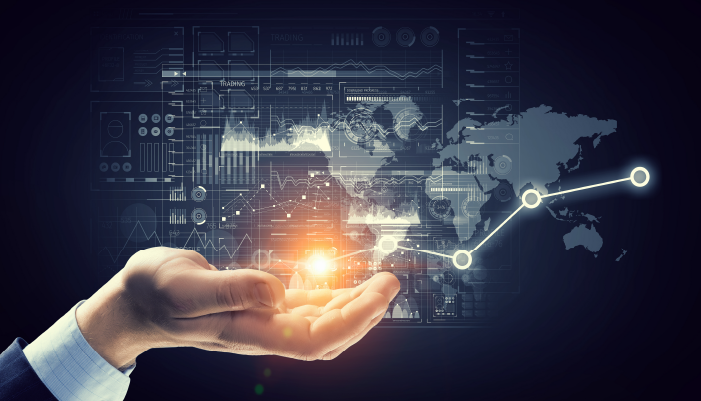 Now that we've got a broad rundown of the technology trends 2023 list, let's look at what the coming year will look like and take a gander at the tech trends 2024 predictions:
Nothing, apparently, is enjoying the limelight as much as AI. It will continue to do so in 2024 with further innovations, greater developments, more low-code and no-code AI solutions, and more companies adopting it for growth.
Blockchain technology, which will decentralize distribution systems and scale up the safeguards for digital data protection, will be more widely adopted. 
There's already increasing interest in quantum technologies, which will only increase in 2024. This technology uses principles of quantum mechanics, which, in very basic terms, is the study of how atomic particles interact with each other. With quantum computing, scientists can explore more efficient and effective solutions across industries, with early developments, McKinsey reports, in automotive, chemical, financial, and life sciences. In fact, this tech is anticipated to be valued at

$1.3 trillion by 2035

.
Migrating to Mars might still make a few skeptics raise their eyebrows, but space technology continues to inspire technophiles. Expect several more launch vehicles to shoot into space in 2024 (even in the remainder of 2023). There's the Starship by SpaceX, Vulcan Centaur by United Launch Alliance meant to carry satellites into space, direct-to-device satellite coverage—the list goes on.
The next year may also see Extended Reality gain more ground. A combination of

AR, VR, and Mixed Reality (MR) is expected to transform the education, health, and entertainment sectors. From its current just over $40 billion market value, ER is expected to reach $111.5 billion by 2028.
The Emeritus Game Plan to Stay in Step With Tech Trends 2024
If the information age has taught us anything, technology begets innovation and world-changing transformations. The consequence is a cascading effect on the way we live—and the way we work. The best way, therefore, to be in lockstep with these constantly evolving goalposts is to be prepared. Enroll in any of Emeritus' IT courses that align with your tech dreams and prepare to join the world as it steps into the future.