The Top Tech Trends in 2024 and How They Will Shape the Future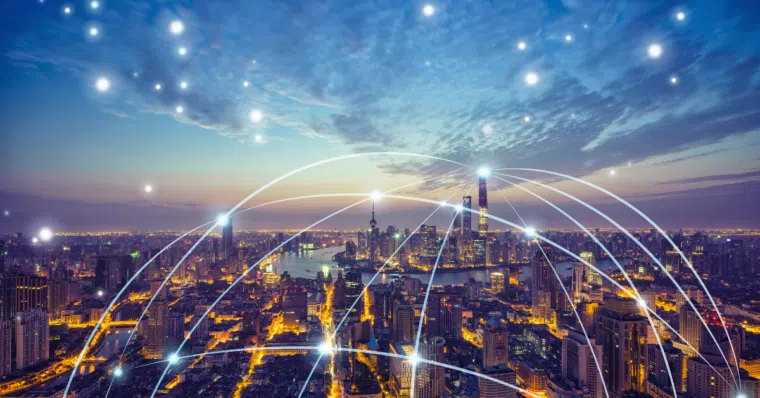 As we stand on the brink of 2024, the technological landscape is evolving at an unprecedented pace. Indeed, tech trends 2024 will not only shape our immediate future but also redefine the very fabric of society and business. Consequently, tech leaders are in a unique position to strategically lay down a roadmap where technology investments help their businesses sustain success amidst uncertainties and pressures. Organizations need to evaluate the impacts and benefits of the latest technology trends to determine which innovation will have the most significant impact on their success. Consequently, staying abreast of the trends is crucial for anyone looking to maintain a competitive edge in an increasingly digital world.

In this blog, you will learn:
Top 10 Tech Trends 2024 That Will Shape the Future
Generative AI
Extended Reality
Genomics
Datafication
AI and Machine Learning
Quantum Computing
Blockchain Technology
Autonomous Devices
3D Printing
Sustainable Tech
Top 10 Tech Trends 2024 That Will Shape the Future
As we delve into the top 10 tech trends 2024, it's clear that these innovations are set to revolutionize various aspects of our lives. From the way we work and communicate to how we approach healthcare and environmental sustainability, each trend offers a glimpse into a future that's more interconnected and technologically advanced. These trends are not just shaping the future; they are creating a new paradigm for how we interact with technology in our daily lives. Let's explore these transformative trends and their potential impact on the world.
1. Generative AI
Generative AI is set to be a transformative tech trend in 2024. This technology leverages machine learning to create new content, from realistic images to music and even code. Inevitably, generative AI is poised to revolutionize creative industries, enabling personalized content creation at scale. As part of the tech trends 2024, we can expect this technology to enhance human creativity, offering tools that can design, draft, and innovate in partnership with their human counterparts.
ALSO READ: The Top Tech Trends in 2024 and How They Will Shape the Future
2. Extended Reality
Extended Reality (XR)—which includes virtual, augmented, and mixed reality—expands the boundaries of digital experiences even further. This tech trend in 2024 will continue to blur the lines between physical and virtual worlds. Additionally, XR will transform the retail, real estate, and education industries by providing immersive experiences that enhance learning and buying. As XR technology becomes more refined, we can anticipate it becoming integral to remote assistance and telepresence solutions.
3. Genomics
Genomics will make leaps and bounds as a tech trend in 2024, offering unprecedented insights into the building blocks of life. This field is pivotal for personalized medicine and advancing our understanding of genetics in agriculture, bioengineering, and disease prevention. Furthermore, as sequencing becomes faster and more affordable, we can expect a surge in genomics data that will require sophisticated AI tools to analyze the same. Moreover, this technology 2024 trend will likely lead to ethical debates surrounding genetic privacy and modification.
4. Datafication
Datafication, one of the tech trends 2024 will further amplify, refers to the transformation of every aspect of our lives into data-driven insights. This trend is seeing an increase in the quantification of human behavior, leading to more informed decision-making in business and personal contexts. As data becomes the new currency, the importance of data analytics and interpretation skills will skyrocket. Moreover, with the rise of IoT and smart devices, datafication will continue to provide a wealth of information, fueling advancements in AI and machine learning.
ALSO READ: Top 30 Technology Jargon You Should Know About
5. AI and Machine Learning
AI and machine learning are not just part of the tech trends 2024 shortlist; they are the revolutionizing force. These technologies are becoming more sophisticated, permeating every sector, from health care to finance. Furthermore, they are the engines powering big data analytics, providing insights that were previously unattainable. Additionally, we can expect AI to advance to the point of making more autonomous decisions, leading to significant efficiency gains across various industries. As a matter of fact, when it comes to the technology trends in 2024, we'll likely see AI becoming more personalized in its interactions with users, offering more tailored experiences.
6. Quantum Computing
Quantum computing is breaking the boundaries of processing power. This tech trend is not just accelerating complex computations but also unlocking new possibilities in cryptography and materials science. Moreover, it is a field that is attracting massive investments, signaling its potential impact. Additionally, as quantum computing becomes more accessible, we can expect it to solve problems that are currently intractable for classical computers. It has the potential to revolutionize fields such as drug discovery and climate modeling.
7. Blockchain Technology
Blockchain technology is experiencing a surge and going beyond cryptocurrencies. This is one of the tech trends 2024 has in store that will positively impact our trust in digital transactions. It is also a cornerstone for innovations in supply chain management and Intellectual Property (IP) rights. Furthermore, we can expect blockchain to become more prevalent in securing personal data as it offers a more secure and transparent method for managing digital identities. Additionally, as part of the technology trends in 2024, blockchain could also transform voting systems, providing a secure and immutable record of votes.
ALSO READ: The Top 4 Potential Blockchain Applications Across Industries
8. Autonomous Devices
Autonomous devices will become more prevalent as a tech trend in 2024. From drones delivering packages to self-driving cars, these devices are reshaping logistics and personal transportation. Additionally, they are becoming smarter and more reliable. As these devices become more integrated into our daily lives, they will likely spur new regulations and ethical considerations. This technology 2024 trend could also push the boundaries of machine learning and robotics.
9. 3D Printing
3D printing technology will continue to be a key tech trend in 2024. This technology allows for rapid prototyping and production of complex designs that are not possible with traditional manufacturing methods. Additionally, 3D printing promotes sustainability by reducing waste and enabling local production. Moreover, the tech trends 2024 will likely see 3D printing becoming more accessible to smaller businesses and consumers, democratizing the manufacturing process.
ALSO READ: 6 Big Takeaways From the McKinsey Technology Trends 2023 Report
10. Sustainable Tech
Last but not least, sustainable tech is already dominating tech chatter when it comes to technology 2024. With climate change concerns mounting, technology is playing a key role in finding solutions. Emerging renewable energy technologies like smart grids are at the forefront of the fight against global warming. We can also anticipate a surge in innovations aimed at reducing the carbon footprint of tech itself. Notably, sustainable tech will likely become a significant factor in consumer choices, as awareness and demand for eco-friendly products grow.
ALSO READ: The Top 10 AI Trends 2024 You Should Know About
In conclusion, tech trends 2024 are set to reshape our reality. Generative AI will unlock new creative avenues; extended reality promises deeper immersion; 3D printing is poised to overhaul manufacturing; genomics will customize health care; and datafication will enhance our understanding. Each trend is a vital piece of the puzzle that will form our collective future. As these technology trends in 2024 evolve, they will create new career paths and opportunities for growth. Therefore, to stay ahead in this rapidly changing landscape, professionals, both experienced and freshers, must not only remain aware but also actively develop a deep understanding and acquire a skill set through continuous learning.
So, are you ready to be at the forefront of the technological revolution? Embrace the future by equipping yourself with the knowledge and skills needed to excel. You can start by exploring Emeritus' technology courses; these will help you master the tech trends of 2024 and be the best in your field today.
Write to us at content@emeritus.org