14 Benefits of Online Learning for Working Professionals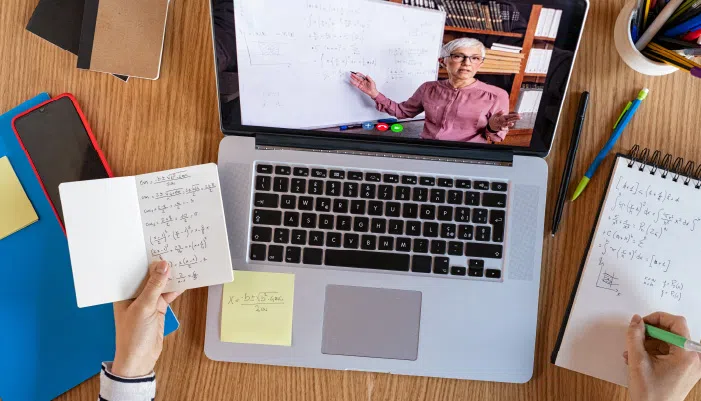 In a world powered by digital technology, online education has gained tremendous popularity in recent years. And it's likely here to stay for the long term. In our 2021 Global Consumer Sentiment Survey of more than 2,100 adults worldwide who planned to further their education in the next year, 78% of respondents said they believe the adoption of online education will increase in the near future.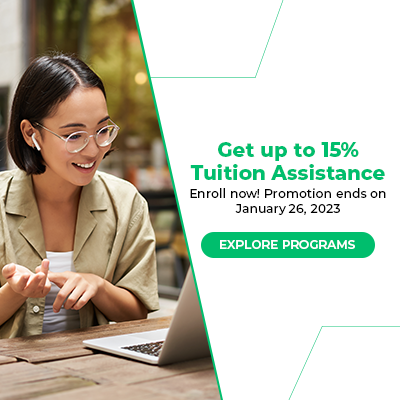 Given the greater need for virtual communication amid the ongoing pandemic, along with a renewed emphasis across industries on upskilling and reskilling, it's safe to say the benefits of online learning and online classes have become much clearer to working adults.
What to Expect in an Online Course
Online learning can take all sorts of shapes and sizes. So, what to expect varies widely depending on the type of course or program you seek.
If you're looking to gain basic knowledge of a specific topic, a free online course may be the answer. These are more likely to be self-paced, which often means less direct guidance from an instructor. Offerings are available in virtually any subject area that comes to mind, including both soft and hard skills.
You may consider a paid online program offering a credential if you're looking to make a more dramatic career change or advance into a managerial role (or help members of your team move into new internal positions or gain new skill sets). This credential may be a certificate, professional certification, or a full online degree program, among others.
Paid online classes also vary in structure and format. Some require you to attend live lectures at a set time. Others have you complete coursework on your own schedule with weekly deadlines. Even classes designated as "online" may have some sort of in-person, or on campus, requirement. That's why it's important to explore your program's website for details before enrolling. Each program will offer a unique learning experience.
In online classes, you may interact with your classmates in a variety of ways, whether through your virtual classroom (often referred to as a learning management system, or LMS), email, videoconferencing, and more. Group work may be required with some online classes.
Before committing to online learning, look into what credentials and types of coursework can help you reach your goals—whether you're furthering your own education or enrolling your staff in courses to help keep their skills up to date. But first, you should decide whether learning online is right for you or your employees.

Benefits of Online Learning for Adults
If you're looking for courses to factor into an already busy work schedule, then online education may be the route you ultimately decide to take. So, what are some advantages of online learning? Here are 14 to consider when weighing your next move.
1. Flexibility
Many people turn to online learning for its flexibility. Learning virtually from anywhere allows you or your team to pursue coursework without having to commute to a physical campus. While some online courses require learners to attend live lectures, you can otherwise factor your coursework into your already busy schedule and move at your own pace.
2. Ability to Advance a Career
In the Emeritus survey, career advancement was respondents' main motivation for furthering their education. This is also very much the case in online education broadly speaking. Career advancement may include upskilling or reskilling, earning a promotion or salary increase, or switching career fields. Since online learning is a flexible option, this format appeals to working professionals seeking career pathing opportunities.
Globally, the survey found the following among its respondents:
10% were career restarters, or those looking to re-enter the workforce after a break
23% were career builders, or were hoping to build upon existing skills
21% were career switchers, or were looking for ways to expand opportunities
31% were career advancers, or were hoping to advance in their current field
13% were career launchers, or those looking to start a new career
1% fell into the "other" category
3. Wider Range of Courses and Programs
One of the great advantages of online learning is that professionals can learn from schools around the world and find the program that best meets their needs without uprooting their lives. In contrast, those studying on campus are limited to local options or must move to another city for a full-time program. Many renowned, well-established universities now offer online classes. This provides a greater span of options to help you achieve your goals or train your staff. (At Emeritus, our learners are located across 80 countries, with our partner institutions spanning the U.S., Europe, Latin America, Southeast Asia, India, and China.)
4. A Broader Range of Perspectives
Given that your online classmates may be based around the world, you can gain perspectives from professionals in a range of countries. You can explore how businesses operate overseas and prepare for a global workforce. Better yet, because online learners typically have a wide range of goals and professional backgrounds, you can gain insights from other adults both within and outside your industry.
5. Immediately Applicable Coursework
One of the great benefits of online learning for professionals is being able to directly apply your coursework to your full-time job, especially if you're upskilling and want to stay in your current industry. What you learn from your instructor, classmates, and course materials may very well align with your tasks the following day at work. You can put what you learn into practice in the real world.
In fact, 78% of learners polled in the Emeritus 2021 Global Career Impact Survey said their coursework was immediately applicable to their work, and 7 in 10 respondents feel that completing an online program enabled them to be more effective at their jobs.
6. Affordability
Overall, online program costs vary, but with a wider range of offerings and types of credentials comes a wider range of price points. You can choose an online program that not only meets your professional needs but also that fits within your price range. Generally, you will save money that would otherwise be spent on housing and commuting to campus each day. Your employer may also be willing to pay for your education or reimburse you for tuition if your program aligns with your current or future responsibilities.
7. Time Management Skill Development
In all areas of life, managing your time is an important skill. You may juggle family and personal obligations with your professional responsibilities—along with everything else life throws your way. As a professional in an online course, you're likely balancing your job with your education. This requires you to plan ahead and perhaps break your assignments into smaller chunks. Knowing how to manage your time is a skill that will serve you well in the long term.
8. Virtual Collaboration Opportunities
Especially as COVID-19 persists and many professionals continue to work remotely, virtual collaboration skills are more important than ever. Completing an online course or program teaches these valuable skills as you will collaborate on group work, engage in live and offline discussions, and analyze viewpoints from classmates based worldwide. This is also important as many companies, big or small, hire teams with employees across the globe, and working with people across various time zones may be part of your job.
9. Networking Without Geographical Boundaries
Emeritus courses leverage the power of cohort-based learning, an educational approach where multiple learners move through a course or series of courses together. In the online format, these courses often combine synchronous (live) and asynchronous (self-paced) learning. Because your classmates in an online class aren't restricted to living locally, you can build relationships with a broader range of learners who work in your industry. One of the major benefits of online learning is the chance to build your professional network without geographical boundaries.
10. Ability to Gain Technical Skills
Also among the advantages to online learning: You will gain technical skills that will benefit you in and out of the classroom. You will learn about how to use different hardware and software (like Zoom or Google Hangouts). And you will become a master at using your course's learning management system and navigating digital learning materials. Especially amid the COVID-19 pandemic, knowing how to use different kinds of technology is critical.
11. A Customizable Learning Environment
With online classes, you can complete coursework from anywhere you'd like—whether that's from your kitchen or living room, your office, a coffee shop, and so on. While some students simply learn better in a traditional classroom environment, others might prefer to watch lectures in a comfortable setting of their choice. That's one of the great benefits of online learning—even if you're traveling for work or fun, your coursework is still accessible regardless of your location. Plus, distance learning has become a safe option throughout the course of the pandemic.
12. A More Sustainable Option
For several reasons, online learning is an environmentally friendly option. For one thing, you aren't consuming gas on your way to and from a physical campus. Plus, you're most likely not depending on printed materials to complete your coursework.
13. Multiple Modes of Communication
With online learning, it's expected that you will communicate with professors and classmates through multiple channels—email, videoconferencing, and in your course learning management system, to name a few examples. Online education encourages you to ask questions, complete group projects, and even attend lectures in whatever format works best for you.
14. Opportunities for Remote Team Training
If you're an organizational leader or team manager looking to upskill a remote workforce, online learning may be your best option. Team training in any form has its benefits, including increased collaboration and employee engagement. The shift to remote and hybrid work has become one of the defining workplace trends of the past few years, so it only makes sense that team upskilling initiatives would also move online.
Does Online Learning Make Sense for You?
Different learners have different learning styles. What type of learning experience would you thrive in? Knowing where your strengths and weaknesses lie will help you reach a conclusion on whether online learning is right for you. Make sure to educate yourself on the advantages and disadvantages of online learning.
Online learning may be the right choice if you're self-motivated, have strong time management skills, and don't want to commute to a campus. But if you prefer face-to-face guidance from an instructor, you should carefully weigh the pros and cons of this learning format.
To truly experience the benefits of online learning, make sure you have clear goals in mind when enrolling. That way, you will pick not only the right learning format but also the best credential and course of study to meet your needs.
---
Experience the Benefits of Online Learning
Looking to move forward with online learning? View our full list of online courses for individual enrollment.
You can also learn more about how you can work with Emeritus Enterprise to develop online employee training programs with top university content tailored for your industry, company, and team.
This blog post, originally published in 2021, has been updated for 2022.