A 2023 Guide to a Career in International Business Management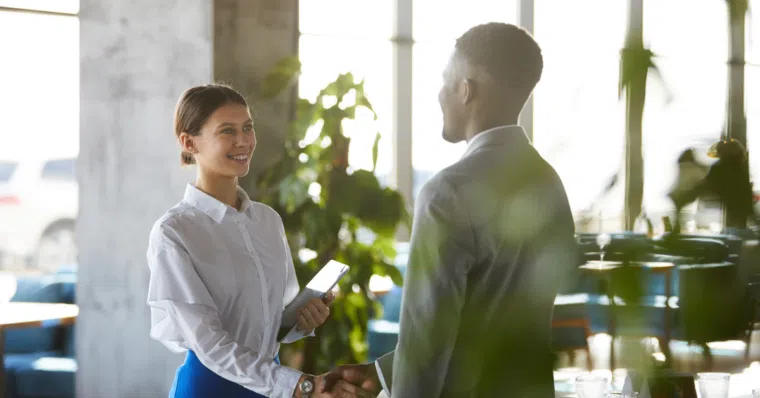 Globalization of businesses is no longer just a notion – it has been a reality over the last few decades. With that, there has been a growing demand for professionals with a deep understanding of international business management. From administrative and managerial to finance-related roles, the career opportunities are vast and exciting. 
Statistically, around 11.5 million people work in the international business sector in the U.S. In addition to providing interesting career prospects, international business management also facilitates the breakdown of cultural barriers (which is a bonus).
This blog explores the benefits and scope of international business management. It also showcases how it can be an ideal career choice for candidates interested in working in this field.

What is International Business Management?
International business management refers to the process of managing and overseeing the operations of a company with business activities spanning beyond national borders. It involves the application of business principles and strategies in a global context by considering the complexities and challenges of operating in different cultural, political, economic, and legal environments. 
ALSO READ: How to Have a Successful Career in Business Management
Scope of International Business Management
International business management is a highly lucrative and promising career path in the 2023 business scenario. With the development of international markets, the demand for individuals with a comprehensive understanding of the global business environment has significantly increased. The multitude of job opportunities as well as the flexibility make it an attractive career option for those looking to pursue a dynamic career in the global business landscape.
International business managers with valid credentials can expect to work in a variety of roles. These include business development managers, financial traders, sales executives, marketing executives, external auditors, supply chain managers, and data scientists. 
Importance of International Business Management
With the rise of globalization and advancements in technology, international trade and investment have become increasingly important for companies of all sizes. This is why international business management plays a crucial role in the success of businesses that operate in a global marketplace by accomplishing the following:
Provides access to new markets by expanding into international geographies; this leads to increased sales, improved profitability, and enhanced competitiveness

Supports businesses to diversify their operations in multiple countries

Minimizes the risks (political instability and economic downturns) associated with operating in a single market 

Exposes businesses to new ideas and technologies, leading to increased innovation and the development of new products and services

Favors cost savings by sourcing materials or labor from lower-cost countries, reducing production costs, and improving the bottom line

Allows businesses to access a larger pool of talent, leading to the creation of a more diverse and skilled workforce
How to Become an International Business Manager
Many aspiring candidates aim for careers in international business management. To achieve that, they typically require a combination of specific education, experience, and skills to succeed. These are as mentioned below:
Education
Professionals need a bachelor's degree in international business, business administration, or a related field. Many employers may also prefer candidates with a master's degree in international business or business administration.
Experience
Relevant work experience in the field of international business, including international marketing, supply chain management, or global finance, is a plus.
Internships
Having practical hands-on experience helps aspiring individuals get ahead in their careers. It enhances the overall CV and gives them preference over other applicants.
Key Responsibilities
Following is a list of duties and responsibilities that an international business manager is expected to perform:
Develop and implement international business strategies

Make plans that align with the company's overall goals and objectives

Analyze global market trends, consumer behavior, and competitor activity to identify opportunities and potential risks

Establish relationships with international partners, suppliers, and customers

Ensure compliance with international laws and regulations related to trade, finance, and taxes

Develop and manage international supply chains and logistics

Manage international financial operations (currency exchange, tax compliance, and risk management)

Develop and implement cross-cultural training programs for employees to help them work effectively with people from different cultures
ALSO READ: How to Chart a Successful Career in Business Management
Skill Requirements
To succeed in international business management, professionals need to master several skills. For instance, financial statements are the most common hard skill for an international business manager, considering 10.7% of international business managers have this skill on their resume.
Here is a list of the important skills that are useful for this profession:
Knowledge of international finance including aspects such as foreign exchange rates, international payment systems, and financial risk management

Understanding of international trade regulations including export and import regulations, customs procedures, and international trade agreements

Familiarity with the concept of supply chain management to ensure the efficient flow of goods and services across borders

Adept at regulating global business operations keeping in mind legal, political, economic, and cultural factors that affect international business

Awareness of international logistics such as shipping, transportation, and warehousing

Strong understanding of finance and accounting principles such as international tax laws, currency exchange, and financial risk management

Ability to analyze and interpret complex data related to international markets, customer behavior, and industry trends
Salary Range for an International Business Manager
The salary of an international business manager can vary depending on several factors such as company size, industry, location, and level of experience. According to PayScale, the average annual salary for an international business manager in the U.S. is around $79,000, with a range of $33,000 to $145,000. 
Key Challenges in International Business Management
Aspiring candidates interested in the job profile of an international business manager should be aware of the potential challenges of this field. These include:
Cultural Differences
It is the most common challenge linked to international business activities, leading to communication barriers, misunderstandings, and differences in business practices.
Language Barriers
Language-related differences can hinder communication and limit the ability to understand local customers, suppliers, and partners.
Political Instability
Political instability, changes in government regulations, and trade restrictions can create uncertainty and risk for international business operations.
Economic Instability
Economic instability, such as currency fluctuations and market volatility, can impact business operations and financial performance.
Competition
International markets are often highly competitive and international business managers need to develop strategies to effectively compete with local and global competitors.
Build an International Business Career with Emeritus
Professionals well-versed in international business management have a high demand. With the right education, prominent experience, and professional credentials, you can gain the most from any international business career path. 
Enhance your knowledge and skillset to take your expertise to the next level by enrolling in any of the business management courses offered by Emeritus. This will help you build a successful career in international business management with a comprehensive understanding of global business operations. 
By Vasudha Awasthi
Write to us at content@emeritus.org