Top 5 Digital Transformation Trends of 2022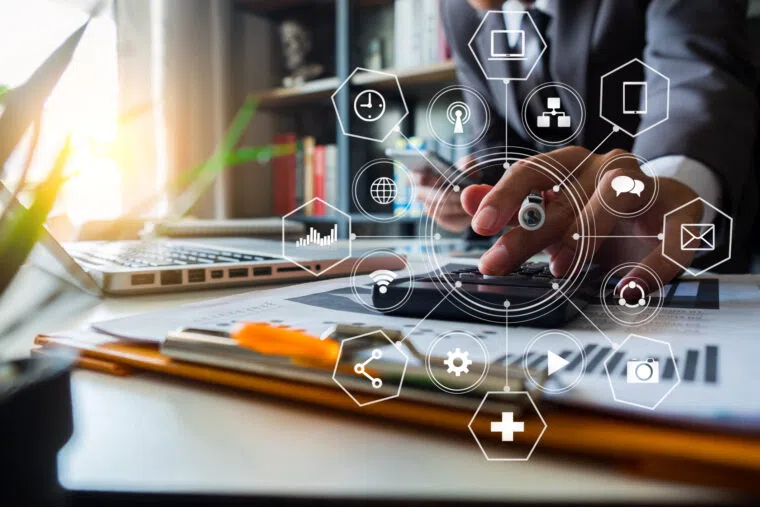 Digital transformation around the world has become the norm for most enterprises. The pandemic affected every industry, thereby compelling large and small enterprises to change systems and processes for smooth operations. However, only about 30% of companies navigate a digital transformation successfully. Teams and existing processes cannot change overnight; it needs to evolve step-by-step, digitally. Leaders need to manage talent, build an agile process, use the right technologies, platforms and leverage data strategically. In a nutshell, leaders need to integrate sustainable digital transformation trends to overcome the challenges of a disruptive economic environment. Emeritus offers comprehensive online learning programs for C-Suite Executives and mid-to-senior professionals that equip them with concepts and strategies to lead and grow digital business ecosystems. 
Why it's Essential for Business Growth in 2022
The pandemic changed the way that customers interacted with brands, products, and companies. It caused a shift in mindset, encouraging consumers to adopt a digital world. Organizations that delivered digital solutions in the new normal by leveraging data were successful. This digitization in the way we live, work, and function has driven competitiveness in every industry. "Companies' adoption of digital technologies has sped up by three to seven years in just months, with companies accelerating efforts for fear of being outflanked by competitors", according to Laura Laberge, McKinsey director of capabilities for digital strategy 64% say their companies need to build new digital businesses to stay economically viable in 2023. (Source)
Similarly, with global lockdowns, organizations and employees had no choice but to radically adopt various technologies to communicate, deliver and succeed. This integration of digital technologies into how companies operate and deliver customer experiences is how digital transformation is changing the world. However, the revolution doesn't stop here. Organizations have first-hand experienced the benefits of digital transformation and it is only going to grow at a rapid pace in 2022. 
Top 5 Digital Transformation Trends to Watch out for
Cloud Tech
Organizations are connecting, working, and living in the cloud. Cloud technology is a trend that will significantly grow in 2022. Simply because it enables teams, departments across countries to collaborate, communicate, network, and interact with data and assets. Organizations continue to operate within the public cloud that restricts data access across some geographies. This is where distributed cloud services flourish and enable organizations to function smoothly while complying with laws and ensuring governance. "Distributed cloud is the future of cloud," shares Gartner.      
The Hybrid Work Model
From an unimaginable remote working system to work from home model through 2020 and now 2021, online working is here to stay. SME's and large enterprises discovered tools that enable meetings and collaborations across the organization. Employees find themselves more productive in a work-from-home setup, working with ERP systems, project management systems, and software's like Slack and Zoho. While some organizations moved to complete remote work, few companies chose a hybrid work model. Over 80% of CEOs expect enduring societal behavior change arising from the pandemic, such as a permanent shift to hybrid work.
The hybrid work model is now driving the tech industry to build productivity-based software stacks and platforms that can bring the entire business ecosystem in one place. From mapping employee performance to managing CRM to enabling companies to make data accessible across departments and teams. Leaders will have to understand the challenges associated with platforms and learn to develop strategies to deal with them. This is where Emeritus helps leaders of the digital future by making globally renowned digital transformation programs accessible. Participants garner knowledge about new technologies that impact companies across every industry by learning from the leading minds of the industry. 
More Investments in ML and the Power of AI
The digital consumer is producing more data than ever and that too across various digital touchpoints. Organizations from entertainment to travel, rely on data and the power of AI to mine, manage, regulate and compute this data. AI facilitates churning out data insights at lightning speed, enabling faster decisions to pivot businesses in the face of disruption. While ML offers many businesses the ability to automate processes and operations. Thus, making Hyper automation a key digital transformation trend of 2022.
The need to become more efficient and agile will push organizations to automate tasks and improve productivity in organizations. A recent Salesforce Research report, Enterprise Technology Trends, found that 83% of IT leaders say AI & ML is transforming customer engagement and 69% say it is transforming their business. 76% of enterprises prioritize AI and machine learning (ML) over other IT initiatives in 2021, shares Algorithmia's third annual survey, 2021 Enterprise Trends in Machine Learning. 
Privacy
Customers are more than forthcoming with their data since the adoption of digital living. However, they're now keeping privacy as a priority. It's no wonder then that mega-giant Apple is advertising its privacy feature and how they hold user privacy at heart. Data drives customer experience. Companies need data – behavioral, shopping, and more to create tailored customer experiences. However, in 2022, organizations will have to become more transparent about how they collect, store and manage this data.
Users are holding tech giants like Google, Amazon, and Facebook responsible for their data and are asking important questions about data usage. Organizations will need to develop privacy policies that generate trust among their customers. Additionally, customers demand to know more about security protocols, data breach prevention models and want the flexibility to unsubscribe with ease. 
The Metaverse, NFT's and Blockchain technology
Facebook's announcement of the Metaverse has the population turning to virtual reality. Moreover, AR and VR tech companies are doubling down on the tech innovations in 2022. Big Tech is moving to a virtual world that is revolutionizing the way we live and connect. Art is trading through NFT's (nonfungible tokens) and is garnering popularity. Cryptocurrencies from Mana to Bitcoin – derivatives of blockchain technology – are becoming legal in developing countries.
While currencies are changing, the way people socialize, work and transact are also changing. Businesses need to adapt to this rapidly evolving digital landscape and learn how to stay relevant in an increasingly competitive world. 
Learn more about digital transformation certifications from Emeritus and how you can become a digital transformation architect.
By Janice Godinho