How Emeritus Prepares Teams and Enterprises for the Future of Work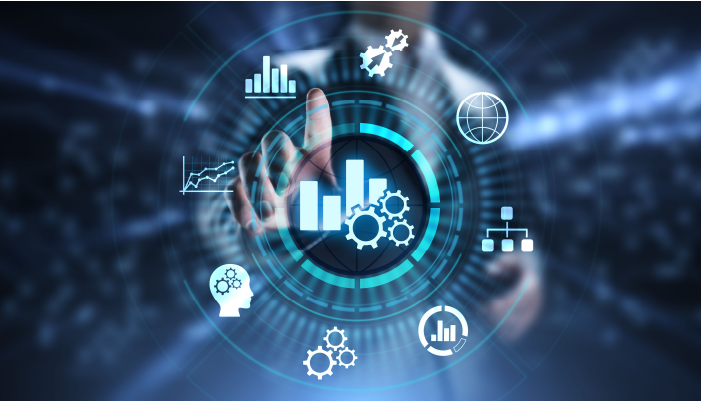 In our post-pandemic world of work, organizations are transforming at a blistering pace.
More than ever, companies are launching strategic transformation efforts as they recognize the value of digital literacy, data analytics, and transformational leadership. And as employers struggle to build talent pipelines with the skills needed amid constant change, upskilling and reskilling are becoming employee engagement strategies that can close critical gaps and boost retention.
At Emeritus, we recently published the results of our 2022 Global Career Impact Survey after polling more than 3,900 past Emeritus learners. Based on the data, we discovered some key ways that Emeritus courses and programs have impacted organizations.
---
Survey Data: 4 Ways Emeritus Programs Impact Organizations
1. Promoting Positive Change
According to the survey data, Emeritus courses and programs allow learners to not only advance professionally at an individual level but also make a difference within their larger organizations. Ninety percent of learners said their program allowed them to have a positive impact on their company. And roughly three-fifths of respondents said their professional impact at work increased significantly after finishing their program.
In today's world, a positive impact might mean helping to drive transformation efforts, close skills gaps, or boost engagement. Let's take a deeper dive into what the survey revealed about each.
---
2. Launching Digital Transformation Initiatives
More than three-fifths (61%) of past Emeritus learners said they saw technical improvements within their organization after completing their program. These included advances in digital transformation and increased use of innovation.
The economic impacts of the pandemic, along with widespread inflation and economic shocks from Russia's war in Ukraine, have forced enterprises to pursue transformation efforts at a rapid pace. The transition to hybrid and remote work – along with the fact that consumers turned primarily to online channels in the earlier days of COVID-19 – also played a role in companies adopting digital technologies several years ahead of schedule, as revealed by a McKinsey & Company survey of executives.
Unfortunately, 70% of large-scale strategic transformation efforts fail, according to McKinsey, in part because companies don't have the skills needed across all levels of the workforce to sustain long-term change. Emeritus offers skills transformation academies in several areas – including digital transformation, data, and leadership – that can help you drive these efforts.
---
3. Improving Employee Retention and Engagement
Generally speaking, employee engagement suffered during the pandemic as many employees began working remotely or in a hybrid model. At the same time, workers began quitting their jobs in record numbers in what many have characterized as the Great Resignation or Great Reshuffle. 
Our 2022 Global Career Impact Survey results revealed that Emeritus courses and programs can help enterprises improve employee engagement and retain employees. Nearly nine-tenths (89%) of Emeritus learners say they feel more engaged at work if they are learning new concepts and skills. Investing in upskilling and reskilling shows employees you plan to keep them on board for the long haul.
That being said, 61% of respondents said they found new meaning and inspiration in their lives and careers upon completing an Emeritus program. Their experience might motivate them to apply what they learned to their current roles and encourage them to make a greater difference at an organizational level. Meanwhile, 34% of learners said their Emeritus program helped them reduce burnout for themselves or their team – an issue that is particularly prevalent in industries such as healthcare.
With Emeritus Enterprise's Accelerate solution, you can give employees access to a wide range of courses and programs, developed in partnership with top global universities. Showing employees you care about their growth can, in turn, boost engagement and retention.
---
4. Closing Organizational Skills Gaps
Throughout the pandemic, technical skills gaps widened as companies automated different processes by leveraging new technologies (including artificial intelligence and machine learning). In addition, businesses have recognized a greater need to develop soft skills in the workplace, including leadership in a remote or hybrid setting, digital literacy, and critical thinking.
In the 2022 survey, 77% of respondents agreed that their Emeritus program helped them fill gaps in knowledge they need for their job. Seventy-seven percent of learners also said their program provided them with valuable tools and strategies they can immediately apply to their work. And 72% of respondents agreed their program prepared them for current demands in their field. 
These data points all illustrate how Emeritus programs help companies prepare for the future of work, especially as they prioritize transformation and greater efforts to engage and retain employees. The workplace is evolving – and, as the Impact Survey results show, Emeritus is here to help your team or enterprise adapt to the rapid pace of change.
By Jordan Friedman
---
Looking to integrate upskilling and reskilling strategies within your team or organization? Explore Emeritus Enterprise's online employee training programs and solutions to prepare your employees for the future of work.