How to Become a Healthcare Data Analyst: A Comprehensive Guide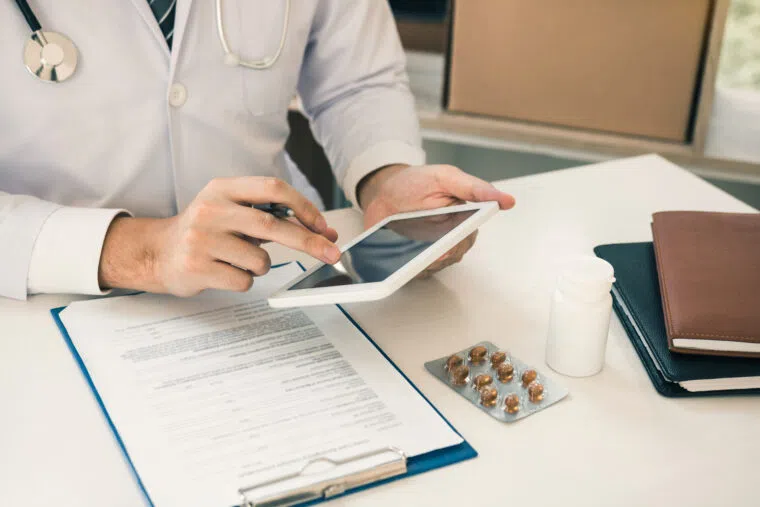 Due to its massive scope and the growing use of predictive analytics, healthcare data analytics has become a vital asset in enhancing medical facilities. This has, in turn, increased the demand for healthcare data analysts. If you want to learn how to become a healthcare data analyst, here's a roadmap to help you.
What is Healthcare Data Analytics?
Healthcare data analytics provide actionable insights to improve medical facilities and decision-making using data from various sources. These insights can enhance patient care, health insurance rates, resource allocation, and drive growth. Healthcare data analysts work primarily in collaboration with the medical team and report to the organization's leaders. Due to the job prerequisites, healthcare data analysts require thorough knowledge of technology, business, and medicine. 
Areas of Employment for a Healthcare Data Analyst
Public or private hospitals 

Diagnostic centers

Consultancy companies

Insurance companies 

Government healthcare departments
Job Titles for a Healthcare Data Analyst
Healthcare business analyst

Healthcare consultant

Healthcare risk management data analyst

Healthcare information management analyst

Public health data analyst

Clinical data analyst
How to Become a Healthcare Data Analyst

Step 1: Get the Education Needed
Consider getting a degree in a related field like data science and analytics, besides a medical degree. A degree is still the most widely-accepted criterion for recruitment. It also equips you with the foundational knowledge of the field.
Step 2: Gain Hands-On Experience and Technical Skills Needed
Obtain experience through interning, freelancing, and working in roles that enhance necessary skills like data collection and analysis, knowledge of medical terminology, communication skills, and problem-solving.
Step 3: Consider Online Courses and Bootcamps
Consider taking a short-term, intensive course to help you obtain the credentials in this field. You can consider enrolling in a data sciences and analytics or healthcare course on Emeritus.
Step 4: Work on Projects With Real Data
Projects are an excellent way to showcase your data skills and prove your proficiency. If you are wondering where to start, you can consider online courses with projects or publicly available data. 
Step 5: Build Your Data Analytics Portfolio
Your data analyst portfolio can showcase your skills and experience. Even for beginners, a portfolio is a valuable tool to prove your capabilities. 
Step 6: Build Your Healthcare Knowledge
Healthcare data analysts should have an in-depth understanding of healthcare to be effective and offer insights. Consider taking a course in healthcare to strengthen your skills. 
Step 7: Connect With Others in the Industry
Networking with others in the field is an effective way to enhance your skills. By networking, you can seek advice, feedback, share projects, and resolve queries. 
Step 8: Ask For Someone to Mentor You
Try to connect with a healthcare data analyst expert with long-term experience in the field. An expert can provide valuable advice on how to become a healthcare data analyst and guide you through your career. 
Step 9. Apply For Entry-Level Jobs
Start looking for entry-level jobs. This will give you the opportunity to highlight your competencies and expertise to potential employers.
Do You Need a Degree to be a Healthcare Data Analyst?
While a degree isn't a prerequisite to becoming a healthcare data analyst, it can build strong foundational knowledge. Alternatively, you can also consider taking an online course to gain the required credentials. 
Is Being a Healthcare Data Analyst a Good Career?
According to the US Bureau of Labor Statistics, research analysts and healthcare jobs are projected to grow respectively by 23% and 13% between 2021 to 2031. In addition to the rise in job prospects, healthcare data analysts also enjoy lucrative salary packages. 
Healthcare Data Analysts: Role and Responsibilities
The typical roles and responsibilities of a healthcare analyst include:
Collecting data from various sources

Supporting the decision-making process 

Identifying trends through analysis 

Providing recommendations to improve facility operations

Transforming complex data into comprehensible insights

Organizing and maintaining database management 

Creating reports and dashboards to share findings with stakeholders
What Does a Healthcare Data Analyst Do Every Day?
Now that you know how to become a healthcare data analyst, let's consider what a typical day in the job looks like. The primary role here is to use data to generate insights and effectively improve the quality of healthcare for patients. The common data types that a healthcare data analyst works with on a regular basis include clinical, pharmaceutical, behavioral, and insurance data. The objective is to mitigate risks, support research and development, improve customer satisfaction, and facilitate prudent resource allocation.
Benefits of Taking an Online Healthcare Data Analytics Course
Taking online courses can help you upskill and advance in your career. Explore Emeritus' data sciences and analytics as well as healthcare courses. These courses are created in collaboration with leading universities across the world to provide the most in-depth knowledge and skills that boost one's employability. 
Now that you know how to become a healthcare data analyst, start taking the necessary steps.
Written By Krati Joshi
Write to us at content@emeritus.org
{
"@context": "https://schema.org/",
"@type": "HowTo",
"name": "How to Become a Healthcare Data Analyst",
"description": "Due to its massive scope and the growing use of predictive analytics, healthcare data analytics has become a vital asset in enhancing medical facilities. This has, in turn, increased the demand for healthcare data analysts. If you want to learn how to become a healthcare data analyst, here's a roadmap to help you.",
"step": [
{
"@type": "HowToStep",
"text": "Consider getting a degree in a related field like data science and analytics, besides a medical degree. A degree is still the most widely-accepted criterion for recruitment. It also equips you with the foundational knowledge of the field.",
"name": "Get the Education Needed"
},
{
"@type": "HowToStep",
"text": "Obtain experience through interning, freelancing, and working in roles that enhance necessary skills like data collection and analysis, knowledge of medical terminology, communication skills, and problem-solving.",
"name": "Gain Hands-On Experience and Technical Skills Needed"
},
{
"@type": "HowToStep",
"text": "Consider taking a short-term, intensive course to help you obtain the credentials in this field. You can consider enrolling in a data sciences and analytics or healthcare course on Emeritus.",
"name": "Consider Online Courses and Bootcamps"
},
{
"@type": "HowToStep",
"text": "Projects are an excellent way to showcase your data skills and prove your proficiency. If you are wondering where to start, you can consider online courses with projects or publicly available data.",
"name": "Work on Projects With Real Data"
},
{
"@type": "HowToStep",
"text": "Your data analyst portfolio can showcase your skills and experience. Even for beginners, a portfolio is a valuable tool to prove your capabilities.",
"name": "Build Your Data Analytics Portfolio"
},
{
"@type": "HowToStep",
"text": "Healthcare data analysts should have an in-depth understanding of healthcare to be effective and offer insights. Consider taking a course in healthcare to strengthen your skills.",
"name": "Build Your Healthcare Knowledge"
},
{
"@type": "HowToStep",
"text": "Networking with others in the field is an effective way to enhance your skills. By networking, you can seek advice, feedback, share projects, and resolve queries.",
"name": "Connect With Others in the Industry"
},
{
"@type": "HowToStep",
"text": "Try to connect with a healthcare data analyst expert with long-term experience in the field. An expert can provide valuable advice on how to become a healthcare data analyst and guide you through your career.",
"name": "Ask For Someone to Mentor You"
},
{
"@type": "HowToStep",
"text": "Start looking for entry-level jobs. This will give you the opportunity to highlight your competencies and expertise to potential employers.",
"name": "Apply For Entry-Level Jobs"
}
] }