How the Right Course Led Olivia Bannerman to Her Dream Job as UX Designer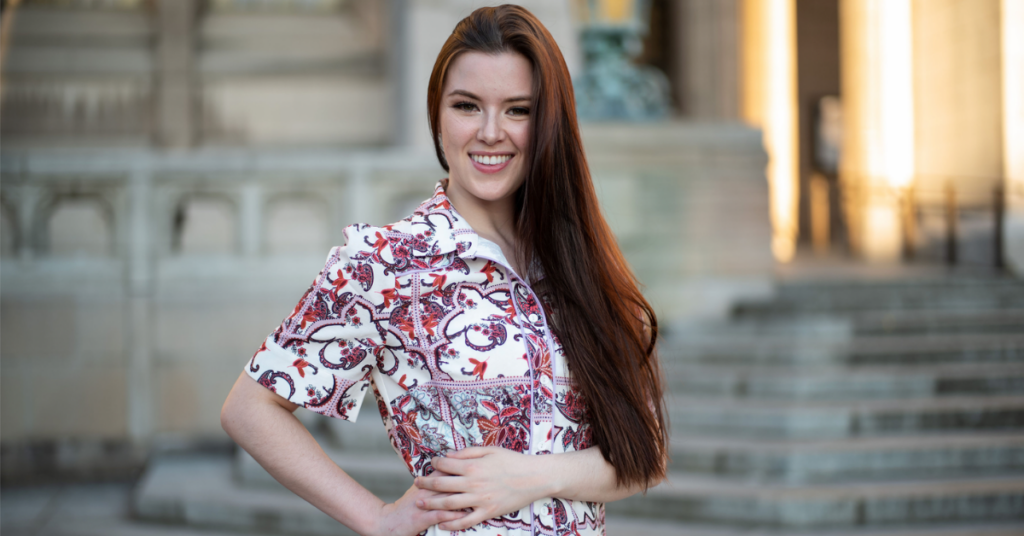 Platforms like Emeritus are making high-quality education "accessible and affordable" for a wide array of audiences. The impact can be anything from gaining more confidence in your current job to getting a promotion or even better, building a life!
Twenty-four-year-old Olivia Bannerman was able to land her dream job with the NYU Tandon Professional Certificate in UX Design for AR/VR course. The Emeritus Editorial caught up with Bannerman over Zoom for a fascinating discussion on UX design, the demand for AR/VR skills and her experience with the NYU Tandon UX Design Course online, and discovering that AR/VR lends itself to more than just video games!
Emeritus: Hi Olivia! For starters, tell us, how did you land on this course in UX Design?

Olivia B: It took me a long time to get into UX Design. I originally applied to the University of Washington with the intention of studying design. However, I did not get not accepted for the design program and graduated with a major in Medical Anthropology and Global Health, instead. Given my passion for design, I spent my summers doing design programs from schools like the Parsons School of Design, where I studied Product Design.
After graduating from the University of Washington, I wanted to attend graduate school. But when I finished school, it was in the middle of the pandemic and I didn't want to do online grad school. To keep myself occupied in the meantime, I began looking for design programs and came across the NYU Tandon UX Design course online. I took up the six-month program, and it was awesome! Virtual Reality is such a new and cutting-edge technology. Therefore, I think it's the perfect time to get into it. 

Emeritus: Why did you choose this UX design course among other programs?
Olivia B: UX Design is a niche field that I knew was taking off. But what really sold the idea of pursuing this program was that it was backed by an accredited institution. This program wasn't just a three-month bootcamp run by a for-profit business. When you go through a bootcamp program, you get a certificate but then what do you have to show for it? Moreover, I find a lot of these to be money grabs. Also, I know that hiring managers are wary of bootcamp programs. So, it was important for me to find a program that was backed by an official and well-respected institution; NYU is definitely that.

Emeritus: For sure! So the high demand for AR/VR skills drove you in this direction?

Olivia B: Yeah! You know, VR and AR are extended reality (XR). It wasn't on my radar really until I discovered this program. Originally, I wanted to work in UX Design within the scope of healthcare because I got my degree in Medical Anthropology and I had a general fascination for Public Health. 
During the course, I got to learn more about VR in the context of healthcare and that got me excited because I realized that this isn't something that is just for video games; it has infinite applications. I also realized that I could use this to my advantage to get me working in the industry that I wanted to be in.
Emeritus: Tell us what you enjoyed about the course and how it was helpful for you
Olivia B: What I liked about the program and wanted more of was the collaboration with my teachers and peers. Design is a field that could really benefit from co-creation. You learn more when you collaborate. With usual online learning, I would design something and I would get an A on my homework assignment but have no idea if it was any good until I talked to someone about it. So, I really loved being able to collaborate with other people. 
Emeritus: Tell us about the capstone project you worked on as a part of the course
Olivia B: The capstone project involved working with Major League Baseball (MLB). We were given an open-ended prompt and were asked to create a product or a VR/AR app that improves the experience of either the baseball players, the MLB employees who work with the players, or the fans who attend these games. My team decided to go for the fan experience. We designed a VR ticket purchasing system that could be used to preview a ticket and see where the person was in the stadium, what the weather exposure would be like on a particular day, if the person was under the overhang and what the sun exposure would be like.

Emeritus: Oh, great! So did the course prepare you for your current job?

Olivia B: I think that this course has prepared me well. This program filled all the gaps in my knowledge and helped me understand the fundamentals of UX Design. How these can translate into a virtual reality environment was by far the most empowering aspect of the program; it helped that I trusted the information that I was getting as it was coming from credible sources. I got the opportunity to give presentations and speak about what I knew and not just internalize it all. All of this put together has made me a more confident designer.
Emeritus: You just started working as a UX designer. Have you started working on a project or are you still getting yourself oriented with the job?
Olivia B: Although I'm still getting oriented, I have been looped into one big project. The other project is one of TTEC's existing products which is an immersive call center for customer service agents. Right now, it is a 2D desktop application that requires a lot of work..

Emeritus: Sounds like you have a lot of exciting things to do already! What would you recommend to others who may be on a similar career path?
Olivia B: I came in with no formal UX Designing experience but now I have a job that I got through Emeritus. I would not have got this job if it weren't for you guys! I will be leading design processes and projects at a company that trusts me to do so. If there's anything that I have taken away from my experience is that you don't have to have any prior experience to do this program and to be successful in the career-building aspect of it. Trust the process, and have faith in the program.
Emeritus: That's great! Was career coaching a part of this program?
Olivia B: Yes, it was a part of the program, but it was optional. Lindsey Baltz was my career coach and she helped me rework my resume. The biggest thing that she did for me was teach me how to use LinkedIn because that was a daunting social media platform that I didn't know how to use. It truly was extremely helpful. 
Emeritus: Thanks, Olivia! Wishing you an enriching and successful career from all of us at Emeritus! We were happy to be part of your journey.
Want to know more about this NYU Tandon UX Design course online? Emeritus is proud to partner with universities across the world to offer online courses and certificate programs. Browse our entire selection of product design courses today. 
Emeritus Careers affiliated with the Professional Certificates offers a complementary and optional Career Development course to participants and helps them access additional, individualized career coaching and resume referrals to employer partners. We have partnered with organizations like TTEC to connect with prospective employers. Brands who are looking to reach out to great talent like Olivia can learn more here. 
For feedback or content collaborations, write to content@emeritus.org