Tips for Learning Online: Top 7 Strategies to Help You Succeed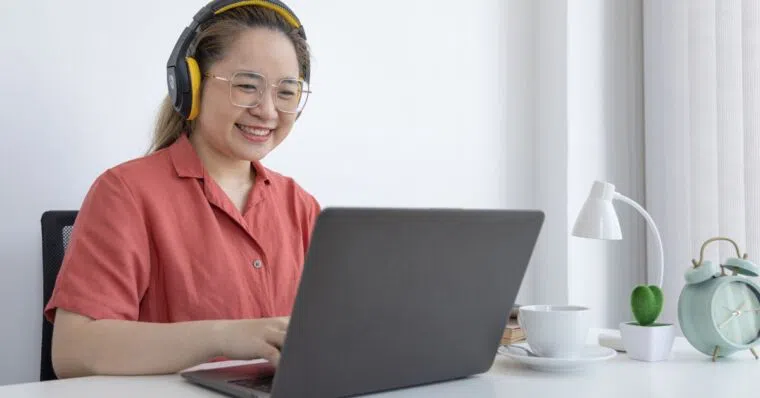 Online learning has become increasingly popular in recent years as it provides a convenient and flexible way to enhance your skills and knowledge, as well as keep you up-to-date with the latest developments in your field. While online learning offers excellent opportunities, it can also be a challenge for learners to stay motivated and engaged when they are not in a physical classroom setting. If you are just starting your online learning journey or wondering how to get the most out of it, this guide is for you! Here are seven effective tips for learning online to help you stay on track and achieve your learning goals.

1. Set Clear Goals
One of the most effective tips for learning online is to have clear goals right from the start. Determine why you want to study the course and what you want to achieve from it. Use your reasoning to establish your goals and objectives. Break them into manageable tasks and create daily studying goals and a reward system to ensure you keep learning and don't procrastinate. Setting goals and objectives and breaking them into small doable tasks can allow you to keep up with them and stay focused and motivated throughout the course.   
2. Establish a Distraction-Free, Dedicated Study Environment
With social media, games, music, news, and entertainment always just a click away, we are constantly surrounded by distractions in our physical and online space; this can be particularly challenging for online learners who lack the structured learning environment that physical classes offer. Creating a designated space for learning can have a positive impact on your concentration and information retention. Find a quiet and comfortable area where you can go to focus on your studies. Your ideal study spot can be a corner of your bedroom, a spare room, a café, or a library where you can focus and learn. Online learners can also take advantage of applications such as Forest, Zario, and brain.fm that create a distraction-free virtual space to improve focus.   
3. Take Notes 
As online courses involve reading and watching videos, it is essential to actively engage with the study material by taking notes and internalizing that knowledge. Taking notes can significantly enhance your understanding and retention of the content and help you organize your learning. While taking notes, make sure you highlight key concepts and ideas to find them quickly while reviewing the materials. If you take digital notes, find a note-taking app that is the right fit for you. Apps such as Evernote, Notability, OneNote, and CollaNote provide excellent tools and features to stay organized and enhance your online learning. 
ALSO READ: 7 Questions to Ask Yourself Before Signing Up for an Online Course
4. Establish a Consistent Schedule 
A great advantage of online learning is that it is flexible and allows you to create a study schedule that works best for you. However, staying on track can also be hard for some learners. You can manage the same by blocking a time for study in your calendar. Creating a daily schedule that works for you can help you keep up with your assignments and ensures that you have dedicated the right amount of time to your learning. While this is one of the best tips for learning online and ensuring you reach your goals, be realistic with your schedule and factor in time for breaks and other activities. Apps such as Apple calendar, Google calendar, and BusyCal can help you manage your schedule and maximize your time.
5. Participate in Online Discussions 
Participating in online discussions is the key to online learning courses. You can join discussion forums and chat rooms that allow you to connect with other learners and deepen your understanding of the material. Having discussions about what you're studying with other learners can help you stay motivated, gain insights, ask questions, clarify doubts, and engage in the course. In essence, such forums are also a great place to build a trustworthy network of colleagues or peers. 
6. Practice Time Management and Stay Organized 
To succeed in online learning, it is crucial to maintain self-discipline and organization. One effective strategy is to use timers and productivity apps to stay on track with your study goals and avoid procrastination. With the sheer volume of information and materials available today, one can easily get overwhelmed and lose sight of their assignments and deadlines. Moreover, try using a planner to keep track of your deadlines, notes, and assignments to manage your workload effectively and reduce stress. Some productivity apps you can use for time management and organization are Todoist, Asana, and Trello. 
7. Take Care of Yourself
Last but not least, prioritize self-care. Online learning can be a rewarding and challenging experience, but you also need to take care of your physical and mental health to stay focused and motivated throughout your online learning journey. None of the above-mentioned tips for learning online will help you achieve your academic goals if you do not maintain your well-being. So you must get enough sleep, eat well, exercise, and take walks and breaks to re-energize and succeed in your academic goals.
Online learning can be a highly rewarding experience, but it requires discipline, organization, and self-care to achieve academic success. By following these tips for learning online, you can optimize your learning experience and achieve your goals. So get started and remember to stay motivated and engaged, and take care of yourself. If you are looking for great online courses to help you in your journey, check out Emeritus' courses from the best universities worldwide. Good luck! 
By Krati Joshi
Write to us at content@emeritus.org