Business Intelligence vs. Business Analytics: How to Distinguish Easily
In recent times, data has grown from simply providing information to driving change and influencing the core operations of companies. More and more businesses now seek data-driven solutions to solve everyday problems as well as thrive in a volatile market. In the world of data, we've also seen the emergence of two buzzwords: business analytics and business intelligence. While both have their salient features, the debate of business intelligence vs business analytics seems to be an ongoing discussion. So let's dive into the fundamentals of both and understand what makes them so indispensable to organizations today.

What is Business Analytics?
Amidst a changing business landscape, the meteoric growth of Artificial Intelligence and machine learning has led to enormous investments in big data. As noted by IDC analysts, in 2021 alone, businesses spent $215 billion on business analytics and big data. However, if the data is not adequately scaled to derive value, such investments will have no returns. This is where we need business analytics.
Closely associated with business intelligence and big data analytics, business analytics comprises a set of automated data analysis practices and tools that shed light on the operational processes of a business. In doing so, it helps professionals make informed decisions that have the potential to mitigate risks and optimize for the future. The result is a definitive data culture — one that recognizes the benefits, and practices, and encourages the use of data.
Continue Reading: What is Business Analytics?
What is Business Intelligence?
Information and decision-making share a symbiotic relationship; this holds true for the domain of business as well. Business intelligence, put simply, has to do with the information. It is a technical infrastructure that leverages software to collect, store, and analyze data. Following that, it presents the data in accessible and user-friendly formats, such as dashboards, reports, charts, and graphs.
The USP of business intelligence is that it gives users access to various types of data — semi-structured and unstructured, historical and contemporary, and third-party or in-house. Transforming data into actionable insights on company performance significantly boosts its strategy and tactical decisions. Over time, business intelligence tools have become more user-friendly and intuitive, thus allowing individuals across industries to tap into their potential. In addition to smart decision-making, the tools are also crucial to spot key market trends, identify problem areas, and spotlight new business opportunities. 
Business Intelligence vs Business Analytics: Key Differences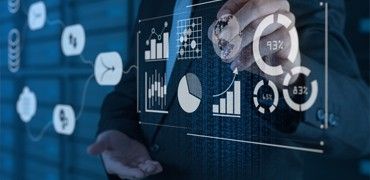 Variances in business intelligence and business analytics reflect the trends in job growth, business language, organizational goals, and the size and age of an organization. Business leaders must consider these differences while investing or taking any significant decision that impacts revenue. The primary differences can be broadly categorized as:
Job Trends and Language
Despite the overlap in their use, business analytics is a newer term than business intelligence. It also covers more ground than the latter than merely referring to a description of predictive and statistical tools. The increasing growth of analytics also indicates higher employment rates in the field as compared to business intelligence. 
Size and Age of Organization
The size of an organization is a determining factor in its use of business analytical tools or business intelligence. The latter is a good fit for enterprises of all proportions, even smaller companies that want to incorporate data into their present operations as well as predictive plans. Furthermore, newer companies tend to prefer analytics to business intelligence. This is especially true for startups more than established brands that are more interested in employee performance or organizational processes. However, at the end of the day, a combination of the two is the best way to go and is greatly preferred.
Focus on the Present Vs. the Future
One of the key distinctions between the two is their temporal approaches. Business intelligence relies more on historical data to determine how a company should function in the present day. On the other hand, business analytics concerns itself with future predictions and planning. Established businesses that want to identify pain points and improve efficiency often opt for the former. But for those looking for a change in their business model, analytics may be more useful.
The bottom line, however, is that all businesses have both a present and a future focus. The best case scenario, therefore, would be to combine the two into an approach that optimizes existing strategies and also reserves space for innovation.
How to Improve Your Business Intelligence Skills
Proficiency in business intelligence demands, like all fields, a blend of hard and soft skills. Improving one's competencies is no easy task. But with the emergence of numerous resources, such as online courses, bootcamps, books, and virtual seminars, we can now sharpen our skills in a way that is flexible and affordable. However, it's important to remember the core skills that comprise business intelligence.
Data Analysis
If you're looking to improve your business intelligence skills, it will pay to brush up on the basics of spreadsheet software, statistical analysis, and advanced computer software. Alongside this, practicing various programming languages like Python and R can prove helpful.
Report Generation
The chances of getting hired are far higher for the one who can take raw data and interpret it to draft comprehensive reports to boost company performance. This is useful for clients and stakeholders alike as, essentially, it works as a means of communicating information clearly and fluently.
Practice Using Data Dashboards
As the primary information management tool in business intelligence, data dashboards monitor, evaluate, and reveal Key Performance Indicators (KPIs), important metrics, and particular data points. As a business intelligence professional, not only is it crucial to know the ins and outs of how dashboards function but you must also know the differences between various dashboards to select the right one for a specific data-related job.
How to Improve Your Business Analytics Skills
As curiosity-driven as business analytics professionals are, certain technical skills go a long way in a tech-driven world. Such skills include:
Data literacy 

Competence in data collection

Statistical analytical skills

Proficiency in data visualization
Improving business analytics skills means embracing digitization that drives innovation and large-scale change within organizations. While a thorough grasp of the fundamentals is essential, it is vital to know how a digital strategy, coupled with technical know-how, can transform the larger mechanism and supply chain ecosystem. 
However, honing your soft skills is also critical. The pursuit of success amidst cut-throat competition takes exemplary communication skills, adaptability, and emotional intelligence. Business analytics isn't all about crunching numbers. To advance your career, you must be a reliable professional with the potential to lead. The trick is to align your fluency in technology with the culture of the company, its people, mission, and operational structure.
The growth of business analytics over the last decade has led several resources to emerge. In addition to books, seminars, and boot camps, online courses have gained immense traction as they are flexible and affordable. They often offer certification from some of the most renowned institutions in the world.
We have witnessed revolutionary changes in the space of business due to digital transformation, and the impact of data is hard to ignore. It has made information accessible and actionable in real-time and has been a crucial driver of growth. In the face of unprecedented change, political crises, environmental disasters, and a volatile market, both business analytics and business intelligence are critical to saving businesses and, in turn, human lives. Changing the world was never easy. But the two fields, hand in hand, hold the immense promise of a brighter future.
Click here to learn more about our online business analytics courses or browse our entire selection of business management courses. 
By Deyasini Chatterjee
Write to us at content@emeritus.org