Top 6 Skills You Need to Add to Your Digital Marketing Resume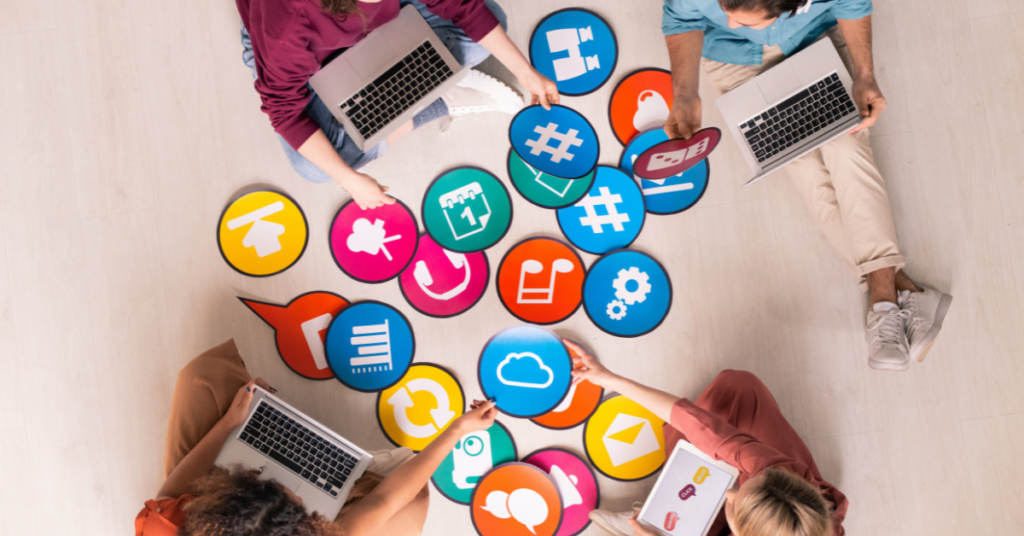 Your resume is your first touchpoint with potential recruiters; they meet you through your resume before they see you in person. And in a tough job market like digital marketing, your resume especially needs to stand out in a sea of applicants. Thus, learning to create one that is effective and impressive increases your chances of getting to the next stages of the hiring process. This article gives you a detailed overview of the required skills for digital marketing resumes and digital marketing job roles along with examples.

How Important is a Digital Marketing Resume
Digital marketing jobs have become highly sought-after with businesses that use this necessary form of marketing in today's day and age. The U.S. Bureau of Labor Statistics estimates jobs for advertising, promotions, and marketing managers to witness a 10% rise from 2021 to 2031—faster than the average of all other occupations. 
Your digital marketing resume is more than a document. Even with exceptional skills, many digital marketing experts don't even pass the application process without a good resume showcasing their expertise and qualifications. A good digital marketing resume helps you make a positive first impression. 
6 Skills for Digital Marketing to Put on a Resume
Let's take a look at the top skills for digital marketing resumes that can set you apart from your competitors. 
1. Content Marketing
Content marketing is a process of creating and publishing written, audio, and video content online to attract, engage, and retain an audience. This includes blogs, podcasts, videos, newsletters, social media posts, e-books, etc. With content marketing skills, you can pursue a career as a content marketer. 
Average Content Marketer Salary: $55,017 per year
Roles and Responsibilities: 
Driving website traffic and engagement online

Managing the budget for content creation 

Creating digital strategies for digital platforms 

Implementing SEO best practices 

Working with other creators to build content 
2. Social Media Marketing
Social media marketing is creating content for social media platforms to build a brand, drive traffic, and engage your product or service. This includes communicating with followers, creating content, and analyzing metrics.
Average Social Media Marketer Salary: $58,073 per year 
Roles and Responsibilities 
Working with designers and writers to create social media content 

Overseeing the organization's social media strategy 

Developing social media campaigns 

Engaging with the audience 

Analyzing social media metrics 
3. Video Marketing
Video marketing is the use of video content to reach an audience and inform and increase engagement online. It is an impactful and effective form of digital marketing to boost engagement and brand awareness. With video marketing skills, you can pursue a career as a video marketing specialist. 
Average Video Marketing Specialist Salary: $51,700 per year 
Roles and Responsibilities
Creating video content for various platforms 

Handling video production tasks 

Shooting and editing videos 

Collaborating with other teams to create video scripts 

Optimizing videos to drive traffic 
4. Media Buying/Traffic Acquisition
Media buying or traffic acquisition is used to obtain high-quality traffic. One of the most sought-after skills for digital marketing resumes, it requires a deep understanding of the target audience to identify and purchase ad space on relevant platforms. Media buying is an effective strategy for boosting traffic and engagement, and requires proficient media buyers to oversee and execute the same.
Average Media Buyer Salary: $50,635 per year
Roles and Responsibilities 
Negotiating rates, ad space, and time with publishers

Developing effective buying strategies and campaigns

Identifying target audiences 

Monitoring marketing budgets 

Tracking metrics and delivery using marketing tools 
5. Testing and Optimization
Testing and optimization employ data-based methods to test results and optimize websites. It is a continuous and long-term approach that incrementally improves business goals, websites, and channels. A conversion rate optimization (CRO) specialist is in charge of a brand's complete conversion optimization program.
Average Conversion Rate Optimization Specialist Salary: $79,000 per year
Roles and Responsibilities
Measuring and analyzing audience interaction with the content

Auditing and creating content online

Executing A/B and multivariate (MVT) optimization tests 

Interpreting data and improving content performance 

Collaborating with stakeholders and teams 
6. Email Marketing
Email marketing is a direct marketing strategy where businesses reach out to the audience and promote products through emails. Specialists in email marketing or email marketers are professionals who build, develop, and implement an organization's email marketing strategy. 
Average Email Marketing Specialist Salary: $55,433 per year
Roles and Responsibilities
Creating and monitoring email marketing campaigns 

Designing email templates 

Evaluating email marketing key performance indicators

Increasing sales and revenue through email 

Optimizing emails for mobile devices 
Digital Marketing Resume Examples
You can build your resume based on your skills and experience. Here are examples of digital marketing resumes you can use as a reference to make your own. 
1. Entry-Level Digital Marketing Resume
Highlight the skills and education that will make you a great candidate for hiring managers. Here you can underline your knowledge and any experience you have, such as internships and projects.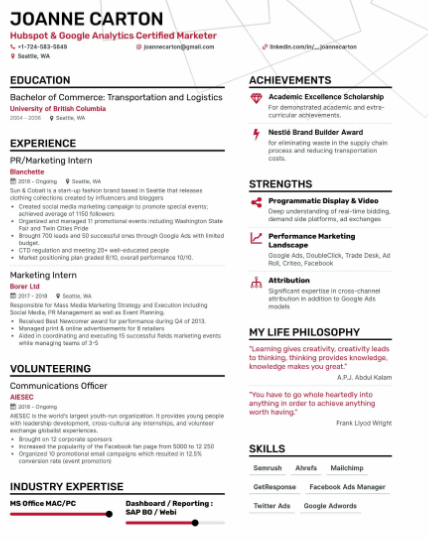 Credits: https://enhancv.com/ 
2. Senior Digital Marketing Resume
Showcase that you are the right candidate by mentioning your experiences and tailoring your skills according to the job you are applying for. Here you should highlight your achievements, past experiences, skills, and results.
Credits: https://enhancv.com/
How Emeritus Can Help You in Boosting Your Digital Marketing Skills
Hopefully, by the end of this article, you'll have a better understanding of the various skills for digital marketing resumes. However, please remember that you should never lie in your resume. You can always learn if you don't have the skills required for the job. If you are looking to upskill, check out the digital marketing courses offered by Emeritus.
All salary figures are from Payscale
By Krati Joshi
Write to us at content@emeritus.org