From Sea to Space, How MIT Sloan's Executive Program in General Management Helped Himanshu Joshi Think Big
This article originally appeared on MIT Sloan Executive Program in General Management's LinkedIn page. Program alum in focus: Himanshu Joshi.
Today's rapidly evolving business landscape requires adaptable and creative leaders who are capable of addressing operational challenges on a global scale. The pathway for developing the required skills and knowledge isn't always clear-cut. This makes a quality executive education program invaluable. MIT Sloan's Executive Program in General Management (EPGM) is specially designed to prepare mid-career professionals in emerging markets to lead international organizations and drive innovation.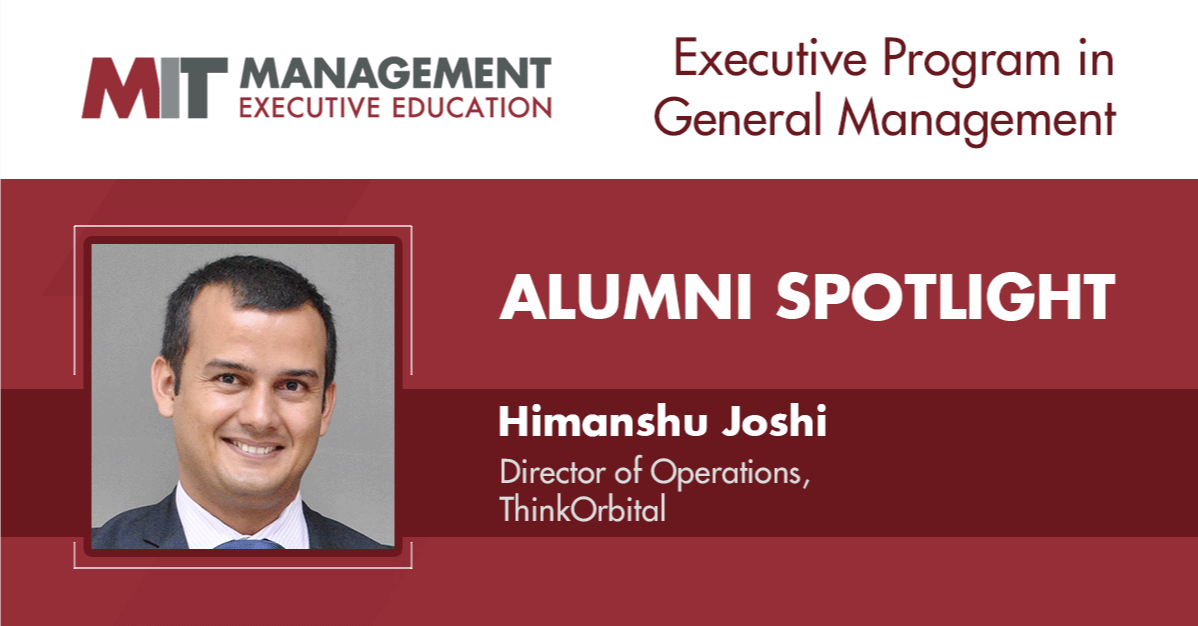 We caught up with an EPGM alumnus to discover how the program influenced his career and general management strategy. Himanshu Joshi, Director of Operations, ThinkOrbital, was a part of the 2020-21 year/8th cohort and shares his insights on why this program appealed to him and how it benefited him.
Himanshu has a double master's degree in operations and strategy. Prior to joining the EPGM, he was a Strategy, Operations, and Product Management Leader in the Indian Navy. Having been deployed and served on ships in several countries for almost two decades, he decided to shift gears and ended up at a US-based space tech firm ThinkOrbital that's involved in building the world's one of the biggest space stations.
In addition, he advises businesses on scaling, operational excellence, and process improvement.
Why he chose the MIT Sloan EPGM
Changing careers is never an easy task, especially after spending many years in a particular industry. That's why, when Himanshu decided to make the switch, he supplanted his desire with a program designed to equip him with the right skills.
"I wanted to embark on a program that would aid me to further my career goals and assist my transition out of the military. MIT Sloan's EPGM provided me with an excellent combination of curriculum focused on the latest and proven frameworks of business management, innovation, and technology that can be applied across geographies and industries," Himanshu explains.
Participants gain exposure to more than 20 eminent MIT Sloan faculty, thought leaders, and guest speakers. These experts bring forward-looking research and worldwide expertise from multiple fields to the program.
"The flexibility to continue with my job while undergoing a program from a world-class faculty at MIT and interacting with a diversified global cohort, coupled with the hybrid mode of instruction, attracted me to it," Himanshu states.
Career impact
Central to the curriculum is MIT Sloan's tradition of Action Learning, where participants form teams and apply theoretical concepts from the program to purposeful business projects. The projects are centered around real-life business scenarios and require participants to research, brainstorm, build, and test prototypes to solve critical problems.
Action Learning as the basis of the whole program impressed Himanshu. "The project and its evolution to a would-be business venture has been a hands-on learning experience, which can motivate one to start something up," he says.
Himanshu praises the faculty, cohort, and structured curriculum for holistically contributing to his career progression. "MIT Sloan and EPGM played a pivotal role in refining my thought process and approach to problem solving and value creation. A lot of lessons learned in the program have helped me in finding solutions to propagate various ventures I am part of," he adds.
Furthermore, Himanshu remained actively involved in the MIT ecosystem. "I have been fortunate to be able to contribute to the MIT ecosystem as a business and innovation mentor at the Entrepreneur Forum, an independent non-profit organization and partner of Martin Trust Center of MIT Entrepreneurship. My experience has been extremely fulfilling and rewarding- a true connection of hand, mind, and heart," he said.
Alumni interactions
MIT Sloan's elite alumni network is made up of 120,000+ like-minded innovators in over 90 countries. Interactions with select alumni throughout the program were eye-opening for Himanshu, as he could see how the program accelerated not only their professional but personal growth. "The experience shared by Vinod Kumar, Head of International Banking, SAMBA Group, was among the most impactful. His successful implementation of the learnings from the EPGM to his work and daily life is very commendable."
Elevate your career with the MIT Sloan EPGM
Himanshu entered MIT Sloan with an extensive military background in strategy, operations, and product leadership. The EPGM helped him leverage his existing abilities and acquire valuable practical knowledge to transition his career to a groundbreaking industry.
"If you want to build something new or discover new ways of looking at things, and make a global impact, this is the school and this is the program! The well-rounded curriculum, world-renowned faculty, and collective wisdom and experience of the cohort will surely enable you to do bigger things, the best way," adds Himanshu.
You can learn more about the MIT Sloan Executive Program in General Management by visiting our program homepage here.