What is Fintech? A Beginner's Guide to Financial Technology in 2022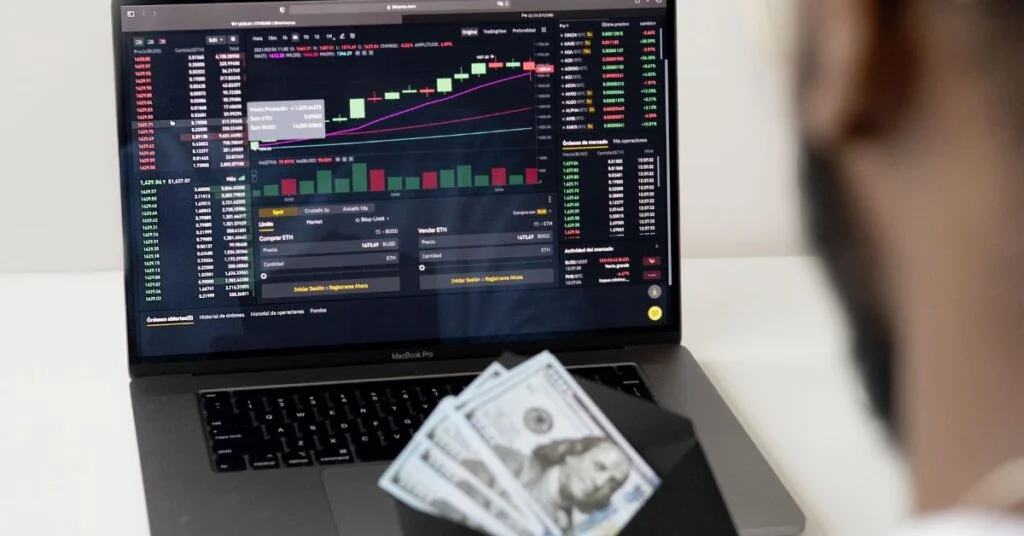 The fintech space has raised over $13 billion just in the first quarter of 2022. From banks to digital loans, e-commerce payments, and digital currencies, fintech is big! Not to mention the hullabaloo around Bitcoin. In the last couple of years, it has made Cryptocurrency, Web3, and blockchain, the talk of the town. And just like that, the technology behind it has become the buzzword in living room discussions. Therefore, with fintech already gaining momentum in the last decade, it's become imperative for the common man to familiarise himself with the concept. But first, what is fintech? Why is it in demand? Read on to know more!
What is Fintech?
Simply put, fintech is a combination of finance and technology. Fintech is the name given to the employment of technology to help businesses and consumers manage their financial processes with algorithms and software on personal devices. It also includes modern tools and innovative methods that improve and automate monetary services. 
While it may seem like an intimidating new-age concept, the term refers to the modernization of banking and transactions. It started with digital money and evolved into online trading, phone banking, and easier transaction models. We've seen explosive growth in the fintech industry, which now encompasses Cloud Computing, Data Analytics, Cyber Security, and Artificial intelligence (AI).
You might not know it, but when you use mobile payment apps such as Venmo, Cash App, Paypal, or Facebook Pay, you're using Fintech. When you use the mobile check deposit feature on your smartphone, your using Fintech. Fintech is completely integrated into the financial services industry!
How Does Fintech Work? A Brief History Lesson
The term fintech might be a recent one in the corporate world. The basics, however, have been around for a few decades now and have consistently evolved. 
In 1950, the first set of credit cards was introduced by the Diners' Club. This was unprecedented yet well-received because people no longer had to carry money with them. Also, payment could be made at a later stage but products and services could be availed immediately. Though the Diners' Club card was limited to restaurant payments at that point, it was the beginning of a revolution. In 1958, Amex introduced a credit card, not just for restaurant payments. This was the first fintech product available to the general public.
Slowly and steadily, fintech has evolved to include stocks, peer-to-peer lending, blockchain, insurance, and a lot more. In 1967, when an ATM machine was installed by Barclay's, a new level was unlocked in the world of fintech. The next big growth occurred in 1971. NASDAQ was the first-ever electronic stock market. The way people were bidding on shares changed, and the IPO process completely evolved too. This is one of the most important developments to date and has contributed to the evolution of fintech. 
What Exactly Does a Fintech Company do?
According to the International Journal of Innovation, Management, and Technology, fintech can be considered "any innovative ideas that improve financial service processes by proposing technology solutions according to different business situations, while the ideas could also lead to new business models or even new businesses." (Leong, Kelvin.; Sung, Anna (2018). "Fintech (Financial Technology): What is It and How to Use Technologies to Create Business Value in fintech Way?")
Simply put, fintech companies make financial services more accessible to laymen. The scope of a fintech conglomerate may include traditional banking transactions, and/or embody avant-garde financial technologies too. Undoubtedly, start-ups and industry-changing tech corporations are at the forefront of disruptive industry practices. However, established financial institutions and banks have been quick to adopt fintech to remain relevant. While new companies offer inventive consumer-centric concepts like digital lending, mobile payments, cryptocurrency, and blockchain, traditional banking, saving, trading, insurance, and investments continue to escalate by adopting Machine Learning (ML) and Artificial Intelligence (AI) concepts.
In recent times, with a shift towards data and personalization, the umbrella term fintech has expanded to include a wide range of companies from different industries. Whether it is the retail banking sector, education, charity, fundraising, or even management, any company that aims to offer consumer-centric, technology-driven financial solutions pertains to fintech.

Why is Fintech Relevant in 2022?
The global pandemic of 2020 became a catalyst for the rapid espousal of technology to minimize human interaction, amplify consumer comfort, and help businesses adapt to a hitherto unfamiliar phenomenon. A recent report by McKinsey Digital stated that the world has vaulted five years forward in consumer and business digital adoption in a matter of around eight weeks, and that online activities and transactions are no longer a matter of convenience but a necessity. 
"First, customer behaviors and preferred interactions have changed significantly, and while they will continue to shift, the uptick in the use of digital services is here to stay, at least to some degree," says the report. The global fintech market was worth USD $127.66 billion in 2018, and it is expected to reach USD $309.98 billion by 2022. (PRNewswire.com)
Is Fintech Safe for Consumers?
As of today, there are globally 473 fintech unicorns i.e. companies with a valuation of US $1 billion (or more). The disruptions brought about by the pandemic helped reveal internal operational and financial vulnerabilities across the globe. According to Capgemini and EFMA's fintech Report in 2021, fintech companies have started moving away from popularity toward profitability with a special focus on consumer safety and wellness.
With safety a top priority, fintech companies are diversifying their offerings, exploring opportunities to innovate and collaborate, and expanding into lucrative new markets. Every financial institution is revisiting its strategy to simplify its offerings and make them more personalized, and digitally-enabled experiences.  Despite the coronavirus outbreak, the industry is expected to grow at a CAGR of 9.2% by nearly US $ 158 billion by 2023. 
Reasons Why Fintech will Thrive in a Post-COVID World
The disruptive nature of fintech helps transform traditional business concepts, creating a new breed of industry leaders. 

The fintech industry is innovative, scalable, and adaptive to a range of industries. The adoption of financial technology is a global phenomenon and can change the way companies conduct business.

Fintech offers quick, convenient, and transparent modern-day solutions. Big data and Artificial Intelligence (AI) offer a high degree of personalization for the consumer. Therefore, the amalgamation of services with AI-powered offerings enables advanced marketing practices.

Financial services like Fintech are cost-effective, flexible, accessible, and inclusive. (A

Juniper Research

study found that using chatbots will save banks USD $7.3 billion globally by 2023, up from an estimated USD $209 million in 2019). Loans, payments, insurance, and crowd-sourcing are no more a privilege for the select few.

With the expansion of cyber security, Fintech offers more safety and compliance with financial data, than traditional services.

Above all, it is great for the economy. Implementation of fintech creates a healthy environment for start-ups. It helps pump cash into the market and creates new job prospects.  The financial industry is more efficient, safer, and more innovating because of Fintech. 
Can a Course in Fintech Accelerate Your Career?
You can assimilate your existing skill set with the knowledge of specialized software and algorithms, thus, putting your career on the fast-track. How? Emeritus offers a wide range of courses in fintech. We collaborate with renowned finance institutions to bring carefully-curated programs, where industry stalwarts hand out core concepts in value creation, forecasting, and investing. We've designed advanced modules specially designed for working professionals. The modules come with insights, hands-on training, and in-depth capstone projects in technologies like Programming, Blockchain, Cyber Security, and Cloud Computing. 
The right pedagogy in an advancing industry like financial technology will empower you, and put you in a position of learning and progression. As a burgeoning sector, it offers relentless scope in a variety of roles. Some of the key functions you can explore in fintech include:
Robo Advisors

Risk Compliance and Information Security Professional

Marketing Executives

Communication Experts

Operations Managers

Support Functions

Managers
As fintech grow, there will be an increasing demand for leaders with expertise in technical know-how. There will be opportunities in roles, not directly related to technology, and yet, pivotal to the organization. Therefore, experts in related fields, with an understanding of key financial technology concepts, will flourish.
What is the Future of Fintech?
Emerging trends are steadfastly pointing towards the fact that fintech is here to stay. For instance, digital-only banking is fast becoming a more immersive, more responsive option. Insights from Data and Artificial Intelligence continue to improve consumer satisfaction. Additionally, better security with the use of Blockchain technology is redefining businesses. 
The number of jobs in the financial services industry is expected to grow by 6% by 2029. If you are aspiring to enter this domain or transition to a fintech role then this would be the right time. 
Top Trends to Watch Out for in 2023:
Traditional banks and institutions are adopting digital transformation by deploying Robo advisors, advanced algorithms to assess risk, and fully-digital services.  

Embedded finance and BaaS will continue to grow and attract billions of dollars across the world. Also, with Web3 becoming more mainstream, experts are predicting 2022 to be the year of "blockchain" 

Banks and fintech are aiming to go "green". Moreover, this transition has enabled the growth of ClimateTech software.

With cross-border e-commerce on the rise, the segments that continue to attract maximum funding are challenger banks, crypto exchanges, BaaS, DeFi, and embedded finance.

SuperApps will enter and dominate new markets in 2022 where consumers can buy, sell, trade, book tickets, fix appoints, and avail a diverse range of services through a single mobile app.

According to ABN AMRO's Q1 2022 report, fintech startups raised US $32.4B globally in the year's first quarter. Also, there are now 473 fintech unicorns globally including 40 new ones in 2022 and this number is continuing to grow.

Crypto startups have raised US $ 7.0B in the first quarter. This is more than any other fintech segment. Crypto and Defi funding are the fastest-growing segments, increasing 2.4 times (compared to Q1 2021).
Financial institutions and banks are aiming to make the lives of consumers easier while moving toward profitability in 2022. These technologies are continuously evolving and keeping abreast of the trends will help fintech companies stay ahead of the curve. Moreover, companies now have an opportunity to redefine the way global businesses function by adopting these technologies at scale.
Emeritus is here to help you learn all the necessary skills. Check out our host of finance and fintech courses being offered by the world's best universities. Also, get a hands-on learning experience, work on capstone projects, build a strong foundation, and become part of alumni networking communities. 
By Manasa Ramakrishnan
{"@context":"https://schema.org","@type":"FAQPage","mainEntity":[{"@type":"Question","name":"What is Fintech?","acceptedAnswer":{"@type":"Answer","text":"Simply put, fintech is a combination of finance and technology. Fintech is the name given to the employment of technology to help businesses and consumers manage their financial processes with algorithms and software on personal devices. It also includes modern tools and innovative methods that improve and automate monetary services. "}},{"@type":"Question","name":"How does Fintech work?","acceptedAnswer":{"@type":"Answer","text":"The term fintech might be a recent one in the corporate world. The basics, however, have been around for a few decades now and have consistently evolved. \n\nIn 1950, the first set of credit cards was introduced by the Diners' Club. This was unprecedented yet well-received because people no longer had to carry money with them. Also, payment could be made at a later stage but products and services could be availed immediately. Though the Diners' Club card was limited to restaurant payments at that point, it was the beginning of a revolution. In 1958, Amex introduced a credit card, not just for restaurant payments. This was the first fintech product available to the general public.\n\nSlowly and steadily, fintech has evolved to include stocks, peer-to-peer lending, blockchain, insurance, and a lot more. In 1967, when an ATM machine was installed by Barclay's, a new level was unlocked in the world of fintech. The next big growth occurred in 1971. NASDAQ was the first-ever electronic stock market. The way people were bidding on shares changed, and the IPO process completely evolved too. This is one of the most important developments to date and has contributed to the evolution of fintech. "}},{"@type":"Question","name":"What do fintech companies do?","acceptedAnswer":{"@type":"Answer","text":"Simply put, fintech companies make financial services more accessible to laymen. The scope of a fintech conglomerate may include traditional banking transactions, and/or embody avant-garde financial technologies too. Undoubtedly, start-ups and industry-changing tech corporations are at the forefront of disruptive industry practices. However, established financial institutions and banks have been quick to adopt fintech to remain relevant. While new companies offer inventive consumer-centric concepts like digital lending, mobile payments, cryptocurrency, and blockchain, traditional banking, saving, trading, insurance, and investments continue to escalate by adopting Machine Learning (ML) and Artificial Intelligence (AI) concepts.\n\nIn recent times, with a shift towards data and personalization, the umbrella term fintech has expanded to include a wide range of companies from different industries. Whether it is the retail banking sector, education, charity, fundraising, or even management, any company that aims to offer consumer-centric, technology-driven financial solutions pertains to fintech."}},{"@type":"Question","name":"Why is Fintech Relevant?","acceptedAnswer":{"@type":"Answer","text":"The global pandemic of 2020 became a catalyst for the rapid espousal of technology to minimize human interaction, amplify consumer comfort, and help businesses adapt to a hitherto unfamiliar phenomenon. A recent report by McKinsey Digital stated that the world has vaulted five years forward in consumer and business digital adoption in a matter of around eight weeks, and that online activities and transactions are no longer a matter of convenience but a necessity. "}},{"@type":"Question","name":"How does fintech work and is it safe?","acceptedAnswer":{"@type":"Answer","text":"As of today, there are globally 473 fintech unicorns i.e. companies with a valuation of US $1 billion (or more). The disruptions brought about by the pandemic helped reveal internal operational and financial vulnerabilities across the globe. According to Capgemini and EFMA's fintech Report in 2021, fintech companies have started moving away from popularity toward profitability with a special focus on consumer safety and wellness.\n\nWith safety a top priority, fintech companies are diversifying their offerings, exploring opportunities to innovate and collaborate, and expanding into lucrative new markets. Every financial institution is revisiting its strategy to simplify its offerings and make them more personalized, and digitally-enabled experiences.  Despite the coronavirus outbreak, the industry is expected to grow at a CAGR of 9.2% by nearly US $ 158 billion by 2023. "}},{"@type":"Question","name":"Is Fintech Training Necessary?","acceptedAnswer":{"@type":"Answer","text":"Fintech is at the core of the industrial revolution, thus offering an exciting work environment and job opportunities. Driven professionals are continuously training in modern methods for the delivery of financial services. Startups are continuing to lace the environment as the scorching race for funding, building, and innovating continues. \n\nWe now use terms like digital money, mobile banking, blockchain, and cryptocurrency in everyday conversations. With the consumer taking center stage, hyper-personalization through technological tools is an inescapable mandate for all businesses. Not just accounting and finance experts, but executives from sectors like communication, marketing, HR, and leadership roles need to train in fintech. A thorough understanding of computing technologies, data science, and risk compliance will hold you in good stead and help you innovate."}},{"@type":"Question","name":"Can courses in fintech can accelerate your career?","acceptedAnswer":{"@type":"Answer","text":"You can assimilate your existing skill set with the knowledge of specialized software and algorithms, thus, putting your career on the fast-track. How? Emeritus offers a wide range of courses in fintech. We collaborate with renowned finance institutions to bring carefully-curated programs, where industry stalwarts hand out core concepts in value creation, forecasting, and investing. We've designed advanced modules specially designed for working professionals. The modules come with insights, hands-on training, and in-depth capstone projects in technologies like Programming, Blockchain, Cyber Security, and Cloud Computing. \n\nThe right pedagogy in an advancing industry like financial technology will empower you, and put you in a position of learning and progression. As a burgeoning sector, it offers relentless scope in a variety of roles. Some of the key functions you can explore in fintech include:\n\nData Scientist\nRobo Advisors\nBlockchain Expert\nRisk Compliance and Information Security Professional\nMarketing Executives\nCommunication Experts\nOperations Managers\nSupport Functions\nManagers\n\nAs fintechs grow, there will be an increasing demand for leaders with expertise in the technical know-how. There will be opportunities in roles, not directly related to technology, and yet, pivotal to the organization. Therefore, experts in related fields, with an understanding of key financial technology concepts, will flourish."}},{"@type":"Question","name":"What is the future of fintech?","acceptedAnswer":{"@type":"Answer","text":"Emerging trends are steadfastly pointing towards the fact that fintech is here to stay. For instance, digital-only banking is fast becoming a more immersive, more responsive option. Insights from Data and Artificial Intelligence continue to improve consumer satisfaction. Additionally, better security with the use of Blockchain technology is redefining businesses. \n\nThe number of jobs in the financial services industry is expected to grow by 6% by 2029. If you are aspiring to enter this domain or transition to a fintech role then this would be the right time. "}}]}