How Emeritus Enterprise Customizes Learning Solutions to Drive Change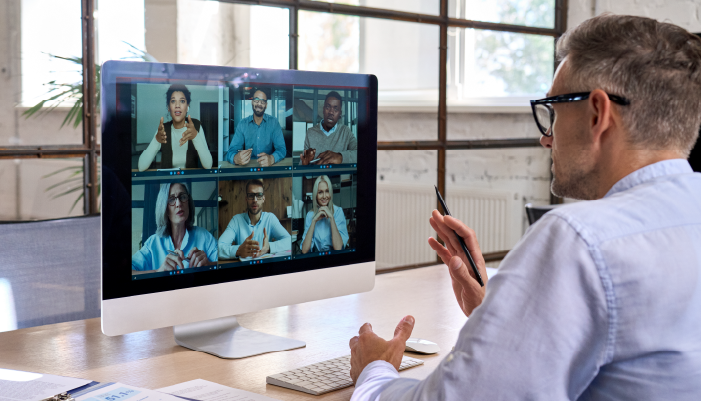 Does your team have the skills it needs to thrive in our post-pandemic world?
Even before COVID-19, organizations worldwide were experiencing significant skills shortages. And since the forced shift to remote and hybrid engagement has sped digital and strategic transformation efforts by several years, companies are scrambling to catch up. Currently, only 16% of digital transformations create sustained operational change, according to McKinsey & Company. Meanwhile, Gartner research found 58% of employees need new skills to do their jobs. 
Companies that don't address this crisis risk falling behind. That's where our solutions for teams come into play.
Emeritus Enterprise Solutions: The Basics
We offer world-class programs from leading schools tailored to your company's needs that can be delivered in private cohorts to transform your people and business. Whether your company is looking to develop advanced data analytics or create new frameworks for innovation, we have offerings to help you exceed your goals through industry and company-relevant case studies and coursework. 
This bespoke model builds on content developed with Emeritus' university partners by providing wraparound services so that companies can deliver the most impactful learning opportunities to their employees. Our approach is designed to maximize flexibility while fostering team development. Participants emerge with new skills and a shared language and framework. 
Our programs help organizations:
Accelerate transformation: Quickly and effectively develop a digital-first culture by building teams with the technical, business, and human skills employees need to excel.
Build talent pipelines: Prepare for the future by developing a pipeline of internal experts. Give employees the skills they need to move into positions of greater responsibility.
Achieve strategic business goals: Deliver on organizational goals by developing highly skilled teams that are capable of taking on the toughest challenges.
Our Courses 
Leading academics and industry leaders design Emeritus Enterprise courses in conjunction with renowned practitioners in their fields. The courses are created specifically for professional learners, emphasizing applied learning and hands-on work. Courses utilize a combined synchronous (live) and asynchronous (self-paced) format that includes video, multimedia, and interactive discussion boards. This promotes engagement while allowing learners to fit coursework into a full-time work schedule. 
How We Work
Our team of experts guides clients through three key phases to deliver the optimal employee learning experience. 
After the program finishes, we follow up with clients to measure and assess progress on key outcomes.
Core Features of Emeritus Enterprise Solutions
Tailored learning journey:

We offer certificate programs from top business and engineering schools customized for your strategic goals, needs, and delivery preferences.

Cohesive onboarding:

Employee buy-in and engagement are critical to success. We provide orientation, cohort formation, and onboarding to ensure participants have the support they need.

Private cohorts:

Employees learn together in an exclusive experience with a dedicated facilitator and private discussion boards, allowing them to focus on company-specific challenges and opportunities.

Dedicated success team:

Private support ensures a world-class experience before, during, and after the program. 

Learner engagement and measurement:

Strategy and measurement maximize employee success and drive business outcomes. 
Additionally, we offer numerous enhancements for companies that desire an additional level of customization. These include: 
Personalized assignments and capstone projects built to address real company challenges

Additional group coaching

Access to industry experts

Behavior and skills assessments

A branded learning portal

Integration with your LXP/LMS

And more
A Cohort-Based Learning Model
Emeritus utilizes a cohort-based learning model, meaning that we develop our courses to prioritize community and active learning. Our learners progress through their programs at the same pace–with the same schedules and deadlines. They can motivate and support each other throughout their learning journeys. They can also learn from each other, fostering greater team collaboration. 
We use a combination of live instructor-led sessions and personal learning resources (like discussion boards) to ensure that learners are able to fit coursework into their schedules while benefiting from regular touchpoints with their peers and instructors. 
Cohort-based learning fosters a feeling of safety and community. In corporate training, the ability to share ideas and learn from peers makes a program infinitely more impactful than an entirely self-guided course. Opportunities for feedback help students stay engaged throughout the course, preventing them from getting "stuck" or becoming discouraged. 
Private vs. Public Cohorts
Our customized solutions are unique in offering private learning cohorts. This means that all of the other learners of your course are members of your team at your organization. 
Within the private cohort model, there's significantly more room for customization of both course materials and discussions, and the team-building value of the program is far greater. Since private cohorts are not open to employees from potential competitors, participants can candidly discuss and address company-specific challenges and develop actionable solutions. Private learning cohorts are best suited for groups of at least 25 learners. 
Many of Emeritus' courses are also available for direct enrollment in public cohorts. These courses include learners from different organizations and are not tailored to a specific company's needs, though instructors invite learners to focus on relevant problems in their assignments. These courses are a good fit for teams looking to develop specific skills amongst fewer employees.
What Makes Emeritus Enterprise Solutions Unique?
What we offer isn't a content library. And it's significantly different from the static learning resources or massive open online courses (MOOCS) that many companies use. Here are a few of the factors that set us apart.

Content Designed in Context
Mass-market learning programs are designed to appeal to as many people as possible. That means they often offer few usable takeaways for specific companies and teams. We take the opposite approach, designing learning solutions specifically to meet your company's needs, connect with its learners, and fit within your culture.
Up-to-the-Minute Content
Business needs are changing fast, and dated content simply won't cut it. Since we tailor our content to each client, it's fresh, connected to current events, and aligned with your most pressing industry and company needs.
Applied Learning
Research shows that for learners to retain information, they need to apply it right away—but too often, corporate learning programs fail to offer that opportunity. Our programs for teams prioritize application, using real company challenges and assignments whenever possible. We also offer learners actionable feedback from industry leaders. This allows learners to test out new skills and ideas in a safe environment and build the skills they need to handle on-the-job challenges.
Positive Team-Building 
Our private cohorts provide the perfect opportunity to develop a sense of community within your team. Participants learn alongside one another, completing group discussions and assignments that build shared capabilities and encourage accountability. They leave with a new shared language and an increased understanding of one another's strengths. 
Measurable Outcomes
Unlike mass-produced courses, we design content to address your company's specific needs and goals. Therefore, progress toward those outcomes is measurable and meaningful. 
Our Teams-Based Solutions in Action
The surest measure of a program's value is its outcomes. Here are two recent examples of how companies have worked with Emeritus Enterprise, anonymized for confidentiality.
Example 1: Global IT Services Provider
A global IT services provider approached Emeritus with the goal of improving performance management skills among a group of about 500 mid-level managers. This cohort had been through a number of unsuccessful change initiatives and displayed a high level of fatigue; therefore, engagement and buy-in were crucial.
To address this challenge, Emeritus developed a three-part program delivered over three months. It focused on several competencies needed for managerial success: people leadership, innovation and strategic thinking, and customer-centricity. 
The Emeritus offering included the following key elements:
Experiential learning with pre-readings, breakout elements, and activities
Supplemental elective options to support continued learning
Renowned faculty teaching courses based on their experience  
Support staff to make the learning experience seamless
Emeritus delivered the program to all 500 managers, split across eight cohorts. Participants reported that the program was effective and helped them shift their mindsets, develop stronger working relationships with colleagues, and gain exposure to new ideas through talented thought leaders and experts. 
Moving forward, the company has engaged with Emeritus to create additional pathways to develop future leaders.
Example 2: Global Consumer Packaged Goods Company
A major consumer packaged goods (CPG) company recognized a need to upskill roughly 100 R&D team members to understand how to use AI to innovate in the CPG space. While these leaders would not be responsible for the technical aspects of AI, they needed to understand best practices and applications to help drive digital transformation.
Emeritus created a private section for a subset of the group within its University of California Berkeley Haas School of Business course, Artificial Intelligence: Business Strategies and Applications. The cohort received its own course leader and engaged in extensive discussions around real-time business problems. The course facilitator also offered private office hours with the CPG company's cohort to explore specific applications of AI within their company and help participants plan to apply their learnings.
Over 93% of the initial cohort completed the course, and several projects from the course have become company initiatives to be driven forward in real life. A second cohort recently started the same course, and Emeritus and the company are working to develop additional, further customized solutions. 

---
Partner with Emeritus Enterprise
Are you ready to explore how Emeritus Enterprise solutions can help your company meet and exceed its goals? Reach out to discuss our customized offerings.