These are the Top 5 Skills You'll Need in 2022 to Advance Your Career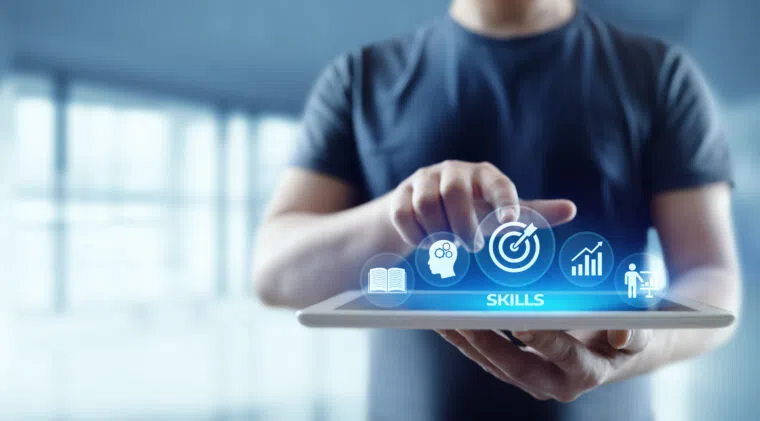 Since the pandemic hit, our concept of normal has been online. From purchases to planning, entertainment to communication and working, talk about a digital transformation! Enterprises survived the disruption through digital transformation. And the workforce is now coming to terms with the stark reality of accelerated digitization we've all witnessed. The realities being several lost jobs, the great resignation and career switches across roles, domains and industries. Today, more than ever the workforce needs to reevaluate their skills. This also requires them to prepare for job trends 2022.
According to the WeForum 2020 Report, companies estimate that around 40% of workers will require reskilling for six months or less. Moreover, 94% of business leaders report that they expect employees to pick up new skills on the job. Skills gaps continue to be high, as in demand skills across jobs change in the next five years. According to Gartner, 58% of the workforce needs new skills to get their jobs done. So what do you need to know?
Degrees just don't cut it anymore
As technology adoption grows, the need to reassess core skills for jobs will surface. Companies and employees have taken cognizance of this skill gap and talent scarcity. The LinkedIn Workplace Learning Report 2021 shows, 59% of L&D professionals have made upskilling and reskilling programs as the top priority globally. Several organizations are working towards building a skill-based workforce. 
Clearly, business leaders and professionals are coming to terms with the need to upskill and reskill. They're also understanding that higher education degrees alone don't cut it anymore to accelerate their careers. Organizations, too, are taking an active approach to reskilling with a continuous learning mindset. 
Korn Ferry' Future of Work Trends 2022 report shows, 69% of the world's most admired companies value learning agility and curiosity over career history and experience when it comes to hiring. This skill-based hiring approach is further backed by IBM's CHRO, Nickle LaMoreaux interview with Gallup.  She shares, "You don't need a college degree to have a very good job at IBM. In fact, 50% of its U.S. jobs are open to anyone with the right skills or a willingness to learn them." She goes on to share how the skills-over-degrees approach to hiring was a response to a global shortage of skilled tech workers. With realities, opportunities and challenges set ahead of us, let's dive into some of the most in demand skills for 2022.
The answer to a rapidly digitised and dynamic world is lifelong learning
The Future of Jobs Report uncovered a four-fold increase in the number of people looking for online learning opportunities for the sheer convenience and affordability. It also showed a 5x increase in employer provision of online learning. Online learning, upskilling, and reskilling are going to be major trends in 2022. 
For instance, Amazon is planning to launch, scale and invest in skills training programs that enable their employees to make meaningful career changes into more technical roles, whether at Amazon or elsewhere. They're doing this by dedicating $1.2 billion to provide 300,000 employees with access to free training programs, and college education. Additionally, PWC, one of the biggest finance houses globally, committed to a $3 billion investment in digital upskilling. But what skills and in what areas should you focus your attention in 2022?
Emerging skills in demand 2022
Job trends 2022 #1: Artificial Intelligence and Machine Learning
Among the top 20 skills in demand in today's workforce, artificial intelligence (AI) and machine learning are in high demand, ranking at #2. The WeForum 2020 report estimates that by 2025, 85 million jobs may be displaced by automation, while 97 million new roles may emerge that are more adapted to the new division of labour between humans, machines and algorithms. 
This effectively means everyone from C-Suite leadership to mid and senior professionals will need to become fluent in AI innovations and ML products. Professionals who understand and execute AI and ML technologies are better equipped to deliver customized experiences and innovative products in the organization. It makes sense too, because the customer functions through Cortana, Siri, Alexa – that's AI for you, live in action! The application of AI in health care through the pandemic is a true testament to how integrating AI technologies can enhance patient care. 
As per Randstad Sourceright global future in-demand skill 2021 report, the U.S. is among the most competitive markets for all in-demand skill sets, such as artificial intelligence, machine learning, data science, blockchain and robotic process automation — with less than 10 candidates available for every job posted. That's quite a huge skill gap to fill! 
Jobs in demand
How to upskill
Emeritus makes learning AI, ML and Robotics accessible. Enroll in a data science certification course today, and build this in-demand skill of 2022.
Job trends 2022 #2: Data Science
Global data creation is projected to grow by more than 180 zettabytes by 2025. Businesses today rely on this data generated by millions of customers, employees and users globally. They rely on data scientists to decode this data and drive meaningful insights to build better products and enhanced customer experiences. The 2021 Gartner Board of Directors survey found that 69% of boards of directors have accelerated their digital business initiatives in response to COVID-19 disruption. Leaders are becoming increasingly data-driven, making critical business decisions based on key insights derived from data.
Data analysts to data architects and engineers, and data visualization, data science is an in-demand skill that is thriving. Tools such as Tableau and Power BI are widely used across teams in enterprises. Designers to sales and marketing teams need data to tell a story in order that the senior management can make vital business decisions.
Jobs in Demand
How to upskill
Apply to enroll in an online data science course, and/or business analytics course today.  
Job trends 2022 #3: Cybersecurity
Did you know identity fraud cost Americans a total of about $56 billion in 2020, with about 49 million consumers falling victim? 2021 saw enormous data breaches and data leaks, too. More than 533 million Facebook users' personal data from different countries was exposed, while 700 million LinkedIn users' data was posted on a dark web platform for sale in June 2021 (Data breaches in 2021)
With more public and private industries digitizing their operations, organizations are susceptible to malicious cyberattacks. Organizations and employees are remotely working over multiple networks. Companies are collecting data at every level, on every platform. Consumers are now becoming wary of data collection. KPMG's report on Corporate Data Responsibility showed 86% consumers felt a growing concern about data privacy and 47% were concerned about the possibility of their data being hacked.
These are only some of the reasons that make cybersecurity one of the top skills for 2022. In fact, application development security and cloud security are two of the fastest-growing skill areas in cybersecurity. At the same time, ZDNet reports that 57% of cybersecurity professionals say a shortage of cybersecurity skills is affecting their organization.
Jobs in demand
How to upskill
Learn how to set up up-to-date systems and strategies to safeguard your organization from potential cyber security threats with these online cybersecurity courses. 
Job trends 2022 #4: Digital Transformation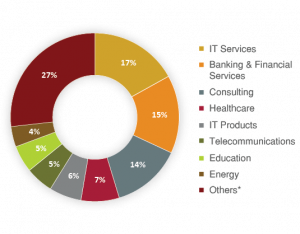 Covid-19 pushed organizations into rapid digital transformation. While delivering the quarterly earnings report to Wall Street, Microsoft's Satya Nadella shared, "we've seen two years' worth of digital transformation in two months." With two years gone by, not much has changed. Digital technologies continue to power businesses, people and processes to perform. World Economic Forum's Future of Jobs Report 2020 shares 84% of employers are overseeing a significant expansion of remote work, with a third also implementing new digital tools to enable collaboration and community building.
LinkedIn's chief economist Karin Kimbrough echoes the same sentiment. She shares, "All companies had to adapt to survive, so the pandemic really accelerated digital transformation. Sectors like retail, travel, and entertainment had to rapidly evolve and adopt new technologies and skills, just to keep their businesses running." Technologies are constantly evolving, compelling the workforce to learn and relearn. Organizations are keen on hiring digital transformation specialists who are proficient in emergent technologies and are willing to learn on the job. 
Jobs in demand
How to upskill
Emeritus equips business leaders to explore the digital technologies transforming businesses. Learn how you can build this in-demand skill of 2022 with online digital transformation programs. 
Job trends 2022 #5: Sales and digital marketing
Sales is an undying skill that is almost a life skill to becoming an influential leader and professional. Sales is the 3rd most in demand job role globally according to the 14th ManpowerGroup Talent Shortage survey. The beauty of a sales skill is that you can transcend into any industry with the right training and tools. 
In 2022 however, sales would be increasingly a digital engagement activity. Forrester research predicts that 70% of marketers will adopt an "always on" digital engagement strategy in 2022. This would mean that sales professionals must now learn how to operate MarTech stacks and get digitally fluent.
At the same time, digital marketing is another skill in demand. Consumers have shifted to online shopping since 2020 and e-commerce sales are booming. The rapid adoption of marketplaces, OTT platforms, ride-sharing apps, and social media by almost the entire global population is astounding. It is no wonder then that digital marketing skills are in demand. In 2022, professionals will have more options to specialize in certain digital marketing skills. SEO, social media marketing, marketing automation and traffic data analysis are some of the digital marketing skills to acquire in 2022, shares David Rosales.
Jobs in demand
How to upskill
Enhance your skills in 2022 with an online digital marketing course from one of our top-tier university partners.
You can also find courses from Emeritus that can help build your sales skills and enable you to become a master salesperson.
The future of skills & skills training in 2022
Emeritus is committed to the vision of building a skilled workforce for the future. Our professional certificate and accelerated learning programs are all aimed at enabling professionals to build skills for success. Emeritus Impact Survey of 2021 shows 94% of past participants believe that their learning journey has had a positive impact on their careers. Learners also shared how choosing to upskill with learning programs has enriched their lives and careers. 
Richard Andrews completed the Digital Disruption: Digital Transformation Strategies from Cambridge Judge Business School with Emeritus. He says, "It's easy to get into a rut and find that one is not thinking creatively or strategically. This programme re-energised me and enabled me to gain new insights and reconnect with knowledge I already had in a very powerful way. I felt more confident, had renewed energy and started to think and act more creatively and engage in more impactful discussions and strategic thinking sessions with colleagues and clients alike." 
Additionally, a majority of professionals have seen career growth, new career opportunities and found motivation to become entrepreneurs. While others have built confidence, gained new knowledge and even switched career paths. The time to upskill and reskill is here, how are you preparing to accelerate your career in 2022?
By Janice Godinho