UX vs. UI design: Why Both are Equally Critical for Businesses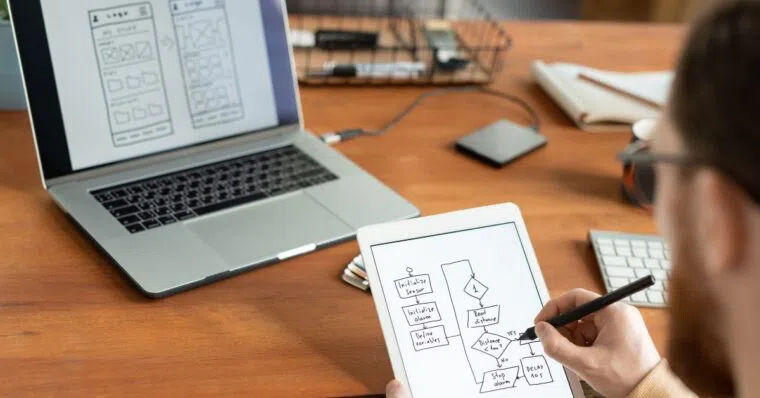 According to a 2021 LinkedIn report, 88% of online consumers are less likely to return to a website after a bad experience. Satisfactory experiences directly translate to revenue. But as more companies move online, capturing user attention is becoming more challenging. Also, how do you translate a user experience into a seamless design that is not only functional but also appealing? This is why User Experience (UX) and User Interface (UI) design is important. While the debate around the relative merits of UX vs UI design continues, the answer, clearly, lies in achieving synergy. Let's find out how these two fields overlap and how to best utilize their joint potential.

What is UX Design? Why is UX Important?
In the digital world, UX is defined as the entire range of feelings and experiences of a user while interacting with a product to accomplish certain tasks. UX design, therefore, refers to the whole set of elements that influence these interactions. User-centric design thinking strives to incorporate relevant, accessible, and convenient experiences in every aspect of the product with which the user interacts. 
UX design is considered to be the backbone of product success. The importance of UX designers lies in their two-pronged approach towards a product. The first is ensuring the product meets its target user needs, and the second is creating a seamless experience for the consumer while achieving the outcomes. Collaborative market research and experimentation helps UX designers define the ease and user-friendliness of the overall interaction with a service or product.
ALSO READ: What is UX Design and How it Can Attract More Visitors?
What is UI Design? Why is UI Important?

User Interface (UI) design deals with a specific aspect of user experience—how an interface behaves, feels, and looks as consumers navigate it. The best UI design attracts the least attention and maximizes seamless interaction to achieve user goals. The success of any software system depends on how transparent or efficient these interactions are, as UI is the primary medium between humans and technology.
UI designers understand the user journey related to a product or service and align it with long-term business goals. They translate the vision proposed by UX designers by mapping user behavior and defining a user flow, or, in other words, the technical requirements of a path taken by users to accomplish a specific task. A successful visual interface should be intuitive, highly responsive, insightful, visually appealing, and easy-to-use.
How Do UX Design and UI Design Work Together?
When dealing with a digital product's visual and functional aspects, UX and UI designers play the central role of agreeing upon a shared vision. This involves 
Developing a specific style guide

Finding a balance between design and other business areas

Optimizing the workflow requirements 

Instilling a coherent product experience. 
Rather than contrasting the importance of UX vs UI design, their collaboration is central to presenting the ideas to the stakeholders and maintaining design documentation for each project.
ALSO READ: What is Design Thinking? How Important is it for Success?
UX Designer Job Description vs UI Designer Job Description
UI designers share the same end goals as UX designers – to deliver products that meet consumer needs and are also pleasant to use. But understanding the different criteria in the UX vs UI design job descriptions is essential to grasping their respective work processes.
Job description of a UX designer includes the ability to:
Explain user research and customer segmentation to different stakeholders

Categorize customers into appropriate user personas

Consult with clients to understand product-specific goals.

Create product prototypes, screen flows, and wireframes

Assist UI designers to engage in a singular vision

Consult with clients to understand their goals
Job description of a UI designer includes the skills to:
Engage in intense collaboration with project managers and software engineers to define product development direction

Note the requirements from the UX designer in the product development process

Translate the conceptual simplicity and solve design roadblocks accordingly

Defend the designs in front of stakeholders

Find out more effective ways to engage users and bring them on the discussion board
Differences Between UI and UX with Examples

Skills
Comparing UX vs UI design skill sets allows you to understand their different job roles. 
To get hired as a UI designer, you need to master the following:
Basic principles of interactive design

Color and typography theory

Developing style guides

Wireframing

Coding skills 

Software proficiency in Java/C++/Python

HTML and CSS training

Software proficiency in Sketch, Adobe XD, InVision Studio, among others
To get hired as a UX designer, here's a list of the essential skills required:
Critical thinking

Continuous learning and empathetic thinking

Strong understanding of the market

Strong collaboration and communication skills

UX writing

Prototyping and wireframing

Visual communication

Basic knowledge of UI design

Business acumen

Basics of coding
Salary
According to Glassdoor, the average annual salary of a UX designer in the U.S. is $95,578, while that of a UI designer is $86,847. 
Education
UX designers can come from both technical and non-technical backgrounds. Candidates with psychology, media science, journalism, computer science, or market analytics backgrounds are suitable for the job role. Meanwhile, due to their tightly defined job role, UI designers usually belong to technical backgrounds. They tend to have a degree in graphic design, motion graphics, animation and illustration, digital design, or interactive design.
ALSO READ: How the Right Course Led Olivia Bannerman to Her Dream Job as UX Designer
Tasks And Responsibilities: What Do They Do?
The various tasks of a UX designer include:
Research to identify user trends, goals, and behaviors

Mapping the consumer journey for better user experience and product analysis

Building prototypes to finalize designs and test products 

Identifying the pain points in the user journey and user flow

Categorizing products according to user personas of the target market

Stakeholder collaboration and communication with other members of the team
The everyday tasks of a UI designer include:
Finding out efficient ways to enhance user control

Organizing page layouts and select typefaces for designs

Finalizing the language and information architecture for each screen

Developing wireframes to demonstrate samples of the final design

Collaborating with developers to assist in translating designs into functional products 
Is There a UI/UX Designer Role?
With the changing conception of design, the roles of designers are also evolving. As Jonathan Widawski, CEO of Maze, puts it: "We shouldn't talk about UX vs UI [design]. Instead, it should be UX and UI because they overlap and complement each other." Nowadays, recruiters are looking for a mix of skills from both the fields of UI and UX. The bottom line is that aspiring candidates should have skills in both areas to increase their chances of recruitment.
How to Know if UI or UX is a Better Fit for You
If you lean towards understanding user psychology and studying trends to define an entire experience, you could explore UX design as a career option. On the other hand, if design is your forte and you prefer exploring different styles of design thinking, your field of choice should be UI design. To excel in this ever-evolving field, you can sign up for Emeritus' comprehensive online product, design and innovation courses, which are created in collaboration with top global universities.
By Bishwadeep Mitra
Write to us at content@emeritus.org