How to Become a Product Manager in 7 Steps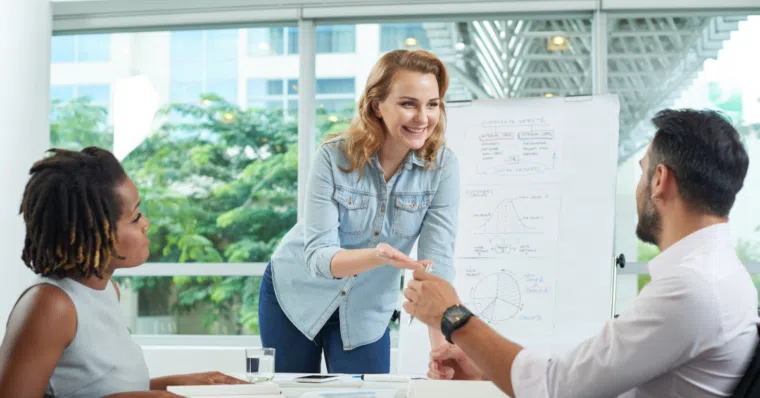 What do CEOs like Sundar Pichai, Jeff Bezos, Susan Wojcicki, and Marissa Mayer have in common? All of them were product managers at one point in their careers. Product management has become one of the most sought-after careers in the last decade or so. And as more and more businesses are relying on these professionals to bring innovation and drive success, it is the right time to break into this stream. So, what do you do if you want to know how to become a product manager? Or, what kind of experience do you need? Let's take you through the details of how to succeed as a product professional. 
What is Product Management?
Product management is about conveying the vision of a product to internal teams and executing a successful strategy to deliver value to customers. Therefore, product management needs a profound understanding of a product's mission and its intended marketplace. 
At a higher level, product managers supervise the creation and distribution of new products, simplifying their life cycle while keeping an eye on the internal development processes. These multi-faceted professionals also address the pain points of a product and identify the needs for any improvement. It is fair to say that product management requires a balance of technical and people skills. Hence, the role of a product manager is not, strictly speaking, technical. It is rather a cross-functional role that requires all-round skills. 
If you are thinking about how to become a product manager, you will find this story of how one of the Emeritus learners got her dream job at Spotify after doing a product management course. 
How to Become a Product Manager
If you thought there would be a straight-forward answer to the question, how to become a product manager, then you are mistaken. But one this is definite, you cannot become a product manager overnight. Product managers can belong to any background, such as engineering, marketing, design, and communications. Still, they have one thing in common, which is a command over relevant soft and hard skills, besides technical proficiency. The following steps, if correctly followed, can help you successfully navigate your way to becoming a product manager: 
Step 1: Learn the Relevant Skills
Product managers must be comfortable communicating with people from all departments and backgrounds, such as IT, marketing, sales, engineering, finance, logistics, and public relations. All this typically requires cross-industry soft skills, such as critical thinking, good listening, time management, empathy, effective communication, attention to detail, prioritization, and self-motivation. 
Step 2: Self-Reflect on the Skills You Have
As a potential product manager, your job will involve defining the product roadmap and apt strategy. Moreover, apart from monitoring the market trends and developing competitive analyses, you will need to prioritize product features and capabilities. And for all of this, you need to introspect the skills you already possess. 
Step 3: Gain Product Management Experience
New product managers must strive to hone their newly acquired skills, and the best way to do this is to take on some projects. For instance, for those beginning in this field, some product management bootcamps will provide an excellent opportunity to undertake industry-level projects, offering real-world experience. This will help lay a foundation for a solid, comprehensive portfolio. So, the answer to how to become a product manager lies in getting as much practical experience as possible. 

Step 4: Build and Improve Technical Skills
Soft skills are a good start, but a product manager also needs the necessary technical skills. Some vital technical skills are A/B testing, data analysis, knowledge of Microsoft Excel, software development, basic acquaintance with agile methodology, and market research. All this will help them tune into consumer requirements and concoct the right path for developing an outstanding product. 
Step 5: Consider Online Courses to Develop Necessary Skills
Several online courses offer the opportunity to get acquainted with industry fundamentals and create an ideal pathway for additional autonomy and freedom in product management. At Emeritus, we offer a whole range of product management courses affiliated to the best universities around the world. The best part about these courses is that they are virtual and do not require you to give up your current schedule. 
Step 6: Look for an Associate Product Management Role
If you really want to know how to become a product manager, start from the roots. A great way to start your product management career is to take on some entry-level positions, such as internships, junior product management, and associate product management roles. Especially, if you are entering the professional world for the first time, this path is best suited to you. All these roles will provide a good mix of hands-on and experiential knowledge of various tasks involved in product management. 
Step 7: Ask Someone to Mentor You
Product management is an intellectual discipline. Therefore, your initial days as an associate product manager are crucial for cementing a position in your company and having a solid beginning. Hence, a mentor can give you the boost you need in terms of feedback. In fact, around 70% of Fortune 500 companies offer a mentorship program that is known to be very helpful for beginners or those switching careers.
Do You Need a Degree to Be a Product Manager?
How to become a product manager without a degree in the same? Is it possible? The role of a product manager encompasses learning and experiencing various duties falling under the job description. While not every company requires a degree to hire a product manager, a reputed course or professional certification in product management is a valuable investment for proving your ability to potential employers.
A short course can provide a solid hands-on experience to prepare for the industry and offer vital understanding to aspiring product managers, giving them the confidence and proficiency to manage a product from ideation to completion. 
Is Product Management a Good Career?
Product managers are in high demand. According to the U.S Bureau of Labor Statistics, product management remains among the highest in-demand jobs across industries, whether the businesses are startups or well-established organizations. The role of product management will further attract 22 million jobs globally. With lucrative salary packages and generous perks, the job of a product manager is undoubtedly rewarding. As a result, product management is in the top five most lucrative careers for 2022 and beyond. 
ALSO READ: What is the Best Career Path for a Product Manager
What Does a Product Manager's Typical Day Look Like?
Product management is a versatile and rather dynamic career. You might get three different answers if you ask three different product managers to give an account of their daily activities. From carving out a strategy for the product goals and vision to research, idea management, customer outreach, planning and development, meetings, product promotion, and product performance, a product manager does everything in this dynamic range. Also, the role of product management may vary from company to company and product to product. It also depends on factors like is it a digital or a physical product? But the goal remains the same and it is to bring values to the product, organization, and the customer.
ALSO READ: What Does a Project Manager Do? Top 10 Things You Must Know!
Benefits of an Online Product Management Course
The demand for product managers will continue to rise, and investing your time and money in product management courses is worthwhile. Emeritus ties up with reputed universities from around the globe to bring professionals an array of online product management courses. The right program can help you achieve significant professional success and set your career on the right track. With various courses designed with adaptive curriculums and guided by industry experts, these courses let you identify different market opportunities, customer needs, and the products they will buy. 
If you want to know how to become a product manager after taking up an online course, Deepthi Prabhakar's experience of going from Quality Analyst to Product Manager can give you some context. 
By Saad Anwar
Write to us at content@emeritus.org