Top 5 Excuses to Not Invest in Learning Debunked by Emeritus Learners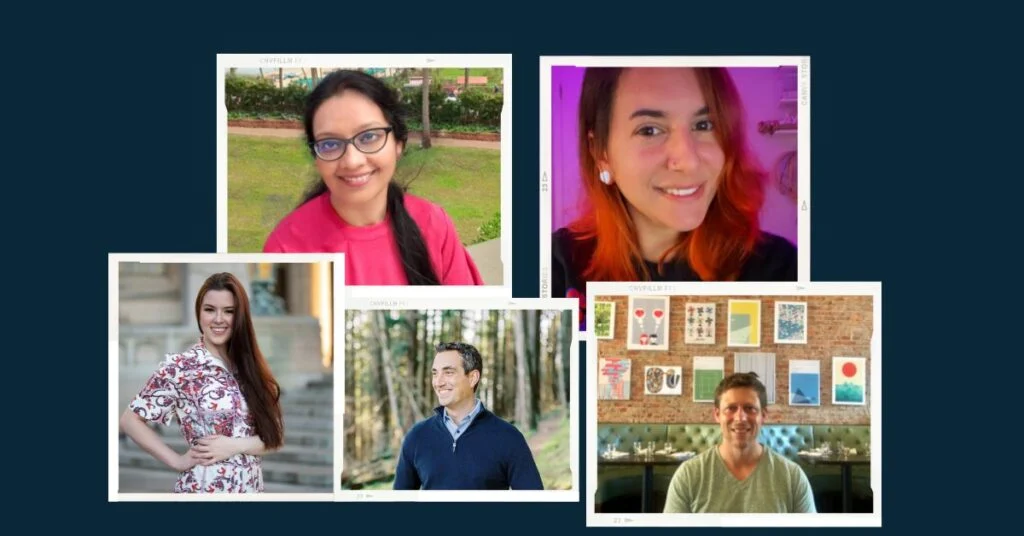 Did you know? The World Economic Forum (WEF) has found that half of all employees around the world need to reskill or upskill by 2025 in order for them to stay relevant. But having spoken to many professionals around the world, we understand there are many 'perceived' challenges to pursuing online learning, and reasons to delay learning plans. However, successful learners find the motivation to study and achieve their goals.
If you have been procrastinating and putting those learning plans on hold, then here are five Emeritus learners who went beyond these excuses to make learning a priority. Their stories will show you that no matter what your age, profession, hesitation, or life situation, you too can make the change your career needs. Can you find your reason below? If so, be prepared to change your mind. 
ALSO READ: Emeritus Global Career Impact Survey Shows 94% of Learners See a Positive Impact on Their Career

Top 5 Reasons to Push Learning Plans
Good courses are created to help working professionals meet the current demands in their field and prepare them for the future. The best programs include peer interaction, top faculty, capstone programs, career support, and networking opportunities. Despite being aware of the benefits, some of us still find it difficult to commit to learning.
Here are the top reasons for not pursuing learning and some inspiring stories of our learners who chose to overcome these challenges to get ahead:
#1: "Finding a Credible and Affordable Course is Hard"
There are thousands of courses available on the internet with similar offerings. This tends to put learners in a fix and results in choice paralysis. Simply put, they get overwhelmed and make no decision. So how do they manage to find a course that's credible and affordable? 
Even after designing a good course, Emeritus follows up with rigorous checks to ensure that the quality of education imparted to learners is top-notch. To make certain that there is no compromise in quality, all courses on the platform follow Quality Matters rubrics and standards. This certification of quality proves all courses deliver what they promise to learners in the short and long run — well-conceived, -designed, and -presented programs to help with present and future career needs.
Twenty-four-year-old Olivia Bannerman was able to land her dream job after completing the NYU Tandon Professional Certificate in UX Design for AR/VR course. What made Bannerman choose this specific program on Emeritus and find the motivation to study?
Bannerman: UX Design is a niche field that I knew was taking off. But what really sold the idea of pursuing this program was that it was backed by an accredited institution. This program wasn't just a three-month bootcamp run by a for-profit business. When you go through a bootcamp program, you get a certificate but then what do you have to show for it? Moreover, I find a lot of these to be money grabs. Also, I know that hiring managers are wary of bootcamp programs. So, it was important for me to find a program that was backed by an official and well-respected institution; NYU was definitely that.

Read her full story here: How the Right Course Led Olivia Bannerman to Her Dream Job as UX Designer
#2: "Managing a Work-Life-Study Balance is Nearly Impossible"
Attaining a good work-life balance that is sustainable and effective is hard. When learning is added to the equation, it becomes even harder to create and maintain balance. What does the day of a typical working professional look like: 8-10 hours of work, an hour at the gym, a couple of hours with the family, and eight hours of sleep? Is there scope for studying amidst such a chock-a-block schedule? Successful learners like Matt Elliott would say YES!  
When Elliott moved from a customer-facing role to a hardcore technology profile at Infobelt (which was his dream), he had to teach himself Javascript and some SQL to begin with. However, what really encouraged Elliott to look for MERN coding bootcamp courses online was the gap between his product team and the developers. He wanted to speak their language. So, he signed up for the Professional Certificate in Coding by MIT xPRO and the rest is history. 
Elliott: Managing a full-time job, family, and an online course is challenging but doable. Moreover, my wife was pregnant when I was completing this course. So, I had to balance my day properly and study a little more on the weekends. It was tough but worth it! My wife was really happy that I could go through with it and upskill! Also, this is why online courses work! I strongly feel that even if I had picked a university that was close to home, I could not have managed time in between work and personal commitments. So the fact that this was an online bootcamp was definitely a huge plus! And I would recommend it to others too.
Read his full story here: How Matt Elliott Powered His Role as CPO Through a Course by MIT xPRO
#3: "The Curriculum is Not Designed for the Real World"
Individuals often spot a gap between theory and practice only after completing courses, even if they choose to learn from reputed brands. A good curriculum is supposed to bridge this gap, offer opportunities to apply learnings and keep up with the changing times. This is a huge reason why some courses sell, and most others don't. 
ALSO READ: How Emeritus Courses are Designed and Why It's the Mark of Quality
Right after David Baker joined CleanMark, he noticed that its growth stagnated, and its sales approach was largely reactive. They were struggling to gain traction and break through the small-to-medium enterprise barrier. As the new VP of sales and marketing, he needed to ignite growth. He signed up for Kellogg Executive Education's 10-week Mastering Sales: A Toolkit for Success Program. The course helped him and CleanMark grow, let's find out how.
Baker: The most compelling part of the course was how I could apply the learnings in real time. I could learn something on a Monday and implement it or test it out that week. The immediate applicability of the material was where this program shines, for me at least. Reaching company sales targets was my primary goal, and we did that! We went from flatlining to achieving 20% growth in a rapid period of time.
Read his full story here: David Baker Ignited His Company's Growth With the Kellogg Mastering Sales Program
#4: "Online Courses Do Not Have Networking Opportunities"
Individuals often push their online learning plans because they want to be a part of a physical classroom where they get multiple networking opportunities. However, in the digital era, online courses are equally capable, if not more. Thanks to technology, working professionals who choose to study online can now connect with members of the faculty from top schools, attend webinars, interact with learners from across the globe, and apply for jobs in companies that are looking to recruit remote staff. 
Mumbai-based entrepreneur Rajpreet Kaur's company Say Cheese was already incorporated when she enrolled in Wharton's Entrepreneurship Acceleration Program. This made her startup a great fit since the curriculum is largely focused on scaling businesses. Kaur was trying to build a platform dedicated to moving women towards greater happiness by providing holistic and personalized solutions for the myriad of challenges that women face across careers, relationships, and health. Was Kaur able to network with like-minded people and scale her business?
Kaur: Gaining access to the Wharton entrepreneurship community including the senior faculty and blue-chip venture capital firms such as Sequoia and Bertelsmann helped me build my network. It also helped me garner insights on how to achieve scalability. The program had 150 entrepreneurs from across the globe. When you are bootstrapped yet ambitious, every bit counts. The validation from top VCs was priceless and a great confidence booster.
Read her full story here: How is Rajpreet Kaur's Startup Making India Happier, One Woman at a Time?
#5: "Self-Motivation is Difficult to Sustain"
In the words of Forbes Council Member, Svetlana Whitener, "The road to success is paved with motivation. It is the fuel that will keep you going as you discover and create the best version of yourself."
Self-motivation is an ongoing process and it is very hard to sustain, especially when individuals are trying to complete an online program from the comfort of their homes. As per a study by the Massachusetts Institute of Technology, online courses recorded an astronomical average dropout rate of about 96%. But take the Emeritus completion rate, for instance. At a whopping 80%, it is among the highest in the edtech industry, which speaks highly of its instructor-led format and curriculum that keeps learners motivated. 
Self-motivation helped Emeritus learner Ashley Goldstein not only switch career paths but also complete the program with flying colors. 
"I don't want to be in my old age and regret not making decisions because I was too afraid, or I felt like I didn't have the time. So, I have pushed myself very hard," she says. She completed the Professional Certificate in AR/VR Development and 3D Graphics program from NYU Tandon School of Engineering alongside her day job as an art teacher and moved into a new role as an augmented reality/extended reality (AR/XR) developer. 
Read her full story here: How an Art Teacher Became an XR Coder After Doing This Program from NYU
Build the Motivation to Study
If there is one thing the pandemic has taught us, it is that nobody is indispensable. Keeping up with the times and continuously improving is the only way to stay relevant. 
Ask yourself, will you and the role you're in right now be relevant in ten years? The answer will most probably be no. This shows that there is a dire need for upskilling and reskilling. And, now is the opportune moment. If you wish to explore more learner success stories to build the motivation to study, click here. If you believe you are ready to study, then ask yourself these questions, and pick the right program today! 
Happy learning in 2023. 
By Manasa Ramakrishnan
Write to us at content@emeritus.org