EMERITUS CAREER SERVICES
Emeritus Career Services supports proactive career management and growth for participants. Emeritus believes that career growth and success depend on two aspects:
Enhancing skills and competence
Proactively elevating your career
Our programmes are designed to advance your skills and competence in your area of interest, while Emeritus Career Services are curated to enable you to effectively elevate your career to reach your career aspirations.
Please note:
– This service is available only for Indian residents enrolled into select Emeritus programmes.
– This service is provided by Emeritus. Our partner Educational Institutions are NOT involved in providing this service.
Career Services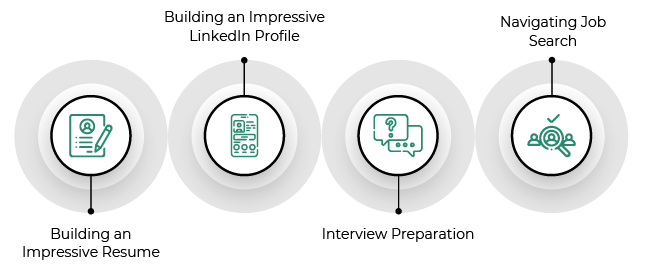 Career Management Modules on:

Building an Impressive Resume & Cover Letter
Building an Impressive LinkedIn Profile
Navigating Job Search
Interview Preparation

Job placement assistance from partner companies are published, applied to, and tracked to success via an online platform
Past participants of Emeritus work at Microsoft, ICICI Bank, Infosys, HDFC, AirBnB, TCS, Ola, Flipkart, JSW, Wipro, Honeywell, JP Morgan, Reliance Jio, Mahindra, Gartner, Accenture, Cognizant, amongst others