Designed for experienced professionals who have been persistently carving and shaping their organisations for long-term success, IIM Kozhikode's Advanced Strategic Management Programme will help you lead and implement strategic change in your organisation.
Real-world Case Studies
from renowned brands across the industry
Live Online Learning
100+ hours of live video lectures with faculty
Executive Alumni Status
Join the prestigious IIM Kozhikode alumni network
Access to Industry Leaders
Engage with global industry experts in insightful sessions
Capstone Project
Apply learnings from the classroom via a real-world capstone project
Cutting-edge curriculum
Holistic topics including strategy, finance, design thinking & entrepreneurship
Eligibility
Graduates (10+2+3) or Diploma Holders (only 10+2+3) with a minimum of 7 years of work experience/ Post Graduate with 5 years of work experience as on December 30, 2022 (after graduation).
Career Opportunities
Growth Managers
Management Consultants
CXOs
Strategy Managers
Product Strategists
Top Skills
Strategic management processes
Financial statement analysis
Data-driven problem-solving
Strategy implementation
Design thinking
Leading teams
Who this programme is for
Professionals keen on sharpening their strategic skills 
Senior and mid-level professionals looking to transition into high-level strategic leadership roles
Senior executives involved in driving their organisation's business strategy 
Certificate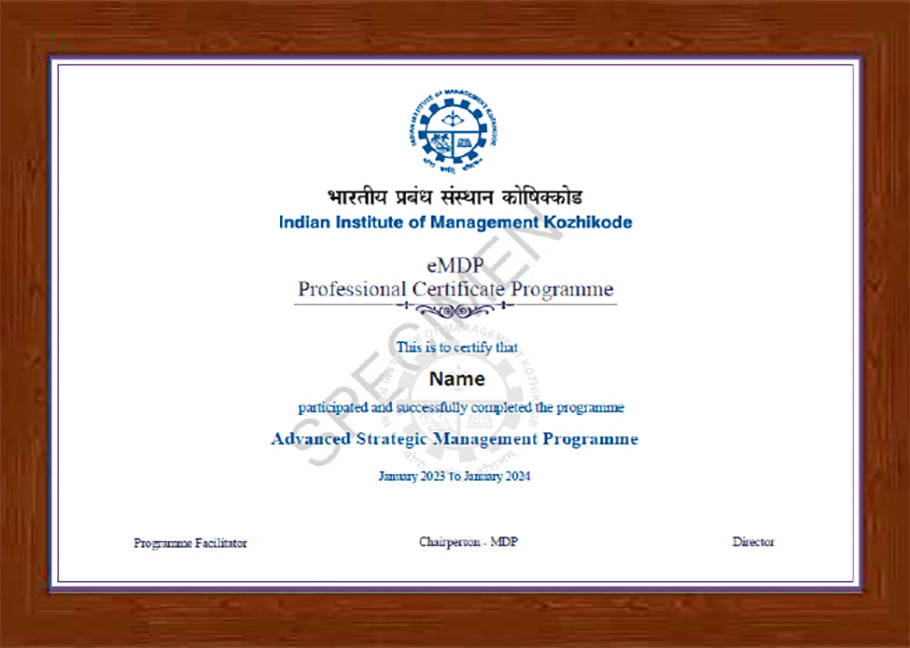 Participants who successfully complete all evaluation components with minimum pass marks and meet the requisite 75% minimum attendance criteria will be awarded a Certificate of Completion from IIM Kozhikode. Participants who are unable to clear the evaluation criteria but have the requisite attendance will be awarded a Participation Certificate 
Note: All certificate images are for illustrative purposes only and may be subject to change at the discretion of IIM Kozhikode.
Faculty
Learn from renowned faculty who bring a blend of theory and practice to create a dynamic learning experience.
What you will learn
Design Thinking
Learn the approach to design thinking from the purview of it's implementation in organisational strategy
Analysing and Interpreting Financial Statements
Understand cash flow analysis and learn how to make capital investment decisions
Funtional Strategies
Get on top of key operational, marketing and HR strategies
About the Institute

The Indian Institute of Management Kozhikode (IIM Kozhikode) ranks 15th in the Asia Pacific and #101+ globally in the QS World University Global Executive MBA Rankings 2020. Since its inception, IIM Kozhikode has carved its niche in management education by offering online certification courses that are a judicious blend of academics and real-world practice.

Ranked #5
NIRF India Rankings 2022: Management

EQUIS + AMBA
Double accreditation

Ranked #2
Atal Innovation Rankings (ARIIA), 2021

1st in Asia
Pioneer interactive learning via satellite delivery
Student Benefits
IIM Kozikhode Executive Alumni Status

Networking opportunities with peers from across industries

Learn from leading faculty and industry experts
Introduction to Strategy - Past-Present-Future
Strategic Consulting and Strategic Planning
Foundations of Strategy Formulation
Planned vs Emergent Strategy
Environmental Uncertainty and Strategic Planning
Scenario Planning
Industry Analysis
Measuring and Reporting Financial Position and Financial Performance
Cash Flow Analysis
Analysing and Interpreting Financial Statements
An overview of Management Accounting
Making Capital Investment Decisions
Managing Working Capital
The Critical Concepts of Economics
Fundamentals of Supply and Demand
Economics of Uncertainty
Capital, Interest, and Profits
International Trade
An Overview of Macroeconomics
Economic Growth
Operations Strategy
Marketing Strategy
Human Resources Strategy
Firm Resources and capabilities
Value Creation and Value Chain
Competitive Advantage
Competitive Strategy
Business Strategy in a Globalised Digital & Highly
Regulated World
Corporate Diversification Strategy
Achieving Growth through Acquisitions
Making Strategic Alliances Work
Internationalisation Strategies
Balanced Scorecard
Strategy Implementation using Analytics
Strategy and Organisational Structure
Strategy and Organisational Culture
Strategy and Organisational Communication
Implementation Risks & Mitigation
Business Models of the Future
Digital Transformation Strategies
Design Thinking and its Application in Organisational Strategy
STRATEGIC LEADERSHIP AND CHANGE MANAGEMENT
LEADING HIGH-PERFORMANCE TEAMS
LEADING ORGANISATIONS INTO A NEW PARADIGM/ GROWTH STRATEGIES
LEADERSHIP INSPIRED BY INDIAN CULTURE (BHAGAVAD GEETA AND INDIAN MYTHOLOGY)
Corporate Governance
Corporate Entrepreneurship
Why Design? : Introduction to Design Thinking Philosophy
Deep Dive to Understand the Use Contexts
Exploring Possible Solutions: Design Thinking Processes & Tool Kits
STRATEGY SIMULATION
CAPSTONE PROJECT PRESENTATIONS

100+ hours of Live Online Video Lectures


Free 1 year access to Emeritus Insights

Learn from Industry Leaders

Simulation Exercises and Real-world Case Studies

Sandlands Vineyards: Understand the intricacies of the global wine industry, including the challenges faced and the strategic opportunities available to them. Analyse the industry and devise a competitive strategy.

The Allergan Board under Fire: This case explains a hostile acquisition bid of Allergan and the different strategies to achieve organizational growth by it and Valeant. It also covers M&A dynamics & investor reactions.

Envisioning Risks in Asia: This case study from Lego explains its scenario planning process, encouraging participants to analyse the case using the technique of scenario planning.