How Agile Product Management Benefit the Organization?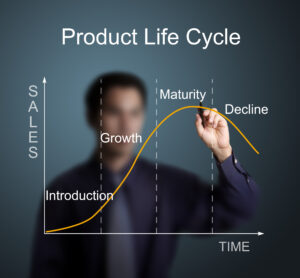 Most great and successful companies in the business world constantly operate in a state of innovation in terms of products they bring to market, frequently introducing new products or improving existing products as desired by the customers. The overall process of conceptualizing a product and designing, producing, and selling is collectively known as product development, and managing the life cycle of the product development is known as Product Management. This article will discuss the most successful product management methodology, which is Agile Product Management.
Before we discuss Agile Product Management, let's take a step back to look at how products were created or delivered earlier.
Before the 1990s
Product Development was a random and unorganized process where the product and development teams worked separately. The project manager monitored the progress or fulfilled changes only towards the end of the development period.
This framework, also known as the waterfall method, didn't have any flexibility and resulted in unnecessary waste of time, leading to delays in product innovation and catering to the customer's needs and, most of the time, leading to a non-desired product.
No matter the changes in consumer trends, the waterfall approach became irrelevant over time and failed to incorporate feedback and create complex digital products.
Frustrated by this approach, few development teams started to change their approach towards designing and developing new products in the 1990s
Finally, Agile was born in early 2000, which changed the future of development forever.
In the 2000s
A group of 17 software developers discussed in several meetings and landed on a more concrete solution to the significant development problems of the time. They produced the Agile Manifesto, which laid out four fundamental values.
Agile's fluid and organized approach allow faster changes driven by user feedback and better product development aligned with customer needs. Instead of massive changes, agile introduces small increments and milestones for achieving the larger end goal.
Agile Product Management
Agile product management is a pliant approach to product strategy planning and implementation where teams work in alignment to achieve product goals. It involves iterations product improvements/increments in small iterations.
This demands constant improvement and learning-based, mainly on customer feedback and analysis to build a product that customers appreciate. Agile makes teams more collaborative, responsive to changes, and highly creative and productive at the organizational level.
Agile product management practices
Agile product management is all about flexibility. More time is spent in the beginning for ideating, following, and tweaking product roadmaps; and studying and incorporating customer feedback.
Let's look at some core product management practices you adopt with the agile framework:
Build a dependable product strategy
Understand your customers' needs
Outline an agile product roadmap
Assign roles to product team members
Iterate and deliver high-quality experiences
Measure strategy and product success
Roles and responsibilities in an agile product team
The dynamics of the agile methodology result in additional roles for each team member. In the SCRUM framework, these defined roles help overcome product management challenges.
Let's look at some major roles and responsibilities in an agile product team:
Product manager
The product manager is the owner of the product vision defined in the initial stages. They're responsible for the 'what' and 'why' and identify pain points, customer needs, and business objectives.
A product manager is within the intersection of technology, business, and customer experience to ideate and achieves product success.
Product owner
The primary responsibilities of a product owner are to represent the customer's needs and ensure teams are working in alignment to streamline the execution of prioritized features according to the product roadmap.
Please note that the line between product manager and product owner often blurs—but it's essential to understand the difference.
Product managers work with external stakeholders and perform tasksaround outlining and researching for product and customer experiences, whereas Product owners work with internal stakeholders and are responsiblefor executing and coordinating team tasks to help achieve product and experience goals.
Scrum Master
The Scrum Master is responsible for managing tasks between different teams and individual team members while ensuring everyone is on the same page with current developments.
They also handle administrative work like conducting meetings, solving collaboration or communication challenges within the team, and ensuring all developments occur seamlessly.
Development team
This cross-functional team includes specialists who can produce a fully functioning increment of a product. With functions like design, development, and testing, this team is responsible for implementing product features.
Stakeholders
Stakeholders include business executives, product end-users, investors, and scrum team members from different departments. Stakeholder discussions and decisions guide the product roadmap and help determine the direction of the product's development.
Benefits to your organization
While we discussed the details of Agile Product Management, it's necessary to look at how the process benefits your organization.
Agile should be your preferred method to create a desirable and viable product and outrank your competitors. But while agile product management is a groundbreaking framework for achieving product goals, it's not a cakewalk.
Here are a few key benefits you will bring to your organization if you implement the Agile Product Management process in its good sense.
Improved team morale
Better control
Improved project predictability
Increased flexibility
Reduced risks
Continuous improvement
Superior quality product
Customer satisfaction
A look at Pros and Cons
Agile has changed the way product managers and teams approach product management. But, it comes with its own responsibilities and challenges. Here are some pros and cons for the agile approach:
Pros
Agile uses an iterative approach. It gathers customer data and introduces features one by one, thus helping you build a Minimum Viable Product (MVP) before you start.
The work sprints and workflows in the agile lead to faster review and response cycles when fixing bugs or introducing additional features.
The entire method provides greater flexibility and speed in releasing new features because of cross-functionality and constant collaboration between marketing, sales, and development teams.
Facilitates better user understanding throughout the product lifecycle.
Agile demands efficient adjustments throughout the product journey instead of making improvements or when a problem becomes prominent.
Cons
It's a reasonably elaborate development process with multiple approval workflows, which can be chaotic if not organized in the initial stages.
The dynamic changes in organizational structure with the introduction of new workflows work breakdown structures can be complex for team members to adapt to.
There's uncertainty and lack of predictability about when you'll see results and what they will look like because of spontaneous iterations.
The iteration and development process can take multiple turns leading to changes, sometimes making it difficult to measure progress.
Product development can gradually fall into a prolonged process since there's no limit to the number of features or improvements you can introduce.
To Summarize
Agile is a dynamic process that shouldn't be introduced spontaneously. Educating your team about the framework, planning the transition in phases, and bringing an agile expert on board would be wise to ensure you're not wasting your time.
~ Sheshagiri V, Author and Consultant, Product Management
Are you ready to learn and upskill in the field of product management and grow your career? Explore our range of product management programmes here.