What is Kanban? How Does It Help Organizations Become Agile?
According to the 2022 State of Agile Culture Report, implementing an Agile culture can help organizations increase their commercial performance by 237%! The word agile means to move quickly and smoothly. In essence, it is a project management methodology that breaks down the workflow into several small phases to increase efficiency. One of the most popular Agile frameworks is Kanban. Let's understand what is Kanban, and how it helps businesses optimize processes and boost efficiency. 
This blog delves into the following topics: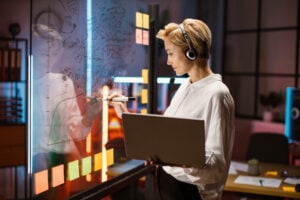 What is Kanban?

Understanding the Kanban System

Kanban Core Practices

Kanban Board

Benefits of Kanban

Disadvantages of Kanban

Frequently Asked Questions on What is Kanban
What is Kanban?
Before explaining what is Kanban, let's quickly understand the concept of lean manufacturing. Lean manufacturing refers to optimizing manufacturing processes to reduce various types of waste like overproduction, excess waiting time, excess inventory, process waste, and waste generated from defective products. Essentially, lean manufacturing emphasizes time and cost efficiency in manufacturing goods.
Kanban is a Japanese lean manufacturing system developed by Toyota. It is a visual process management system that focuses on Just-in-Time (JIT) delivery, reducing waste, and improving efficiency. 
Kanban was originally built to improve manufacturing processes. However, businesses gradually started using it as a project management framework in Information Technology (IT) to boost team efficiency. With leaders understanding what is Kanban and how it can transform workflows, businesses are now using it to enhance human resources, product management, sales, operations, and support processes.
ALSO READ: Know the Fundamentals of Successful Project Management
Understanding the Kanban System
Once you learn what is Kanban system based on, it becomes easier to understand what is Kanban. It is a Japanese term that translates to visible records. In manufacturing, the Kanban system has a customer-centric approach that focuses on manufacturing products only when there is a demand from the customers. Moreover, in the Kanban manufacturing process, a team member takes action only when a preceding task is completed to reduce waste generation.
So, what is Kanban in Agile exactly? It is a project management framework that integrates Kanban features into Agile. This framework focuses on visual project management by segregating the workflow into different lists to track real-time work progress. 
The following are some of the most significant characteristics of Kanban Agile:
Makes workflow flexible

Limits Work-in-Progress (WIP)

Enables continuous delivery

Reduces waste generation

Visual workflow 
One of its main principles is "Start with what you do now." This means that organizations can execute Kanban with their existing resources.  They do not require extra tools or infrastructure to implement it. 
ALSO READ: Project Management vs Program Management
Kanban Core Practices
Kanban works on a pull system. It means that new items are moved to WIP only when the team gets a signal. It will take on more work only after this. The following are the core practices that will help you understand what is Kanban better:
1. Defining and Visualizing the Workflow
Visualizing workflows is the fundamental Kanban concept. However, teams must first define a workflow by providing individual units to Kanban cards, also known as work items.
2. Limits WIP
Kanban limits WIP to minimize the risk of extra utilization of resources and allow teams to deliver quality output.
3. Setting Policies
In project teams establish clear policies on how a work item will move across the workflow.
Kanban Board
Now that you know what is Kanban, let's understand how to implement it with a Kanban Board. The Kanban Board is a digital project management tool for visualizing the workflow. It contains different sections or columns explaining multiple steps of the workflow. For example, a simple Kanban Board includes three columns—'To Do,' 'Work in Progress,' and 'Completed.' You can create multiple cards in the 'To Do' column and move them to other columns depending on the progress. In fact, it helps track the entire workflow.
Here are some simple Kanban Board templates that leaders can use to manage project workflow:
1. Basic Kanban Board for Workflow
Source: Atlassian
2. Kanban Board for Sales Pipeline
Source: Kanban Tool
3. Template for Campaign Tracking
Source: Clickup
You can use popular project management tools like ClickUp, Asana, Trello, Jira, and Basecamp to experience what is Kanban system.
ALSO READ: What is Project Management? Meaning, Approaches, and Career Prospects
Benefits of Kanban
The 2022 State of Kanban Report by Kanban University emphasizes Kanban's benefits for businesses. It indicates why an increasing number of businesses globally are striving to learn what is Kanban and implement it. According to the report, some of the main advantages of Kanban are:
1. Faster Project Delivery
Limiting WIP under Kanban allows teams to focus on priority tasks and prevents work overloading. This boosts team efficiency and productivity, enabling faster project deliveries.
2. Increases Workflow Visibility
The Kanban Board visualizes the workflow and increases visibility, thus promoting transparency and helping teams understand the development process.
3. Enhances Alignment of Business Objectives and Results
Workflow visibility allows all team members to have a complete view of the workflow and the priority tasks. It enables teams to communicate business objectives, making it easier for teams to align.
4. Boosts Product Quality
Continuous improvement is the key principle of Kanban. It enables businesses to constantly review and improve their quality control practices and deliver products of the highest tier.
5. Enables Better Risk Management
Visualizing and limiting WIP offer a comprehensive view of the entire workflow. It enables teams to identify bottlenecks at each step and resolve them quickly. In essence, it strengthens risk management.
6. Enhances Customer Satisfaction
One of the core principles of this framework is to reduce waste by eliminating defective products. Therefore, Kanban increases product quality and boosts customer satisfaction.
7. Decreases Project Cost
Kanban is beneficial in reducing waste and boosting team efficiency. Moreover, it optimizes business processes by enabling project teams to promptly identify bottlenecks, reducing wastage and low project costs.
ALSO READ: What is a Project Report and How to Create One?
Disadvantages of Kanban
The following are some of the main challenges businesses often face while implementing this framework:
1. Lack of Kanban Experience
The Kanban University Report states that most organizations are unable to successfully implement Kanban because of the non-availability of skilled resources. Hence, organizations have to invest heavily in training their employees about what is Kanban system and how to use it.
2. Poor Change Management
Another major challenge faced by organizations is change resistance from team members. Teams are often reluctant to use new processes and tools, leading to difficulty implementing it.
3. Lack of Effective Tools
Nearly 40% of organizations face difficulty successfully implementing Kanban due to a dearth of effective tools.
4. Difficult to Map the Nature of Work With Kanban
If you have understood what is Kanban so far, you would know that it focuses on visual process management. However, many project managers are unable to map the nature of their work with this framework.  This results in inefficient visualization. Moreover, it also increases the risk of miscommunication and errors, thus impacting productivity.
5. Informal Structure 
It is a process-oriented framework and does not have a formal structure. The flat hierarchy offers great flexibility but may lead to role ambiguity and inefficiency.
6. Restricted Feedback Loop
The lack of an inherent feedback process is another significant challenge here, which again impacts efficiency.
7. Measuring Progress Metrics
It focuses on moving cards from 'To Do' to WIP without a deadline. Therefore, teams can find it challenging to measure their progress and efficiency in the long run.
ALSO READ: A Beginner's Guide on Product Backlog in Scrum 2023
Frequently Asked Questions 
1. What Do You Mean by Kanban?
It is a lean manufacturing system that has become a popular Agile management methodology. This framework focuses on continuous improvement of processes. It is based on the concept of pulling a card from the backlog and moving it to an existing workflow.
2. What are the 4 Principles of Kanban?
The Kanban System is based on the following four key principles: 
Visualizing workflow using Kanban Board

Restricting tasks under the WIP column to define priority and boost productivity

Observe the flow of production to identify and eliminate any bottlenecks

Focus on complete improvement unless maximum efficiency is attained
3. What are the 6 Rules of Kanban?
An excellent way to learn what is Kanban in Agile lies in understanding the following six main rules:
Organizations should not pass on defective products to customers. In fact, such products should be removed early from the production unit to reduce waste

Teams should only

take what is needed

from the previous process. This means that a new project should be started only when there is a demand from a customer or the capacity

Businesses should produce the exact quantity of products according to the customers' demand. This rule states that companies should produce a minimally viable product for which the customers agree to pay

The next rule is to level the production. This means that all processes should run at the same speed to extract their maximum capacity

Businesses should consistently monitor workflows to identify bottlenecks, eliminate them, and optimize processes

The last rule focuses on the standardization of processes to make them stable. Organizations should document their processes so all team members can follow them
4. What is Kanban vs. Scrum?
While Kanban focuses on processes and workflow, the Scrum framework is more role-oriented and managed by the Scrum master. In Scrum, each member has a defined designation and responsibilities. Kanban focuses on producing and delivering when the demand arises. In contrast, Scrum focuses on dividing a project sprint into various deliverables.
It is surprising to note that Agile behavior in leaders has dropped, according to the State of Agile Culture Report. It, moreover, stresses that 76% of the C-suite are clear about their goals, but only 21% of them have a clear direction. This creates a significant communication gap between leaders and the project delivery team. Therefore, leaders and project managers must upskill themselves and stay up-to-date with the latest project management trends and methodologies to empower their teams. If you want to grow your career in project management, Emeritus' online courses can teach you the popular Agile tools and frameworks and how to implement them. Explore its online project management courses today to advance your career!
Write to us at content@emeritus.org