Top 13 Emerging Digital Marketing Trends You Must Know as a Marketer
The digital marketing world is evolving fast and it can be tricky to keep up with the trends. However, being a marketer in this fast-paced business environment means being well-versed in emerging digital marketing trends to help maximize results and stay ahead of the competition.
Here are some of the biggest digital marketing trends that can help you grow your business.  
Digital Marketing Trends: Emerging 13 Facts to Know As a Marketer
1. Influencer Marketing
Influencer marketing is a digital marketing strategy where businesses partner with individuals with a significant social media presence to promote their products and services. It allows companies to improve their brand presence and reach a large audience on social media.  
Since India has a lot of youth population, influencer marketing is an effective way to reach the masses. As of 2022, the influencer marketing industry in India is valued at over INR 12 billion. The industry is expected to reach INR 28 billion by 2026. It is also projected to have an annual growth of 25% in the next five years. (Source) 
Besides reaching the masses, influencer marketing helps brands establish credibility and trust.   
2. Omnichannel Marketing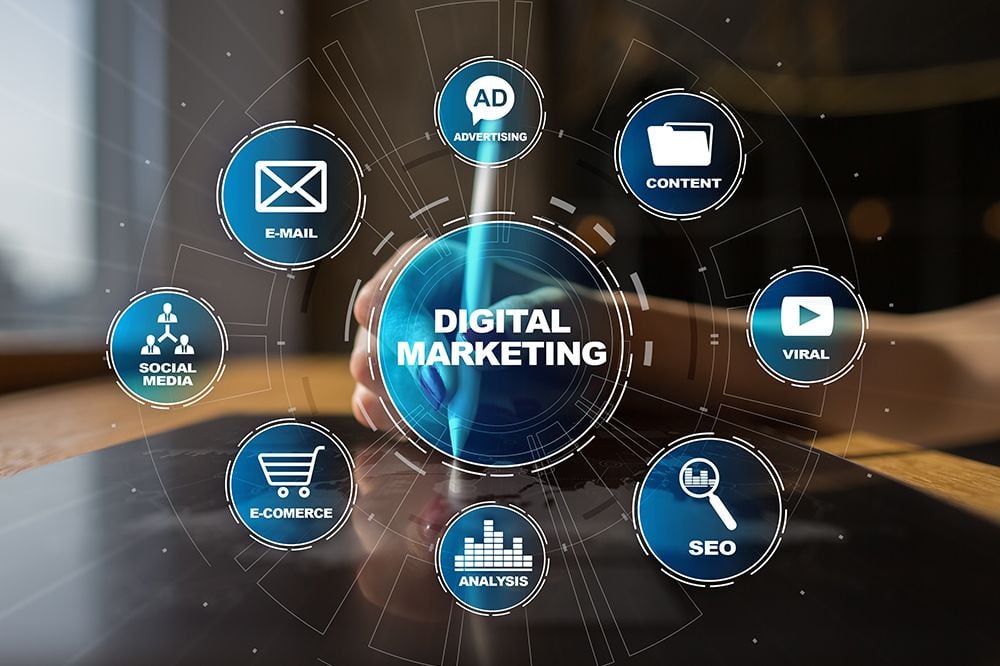 With a billion mobile phone users and more than 500 million social media subscribers, India ranks among the world's largest and fastest-growing digitally enable consumer markets. (Source) The modern-day customer prefers personalization and convenience over price. They value customer experience over product, making it imperative for companies to use omnichannel marketing.  
Omnichannel marketing allows companies to deliver seamless user experience or CX across all channels. It (omnichannel marketing) is a marketing tactic that ensures customers engage and have a positive experience on each channel. It maps customer personas and considers the journey a customer takes with a brand across various platforms and devices to create an exceptional customer experience throughout the buyer's journey.  
In India, omnichannel marketing is not limited to social media, providing QR codes in physical shops and e-commerce websites for payment.  
3. Artificial Intelligence
Artificial intelligence (AI) is the process of developing intelligent computer systems that perform similar functions to that of the human brain.  
AI is used across industries to identify the needs and demands of customers, automate a business process, and gain a competitive advantage. Additionally, it is used to discover buying behavior patterns and monitor and formulate excellent marketing strategies.  
Moreover, AI applications like machine learning and deep learning are used for various customer and marketing-related activities like content creation, ad monitoring, interacting with customers, etc.  
AI's projected to have a positive impact on the country's economy. A report suggests that data and AI could add significantly ($450-500 billion) to India's GDP by 2025. (Source)  
4. Video Marketing
Video marketing is a potent digital marketing tool for businesses trying to increase their customer base. They are believed to be more effective than any other digital marketing medium. Because videos are easy to consume, appealing, and informative, making them a digital marketing trend to look out for in 2023.  
Many social media applications like Instagram, YouTube, and Facebook have integrated short video-format content into their algorithms, helping brands reach their target audience.  
5. Metaverse
Metaverse is a broad concept that refers to the way we interact with technology. It is defined as a 3D-enabled cyberspace that uses modern techniques like virtual reality or VR, augmented reality or AR, and other advanced internet technology to allow people to experience a business online.  
Although metaverse uses VR and AR, it doesn't mean you cannot access it on your laptops, mobiles, or other internet-operated devices.  
According to a report by DappRadar, India has been ranked fifth only behind the US, Indonesia, Japan, and the Philippines in terms of interest in metaverse projects. With a rising young population, bright start-up ecosystem, and huge talent pool, India is expected to play a massive role in Metaverse. 
6. Long-Form Content
Long-form content can offer the audience in-depth and wide information about a product, brand, or service. Many B2B (business-to-business) and B2C (business-to-consumers) marketers have learned that long-term content can be more effective than short-form content, making it a digital marketing trend to look out for in 2023.  
Pro-tip:
Long-form content is more effective than short-form content as it helps increase brand visibility and customer engagement
Long-form content is a type of content marketing that consists of blog posts or articles of more than 3000 words
7. Progressive Web Pages
Progressive web pages are online websites that send push notifications, load faster than other web pages, and are accessible offline. The progressive web page has addressed the need for websites with excellent user interfaces. This latest digital marketing trend is expected to grow more in 2023. 
8. Chatbots
Chatbots provide a way for people to find information quickly and easily without human intervention. The essential characteristics of chatbots are that they cater to a global audience, are available 24/7, can answer customers' most frequently asked questions without human intervention, and help users make marketing decisions.  
9. Mobile Optimisation
Marketers trying to expand their brand's visibility and reach online are considering mobile optimization. It helps them deliver engaging mobile browsing experiences to their users.  
Mobile optimization can become a crucial marketing strategy to attract a target audience to your mobile app.  
Also Read: Mobile App Marketing Strategy: An Ultimate Guide to Market an App Successfully
10. Live Streaming
Live streaming is an emerging digital marketing trend. It has the potential to become a major marketing trend because it connects directly
with the audience. It allows the audience to connect with each other on an emotional level.  
Interestingly, live streaming has been getting popular in India. There has been a 300% increase in searches for the term 'Facebook Live Stream' from 2016-2018, reveals a report.
Moreover, immersive experience tools like AR, VR, and 360-degree streaming make it easier to access live streaming, turning it from a marketing tactic to a way of life.  
11. Search Engine Optimisation (SEO)
In this modern age, businesses must ensure that their website and content are discoverable on SERP, providing long-term and short-term traffic returns. While SEO is not new, it's becoming more ingrained into modern-day marketing strategies.  
Marketers who have invested in an SEO strategy in 2022 and have seen an increase in their web traffic will re-invest in 2023.  
12. Online Marketplace
The constant updates in social media algorithms have helped brands to set up an online marketplace to sell their goods and services directly to their target audience.  
The social media marketplace has helped brands connect with a global audience. It has also proved to be an effective way to interact and engage with them (global audience), increase brand awareness, etc. 
13. Branded Content
This form of content is rapidly gaining traction in the marketing landscape. Branded content refers to content that does not involve traditional advertising. It can include articles, videos, and podcasts that bring relevant value to customers. Unlike advertisements that focus on selling, branded content informs, educates, and inspires. Its main purpose is to drive engagement through content.  
Branded content focuses on telling a story to evoke an emotional response by blending brand purpose and message into the narrative. It is less focused on sales conversion and more focused on building conversation around the brand.  
A report by Brandgym reveals that 84% of social media users skip ads on their phones. Furthermore, they only watch 5.5 seconds of a 15-second video. 
This form of marketing resonates with the millennial audience more because they are less likely to watch TV serials. 
Enrich your Digital Marketing Career With Emeritus
It's always hard to identify emerging digital marketing trends. However, it is essential to identify them because it helps you stay on top of new developments and adapt to innovations.  
You need expertise and experience to spot trends, which can be equipped by taking an advanced course. These advanced programs teach you different trendspotting techniques, which can help you identify trends.  
Emeritus offers some of the best certificate courses in different fields like digital marketing courses. This program helps you learn the skills and knowledge required to identify new trends in your business. 
Frequently Asked Questions
1. What Is Digital Marketing?
Experts define digital marketing as promoting products and services on a digital medium using modern and versatile tools. The ads that you see on social media applications like Facebook, and Instagram are a few examples of digital marketing.  
2. What Is the Digital Marketing Trend?
Digital marketing trend is the fundamental changes in the digital marketing landscape. Changes like the new technological development, the evolution of marketing techniques, and others impact the way marketers interact with their target audience. Some of the top digital marketing trends of 2023 are metaverse, video marketing, and online marketing.